Imagine a standing figure being draped in silk; around and around it goes, enveloping femininity with such a simple construct. The process of wrapping the body suggests the value and importance of that which is being held precious, as hands do hold a bird, not too tightly for the breathe to flow, but not too loosely in order for the safe embrace to remain felt during such stillness.
The clothes fabricated to decorate a woman's body is meshed with the strands of cells that compose the skin, created to move in unison and exude confidence with every step. In order to pull off class, there must be charisma, but the attire tailored to match can only contribute to the interior essence communicating through exterior visuals.
Sophie Theallet
colors the female presence with an array of collages that exhibit the tangible relationship between form and fabric, while allowing for hints of open space to arouse the viewer into a state of contemplation. Whether Theallet decides for the leg to be revealed during a démarche, or to accentuate the beauty of a translucent skin, her collections continue to narrate the existence of youth and mystery that cultivates the potential of a woman's growth.



Theallet's choice of tissue attends to the specific manner in which it will touch the body, and is attentive to a woman's wants and a woman's needs. The collaboration of different palettes and materials criss-cross around the bust line to attract the idea of preserving the delicate, as well as referring to Asian culture and a history of female mannerisms that have transcended time. Each garment moves to the unique rhythm that has been personalized by its porteur, fantastical and elegant, one can only desire to be covered in the skin of a princess. The first lady, Michelle Obama, has been noticed wearing Theallet's compositions that sing such lovely tunes no matter the modern standard of presentation– a trendsetter, no doubt.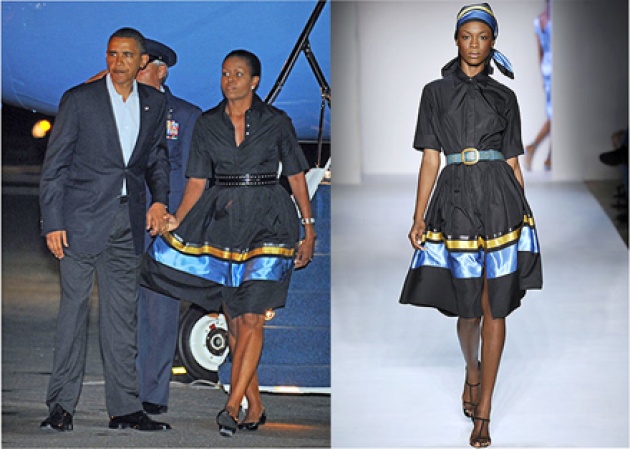 With each penciled shape begins the journey of transformation, from an idea to the runway platform upon which a girl blossom into a sophisticated uniform that hugs her while also leaving room to breathe. Discreetly, Theallet utilizes her knowledge of haute couture to enhance each collection with grace, and perhaps her influence of working with the renown Jean-Paul Gaultier, has pierced through the empowered substance that highlights a level of craft and sensitivity that every woman wants to wear. All girls dream of the 'Cinderella' ball gowned, or being Catherine Deneuve in 'Peau d Âne,' dancing around the castle in a gowned inspired by the moon or springtime. Fortunately, just the feeling suffice, and Theallet provides each girl with the fulfillment of a wish come true.
A long black dress, made of spotted chiffon, ties her fall/winter 2011 to 2012 collection together through its textured sexual appeal and teasing accents that draw attention to the female forms around the hips, bust and exposed lower limbs. Length, in this case, does not define the true characteristics of the little black dress, as Theallet has proven that sexiness is not about seeing all unprotected, but instead she uses her talent to describe a situation of beauty rendered to cross slight boundaries.