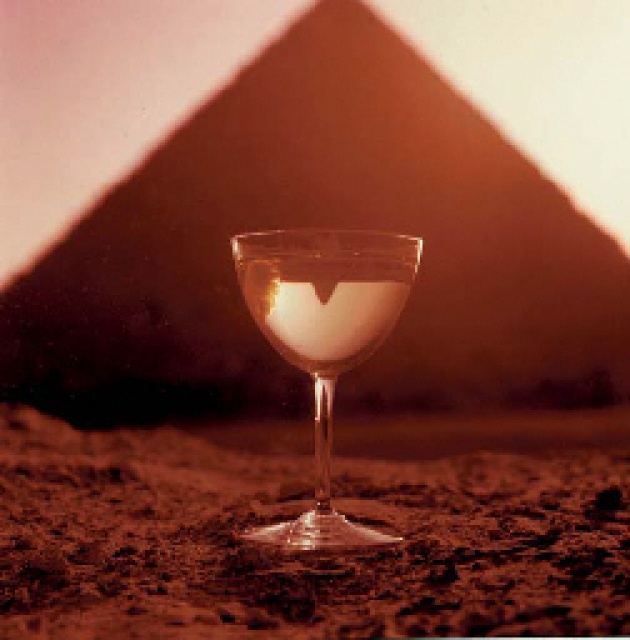 When the famed photographer Bert Stern planned out his summer of 1962, he had no idea that he would be capturing spectacular slices of future iconic history through his lens. Bert was a man known for his innovative advertising photography. In 1952, Stern burst on the scene with a shot for a Smirnoff Vodka Campaign of The Great Pyramid in Giza, Egypt. He shot a beautiful color image at daybreak of a V-shaped cocktail glass with Vodka in it, set in the sand in the foreground with the Great Pyramid in the background. An optical illusion was created turning the Pyramid upside down in the glass. It was a stunning color picture (Kodak had recently inroduced a new color film) and the cocktail dominated the exposure with a simple tag-line that read "Smirnoff Driest of The Dry" to compete the with the dry gin martini... the most popular drink of the day!
Smirnoff's new ads' success was immediate and directly attributable to the introduction of these award-winning images. In the twelve years 1952-1964 that Bert Stern shot for the company, Hueblein saw sales increase from 100,000 cases per/year to 10 Million cases per year! These ads put Stern on the International Map, and he quickly became one of the most sought after lensmen in the world! But advertising campaigns, although very lucrative, were not enough to satisfy his passions, so he turned to women in Fashion and Hollywood. He loved women and conquered them in both mediums.
In June of 1962...
Stern was booked as the photographer for the historic film 44M budgeted epic "Cleopatra", starring Liz Taylor and Richard Burton. 20th Century Fox produced and distributed the movie. And, it was the first film where an actor/actress received a one million dollar payday for her role. Elizabeth Taylor was at the height of her cinematic success. Stern didn't count on competing with Richard Burton for Liz's attention, but she was clearly smitten with the debonair Irishman. Stern set up a studio with 20th's money in Rome, and made several appointments with Liz to do their work in the evenings after her shooting schedule for the day was completed. But much to his chagrin, Liz only had eyes for Burton, and their time was spent sneaking-off to launch one of the most talked about love-affairs of the 20th Century.
After being stood-up by LT for a couple of weeks, Bert approached Liz on the set one day and said, "I understand that you have been very busy and unable to meet, but when you are ready for me please call my secretary in NYC, and let her know, and I'll return to take the pictures." She asked why was he leaving and he replied with a smile, "I have a date with Marilyn Monroe" He was leaving the most desirable brunette in the world for the sexist blonde bombshell the Earth had ever known. Stern knew that would get Liz's attention. So, off he flew to Los Angeles to meet everyman's dreamgirl!
A month before Marilyn had starred in her last film for Paramount with Dean Martin, and then got sidetracked singing "Happy Birthday Mr. President" to John F. Kennedy at Madison Square Garden, where Peter Lawford ominously introduced her as "the late Marilyn Monroe". She was a little late for her appearance, and we all know that within two months she would tragically be dead. In the interim, Bert Stern and Marilyn Monroe made photographic history. He rented suites at The Bel Air Hotel in Beverly Hills, CA., She was fashionable late for the appointment (several hours!), which made Bert crazy. This stylish session was slated to be published in Vogue Magazine's September 'showcase' issue to illustrate the latest and greatest in Fall Fashions. Stern and Monroe met and created perhaps the most memorable photos ever taken of her. The wardobe was sent out by Vogue, Kenneth and team did the hair and make-up, and Bert made sure that there was plenty of Dom Perignon 1952 and Sinatra and The Everly Brothers playing in the background.
When Stern finished shooting all the beautiful evening gowns and furs there was only one thing left to do, and that was to shoot Marilyn Monroe with nothing on! Pure, Simple and Beautiful... everyman's dream! He wondered if she would go along with it, and of course she did! Marilyn wanted to let the world know that she was still on top of her game, even though Paramount had shut down her recent film project, because the bombshell had been somewhat unreliable arriving to the set lately, costing the company time and money. When he arrived, she was ready and bottom-line was Stern's trip to LA. was a huge success! Diana Vreeland, the Editor-in-Chief of Vogue, Bert's boss, was thrilled with the fashion photos for the magazine, and Bert was excstatic with the very tasteful nudes, as was the rest of the world! Stern returned to NYC to hear that Liz Taylor had called and requested that he return to Rome. Next stop: Roma, Italy!
Stern arrived back in Rome to find a much more cooperative Liz Taylor. The 20th Century Fox executives had read her the riot act, as they had been spending a ton of money to get Stern and his Studio readied for her. This time they worked marvelously together. He captured 'Royal' shots of Elizabeth as Cleopatra and Burton as Marc Anthony, with their supporting cast of characters. They were plastered on posters and in magazines like Life all over the world. Gossip emanating from the set was that Liz and Dick were having an affair. The news circled the globe like wildfire. And, Liz who looked stunning as Cleopatra, and the movie was a hugh hit. Stern and Taylor became such good friends that when filming wrapped-up, and Taylor and Burton chose to rent a yacht and sail the Mediterreanean they invited Bert to join them. Taylor and Burton sent divorce papers to their spouses Eddie Fisher and Sybil Burton and went public with their romance. Bert was there to document it!
Ahhh...Summer wasn't over yet...and while basking in the Sun, when docked in St. Tropez, France a messenger came with an invitation from Bridgette Bardot, the most beautiful French Sex-Kitten alive. She invited them all to join join her for a lunch at her villa, which they did. The Gods looked out for him, the stars were aligned, and this was to be the Summer, the Year, of his All-Time Greatest Creative Accomplishments! They all had a lovely lunch and BB quietly seduced this royal photog right in front of Taylor and Burton. If he was good enough for Liz and Marilyn, he was good enough for her. Stern would be her latest conquest, and he wouldn't put up a fight., who would? Bridgette invited Bert to stay and take pictures, what real man could say no? He returned to the boat, packed up his things and thanked Liz and Dick, and told them he would see them back in the States. Liz jokes watch-out for that girl. Stern exits the yacht, his mind racing, how will he shoot BB. Will she take her clothes off for him? Could anybody match MM's sex appeal and Liz's elegant beauty? Cut back to BB's Villa where he took more famously timeless images of this gorgeous Goddess. Imagine being a red-blooded young American boy...
God has smiled upon (too bad he couldn't take God's picture!) , he has led a charmed life, and if ever there was a boy who got his dream job, the photographer / cinemaphotographer Bert Stern is the guy!
By Jeffrey H. Sado
See Jeff at http://www.filmannex.com/webtv/historymavens/movie/jeff-sado-about-lady-liberty/30465. Jeff talks about his latest screenplay "Lady Liberty."