"I have visited lairs, burrows and nests across five continents, observed the curious habits of magical beasts in a hundred countries, witnessed their powers, gained their trust and, on occasion, beaten them off with my travelling kettle."
—Newton Scamander [Source]
Image Credits: IMDb
Harry Potter era was concluded in 2011 but the fandom is still at hype and will always be, especially when they heard rumors that the Wizarding World creator, J.K. Rowling has been writing that might be connected to Harry Potter. Whether it is connected to Harry Potter or not, I believe that whatever J.K. Rowling writes will always be at its best.
The Cursed Child, of what is known to be the 8th book of Harry Potter series, was then released on July 30, 2016. The book is a screenplay and it's not written by J.K. Rowling herself, although the book is considered to be the first official Harry Potter story to be presented on stage.
A few months later, J.K. Rowling made her screenwriting debut making fans to be once again ecstatic for another Wizarding World era. And the hyped has risen once more owing to the fact the Fantastic Beasts and Where to Find Them will be on the big screen.
O V E R V I E W
Video Credits: Warner Bros. Pictures
Fantastic Beasts and Where to Find Them is a fantasy film directed by David Yates and is produced and written by the one and only J.K. Rowling in her screenwriting debut. The movie is inspired by her 2001 guidebook, the same title with the movie, about the magical creatures in the Harry Potter universe under the pen name, Newt Scamander. It premiered on 17 November 2016 and the script of the first film in book form was released on the next day, 18 November 2016.
The film is a spin-off to the Harry Potter film series and can be quite considered as a prequel to Harry Potter film series, but it is not totally a prequel and obviously not a sequel.
S Y N O P S I S
The plot revolves around Newt Scamander, who has made a brief stop in New York, shortly after completing his research travels around the world for his Magizoology book, Fantastic Beasts and Where to Find Them. The supposed-to-be short travel was unintentionally mess-up by a No-Maj, Jacob Kowalski who accidentally grabbed Newt's magically expanded suitcase where the tamed magical beasts are living inside. This cause some of the chaos in the city when a number of magical creatures are released and some of these beasts are illegal to breed or keep in the United States. This leads Newt to be the prime suspect of the unexplained magical disasters in which the Magical Congress of the United States of America (MACUSA) fears to worsen even further the state of magical and non-magical relations in the United States.
Image Credits: Variety.com
CHARACTERS AND THE EVENT TIMELINE
Newton Scamander
Peculiar, Introverted
Newton "Newt" Scamander (Eddie Redmayne), a magizoologist and the writer of the textbook 'Fantastic Beasts and Where to Find Them', arrives in Manhattan, New York for a shortstop with a briefcase full of magical creatures. He's a trusted wizard of the most powerful Hogwarts Headmaster, Albus Dumbledore, who at this movie, is still a teacher in Hogwarts.

Image Credits: eBay
Jacob Kowalski
Optimistic, Brave
Unfortunately, the shortstop is prolonged when a factory worker/aspiring baker No-Maj Jacob Kowalski (Dan Fogler), who happened to be with Newt inside the bank for his loan, accidentally exposed to magic and unintentionally grabbed Newt's briefcase after the incident caused by Nifflers. When he opened the reverberating briefcase, he was attacked and bitten by Murtlap.
Image Credits: Pottermore
Porpentina Goldstein
Ambitious, Stong-willed
Porpentina 'Tina' Goldstein (Katherine Waterston) is demoted from her position as an Auror in MACUSA to a Federal Wand Permit Officer by using magic against a No-Maj. Instead of sitting on her desk with all the papers to be done, she always went outside to investigate forgetting that she's not an Auror anymore. Coincidentally, she witnessed Newt doing magic and knew that Newt forgot to Obliviate Jacob. Tina always interrupted MACUSA meeting. First was a failure since Newt's magical briefcase was acccidentally switched to Jacob's briefcase full of bread which led to Tina helping Newt in finding his real suitcase before the magical creatures run wild. Second became both a failure and not, since the briefcase was confiscated and Newt was sentenced to death including herself as well.
Queenie Goldstein
Sweet, Free-spirit
Queenie Goldstein (Alison Sudol) is Tina's younger sister and roommate. She is not just a mind reader but a Legilimens than can magically navigate through the many layers of a person's mind. While on her duty, she heard her sister's scream and knew instantly that Tina is in grave danger and facing death already. She found a way to reacquire Newt's briefcase, casually grabbed Jacob and met Newt and her sister, Tina. The four of them went inside the suitcase and planned on tracking Newt's beasts.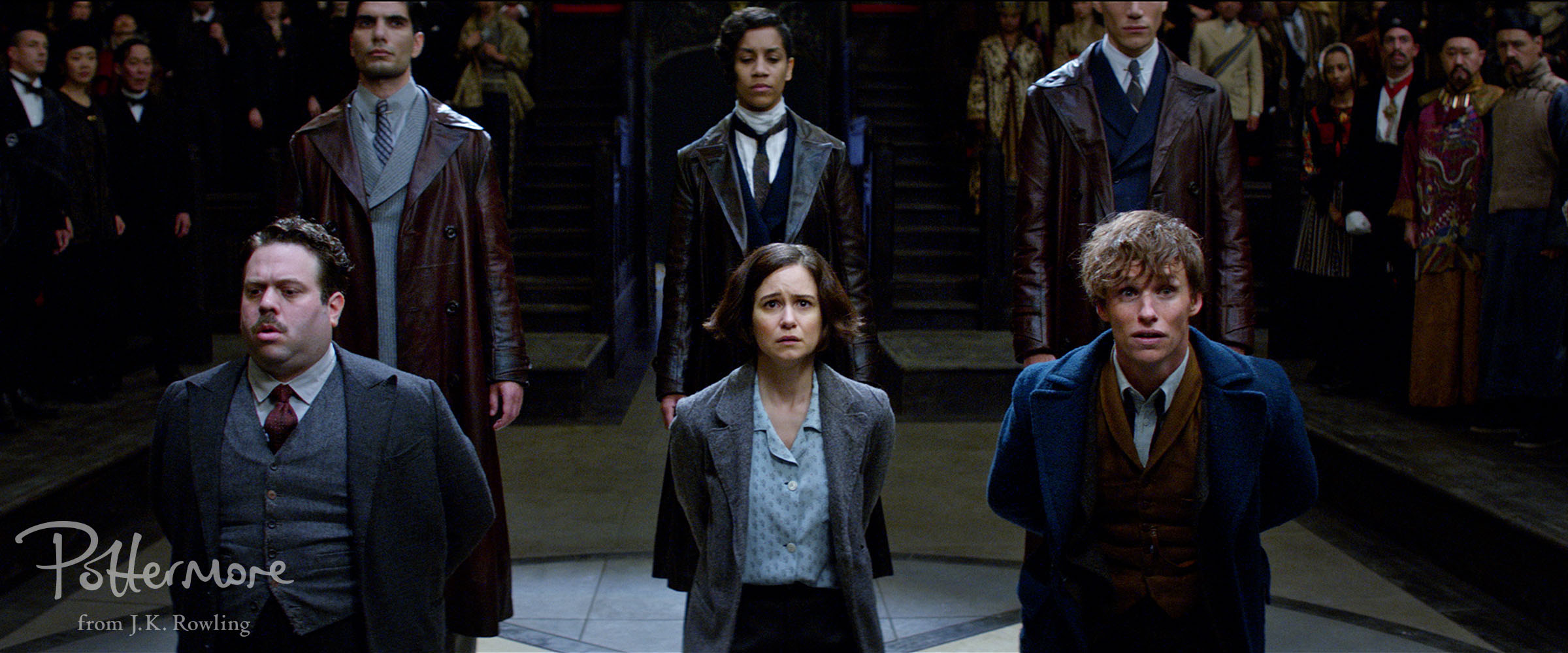 Image Credits: Pottermore
Percival Graves
Powerful, Unjust
Percival Graves (Colin Farrell) is the right-hand man of MACUSA President. He was the one who swiftly ordered Newt and Tina to be executed without a trail, which shocked Tina since she knew that he is not a cruel man. After the escape of the four, Percival was instructed by the President to track down Newt. While he was on his tracking mission, he had a secret meeting with the orphan boy, Credence, asking him to find the child who has a suppressed magic.
Credence Barebone
Abused, Dark
Credence Barebone (Ezra Miller) is the troubled adopted son of Mary Lou, an anti-witchcraft No-Maj and the No-Maj whom Tina assaulted for being an abusive foster mother. Credence received a promise from Grave to help him what he is looking for and he will help him to join and be one of the students in the Ilvermorny. Following Graves' order Credence is determined to find a way to corner Modesty, to be the child who has suppressed magic. However, it turned out that it was him who has a suppressed and powerful magic who was known to be an Obscurus.
Image Credits: MuggleNet
Seraphina Picquery
Exceptional, Leader
With the history of the magic and non-magic people, Seraphina Picquery (Carmen Ejogo), the MACUSA President, feared that the history might repeat again, the outbreak of a Revolutionary War. Credence escaped and wreaked havoc, Seraphina ordered to kill Credence even when Newt and Tina calmed him down in his Obscurus form. Graves was surprisingly ranted about Credence death and gone mad about it. Through Newt's Revelio Charm, Graves was revealed to be Gellert Grindelwald, the Dark Wizard. Grindelwald was arrested and Seraphina gave the fixed order to Obliviate the No-Maj of Manhattan, New York, and that includes Jacob, no exemption.
C I N E M A T O G R A P H Y
Turning the script into moving images, the cinematography plays an important role in this movie's success. Imagine entering the Wizarding World of J.K. Rowling has created with crappy visual effects? That might be the immediate end of Rowling's screenwriting career and of course the rest of the people behind the film. Now, this may sound bias but truly, the cinematography is spellbinding. It's like the magical creatures really exist in this world like dogs and cats.
1. Settings
In the movie, the location is set among the street and towering skyscrapers in New York. It feels like we were present exactly in the year 1920s. But in reality, the movie was actually shot at Warner Bros. Studios Leavesden backlot and some areas in Liverpool (Manhattan).
Image Credits: Daily Mail
2. Animation
The Wizarding World is indeed magical, as what the Ron Weasley would always say, "Wicked!". Amidst, the original settings, the editors were able to pull off dynamic and aesthetic scenes. With the digital manipulation, the magical creatures in the movie were brought to life.
C O S T U M E
Daniel Radcliffe, widely known as Harry Potter the boy who lived, jokingly said in one of his interviews that for 10 years, he wore big and sloppy clothes while Newt on his first out of five movies, he immediately wore a fancy coat. And Newt should probably give thanks to Colleen Atwood who was hired to costume this old days era of Wizarding World. She was able to create a period-correct 1920s wardrobe while still not missing out the final touches for the wizards and witches aura.
Image Credits: Fotogramas
C A S T I N G
Before the final casting, a lot of Hollywood actors and actresses were lining up just to be part of the magical world created by the Rowling. Each of the cast portrayed the characters well. Among the protagonist, it was Tina I hated the most because of her drastic actions but that's the Tina Goldstein, ambitious and impulsive. I was annoyed by the characters, fell in love with the characters especially Newt and Jacob, which means the casts gave justice to the characters. For the villain, some of the fans went wild upon knowing that Gellert Grindelwald is portrayed by Johnny Depp. Hesitations for Johny Depp are at peak, but I guess I can only convict him in the next movie since, he was only shown in the newspaper in the first part, and in the last part for just a minute or less.
Image Credits: Kasey Moore
S U M M I N G - U P
As mentioned, it is neither a prequel nor a sequel but watching this film without even a good glimpse of Harry Potter is still acceptable. Fantastic Beasts itself has its own original story, although there are several casts that both appear in the Harry Potter film series. That is, Fantastic Beasts happened 70 years before Harry Potter and some of the characters play an important role in the two films.
Tina and Newt's indirect love confession and goodbyes were really charming and electrifying to my funny bone. They have a good chemistry and hope to see more from them. On the other hand, I'm expecting more from Queenie and Jacob, the growing forbidden love between a Witch and a No-Maj.
Image Credits: Astroldi via Tumblr
As what this film is named, "Fantastic Beasts", Newt's magical creatures, especially Bowtruckle and Thunderbird, are incredibly fascinating and helpful all throughout the movie. Well, it excludes the cute Niffler who by the way was very diligent in collecting shiny things; his role was to entertain further the viewers.
Condemned to an execution without trial for the chaos in the city, at the end of the day, MACUSA apologized to Newt since it was Newt and his adorable magical creatures saved the day together with the help of the Goldstein sisters, Tina and Queenie and the brave No-Maj, Jacob.
Video Credits: Jhona via Youtube
THANKS FOR READING!
☀☀☀
Caryl Keen
☀☀☀
2018, All Rights Reseerved.