The Mercedes-Benz Fashion Week has started in NYC since September 5th and will be going on until September 12th.
Today I was at the Lincoln Center where the show is presented.  A huge mass of people were hanging out. They were photographers, designers, models, blog writers and even regular people. Colorful hairs and clothes catch your eyes. It was actually my first time there.  Everyone was waiting to see a fashionable icon, take a picture and then share it on their social media platforms.
I found some interesting people and did some interviews for my Afghan Perspective show. I was introduced to a person whom I was told "is the MAN on the runway show", Richard Renda, a photo video journalist with a very interesting message on his baseball cap "Totally Cool".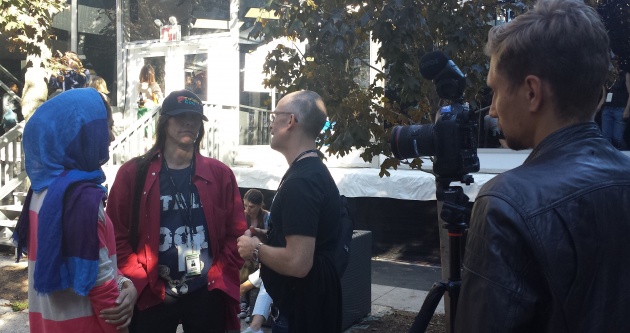 We had a few small fashion shows in Afghanistan, where people were really concerned by security issues, but they were not really introducing Afghan fashion to the international market.
First of all, you can rarely find Afghan girls whose families are willing to let them be a model and walk on the runway even if they are wearing Islamic clothing. Therefore, most of Afghan designers hire non Afghan models to present their designs.
Being a model for an Afghan girl is taboo. Women who are outside in the office, school, doing shopping in a bazaar are covered, but it is just the name that make them more different than their female peers in the society. In any other Islamic countries like Iran and Malaysia, they have fashion shows which represent their culture and customs.
Sometimes, I think it is not only about showing random models, but the way they can deliver a message to the whole world and encourage people to come to their country and learn more about it, not only for the cultural aspect but also to support their economy.
New updates will come soon on the Afghan Perspective show.
Here is my new Mercedes Benz car in fashion week :)