As I mentioned in my previous blog in textile product development, The Road Warrior, I have met the owner of a new mill that impressed me during my last trip to China last October. Yesterday, I had my second meeting at his new location closed to Wuxi and I was even more impressed by the courage of this Chinese entrepreneur.
In a very tough moment for textile business, even in China, he has invested several millions of USD to build a new mill with a complete finishing plant, a workers' dormitory that looks like a good level hotel and great, modern commercial office. Fortunately, he is a lover of Italian food and culture and I already saw a nice espresso machine and hopefully also some good Italian food from his new kitchen! My meeting included one of my major Italian contact in China, that is negotiating to join this new operation to develop export business for this company. At this moment I can't disclose the name of the mill neither the Italian contact as it's still in a confidential stage.
We were able to make a wide selection of the best novelties and few solid bases for next Winter/Fall 2014 pre-collection in order to start promoting this line starting end of May. Most of the collection is wool and cotton textile production, from wool suiting fabrics, with and without stretch, great textures, impressive light weight bonded fabrics with different kind of membranes and beautiful double knits for constructed jackets and felted wools for outerwear. This collection was developed by an Italian studio based in Prato (Rami Design Studio) that has a wide experience in Italy and China market. Here are few pictures of the finishing plant that just started working recently but not at full capacity: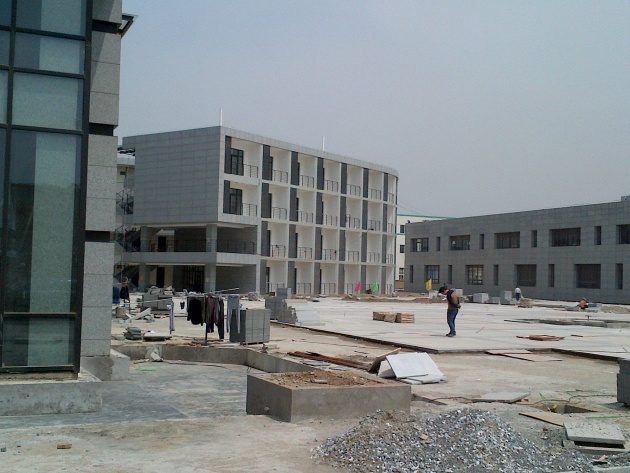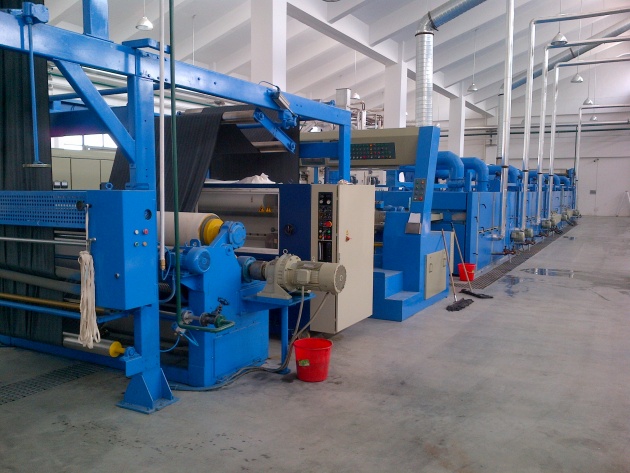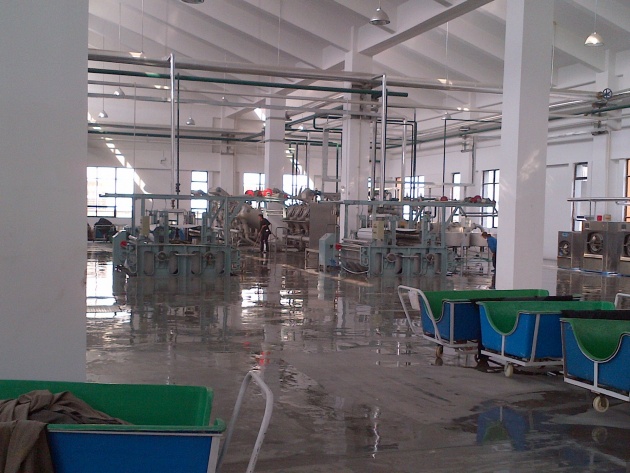 The original location of this mill is in Xiamen, Fujian province, and they are still producing there mostly menswear goods. They are the top mill in menswear for China domestic market but they haven't started in export markets yet (only his daughter speaks English!). The Italian general manager should be able to bring her entire team on board and be ready immediately to start working with export markets and developing women's wear products, without losing time teaching and training a new team. This would be very important in order to start quickly this new business and give a clear impression of continuity to our present customers like Club Monaco, Brooks Brothers, Kate Spade, Rebecca Taylor and Armani Exchange.
Probably one of the challenges will be to modify their present collection to a lower price point but still looking medium/high end quality goods. For example they use a lot of wool/silk or wool /cashmere qualities for Chinese brands, while we would need a wool/poly or wool/viscose bases to lower the prices to 6-9 usd/yd in order to get a good quantity business from our customer base. In the US, when the fabric price is over 10 usd/yd, the quantities are much smaller and it creates some issues in production as they could be under the MOQ (minimum order quantity). We are also considering joining some textile trade shows like Premiere Vision, Milano Unica and Texworld in New York.