Does the new year bring a new look? Not really; it is more a new interpretation of items from the last seasons. 2013 is a wonderful continuation of the previous year. The four important fashion weeks have just ended, culminating with the Paris presentations. The conclusions of critics are that the smoking (invented by Yves Saint Laurent and recreated by Dior and Lanvin this year) must not miss from the closet.
The androgynous look popularized by YSL in the 60's and adopted by Bianca Jagger or Catherine Deneuve has been resuscitated on the catwalk, and fashion magazines have enacted that the spring of 2013 will be dominated by the tux, a classic and elegant outfit.
If the smoking, a piece with masculine accents, is not right for you, you can opt for dresses of any length. From mini to long, all variants are accepted by the fashion trends of 2013. Any kind of textile fabric is also permitted, from transparent to opaque, the only demand being the trail. Designers propose dresses that are longer at the back and shorter at the front.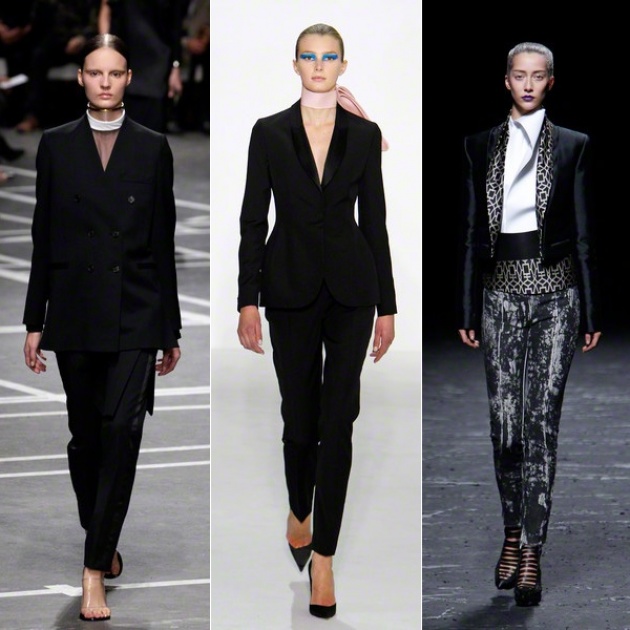 Another key element is the bustier, worn under a vest or combined with trousers, as Valentino, Giambattista Valli, Saint Laurent or Gaultier proposed. Wearing very short tops is very in this season, and is one of the favorite fashion trends of 2013 of celebrities. Black and white is a combination present in all great designers' collections. The contrast is undoubtedly the favorite word for the 2013 fashion trends. At Chanel or Vuitton, black and white are omnipresent; the colors are frequently joined by red accents at Valentino and by electric green at Stella McCartney.

Marc Jacobs placed his stake on the chess board for Vuitton, presenting squares of different dimensions, while Hermes has chosen collages. Dior House has sent models dressed in satin dresses with horizontal black stripes on the catwalk, and Issey Miyake has opted for diagonal stripes.
When it comes to shoes, the popularity of nude shoes is guaranteed by an essential attribute of accessories: versatility. Designers and celebrities have propelled this fashion trend of 2013. They can be worn with single-colored dresses, as well as with daring, floral or graphic prints. Nude shoes represent a secure choice and a good investment.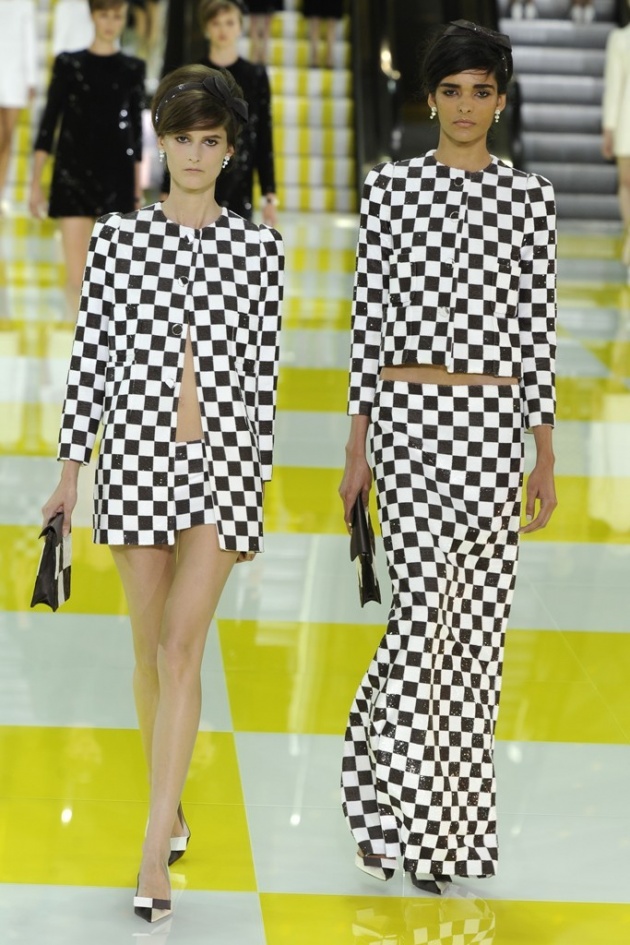 The frenzy of vibrant colors that led to the most important fashion trend of the previous season – the colorblocking experiment – is substituted by pastel nuances in the spring of 2013. Intense, psychedelic colors remain a basic accessory in the all white outfits. But items in pastel colors become a must-have in the fashion trends of 2013. The new chromatic phenomenon favors the association of sheer colors and authentic pastels: rose, mint green, bleu ciel, and pale yellow. Among designers who have proposed this coloristic direction, there is Karl Lagerfeld, Carolina Herrera, Donna Karan and Nina Ricci.