Even after six, successful box-office runs, The Fast and The Furious aren't full of themselves yet; and so they prepare to continue eating money from the fans, which would support the franchise, no matter how many same-poor plot back to back films are made…maybe I am exaggerating a bit ( I myself, enjoyed Fast and the Furious 5 and 6, however most of the films contained dense, predictable plots (except the 6th movie in the franchise, which gave off a bit of a surprise) that visually buzzed, but didn't strike hard enough in the deep part of my movie fanatical mentality.
                So back to business: Yes, they are making a 7th installment in the franchise, which no doubt will plunge in most likely $150 million +. So far, whether critically acclaimed or not, all the films, which includes the 1st part: Fast and the Furious, which was released in 2001, 2 Fast 2 Furious in 2003, The Fast and the Furious: Tokyo Drift in 2006, Fast and Furious 2009, Fast Five in 2011, and Fast and Furious 6, have been successful in terms of money, so why not make a thin plot 7th film with various all-star actors/actresses? Altogether, the films cost approximately $550 million to make; however grabbed nearly $2.5 billion… seems as if that's a bit too much for a bunch of mediocre racing car films.
                So far, here is the released info we have on the 7th installment of the series: Lucas Black, so was popular in Tokyo Drift, is making an anticipated, "dramatic" return to the installment. You better expect Vin Diesel, because what is the series without him? Director stays as James Wan, and it will be produced by Universal Studios. Roster for the film consists of the likes Jason Statham, Vin Diesel, Paul Walker, Tyrese Gibson, Lucas Black, and others. It is continuing off the cliff hanger left in Fast 6 (can't spoilt the film for you, if you didn't see it!). It is set to release next year in the summer of 2014, on July 11th. Dates are subject to change.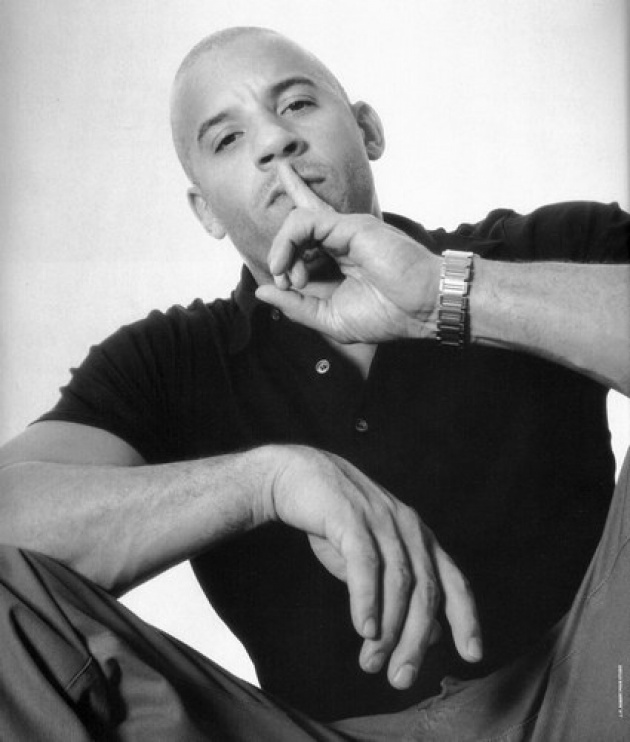 Infamous, almight-action Vin Diesel.
                This isn't the only big, but expected news (of course they were going to continue the franchise!), it has been confirmed by many sources that there is still going to be at least 3 movies in the making in the future; with the goal of the franchise to reach a 10th, epic finale to the series. Insane…although Im not that big of a fan of a movie based on a race…
Stay Tuned for more info on the future FAST AND FURIOUS FILMS!