An errant back-pass in the seventh minute sinks Barça at home

Team miss chance to provisionally put themselves into first place in the league table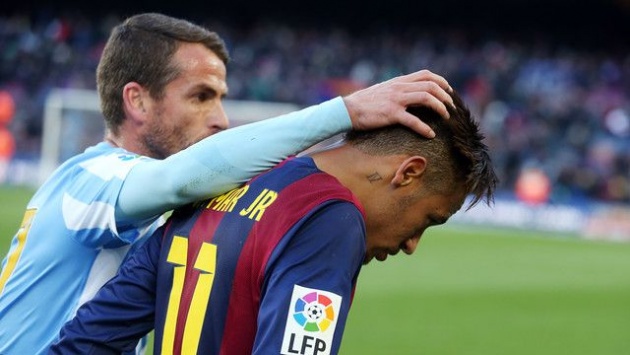 All it took was one small mistake. A seemingly innocent back pass fromDani Alves to Claudio Bravo in minute seven ran out of steam and was intercepted by a charging Juanmi, who beat Bravo to the ball and waltzed in all alone for the game's only goal, stopping Barça's 11-game winning streak dead in its tracks.
Missed opportunity
The loss means that Barça, playing in front of a raucous home crowd, have missed an opportunity to become the overnight leaders in La Liga and will be a minimum of one point behind leaders Real Madrid come Monday morning.
Several late chances for the culers, including two in extra time, were not enough to salvage a draw. Barça's best chance of the day did not come until the 83rd minute when Pedro Rodríguez found himself all alone to the left of Málaga keeper Carlos Kameni, but fired just wide into the side netting.
Early hole
The Catalans struggled to find their rhythm in the opening minutes and slowly began to make progress up field when Juanmi picked off Alves to put the visitors up in front and shock the 78,276 on hand for the matinée.
Resilience has been one of Barça's key assets during the recent streak but, after the goal, their only answer was Rafinha's blast on nine minutes that was blocked by Weligton on the goal line. Málaga quickly retreated into a defensive mind set with all 11 men backing up to within 25 metres of their own goal to keep Barça out on the perimeter and out of harm's way.
Not their day
After Luís Suárez was brought down outside the penalty area at the half-hour mark, Leo Messi's free kick sailed over the bar. A few minutes later at the other end, Málaga's Ricardo Horta had two straight mid-range shots, the second a bicycle kick attempt, that were easily saved by Bravo.
Barça came out after the break to try and get on the scoreboard but were plagued with offside calls, registering seven on the day. Málaga's dense, physical defensive style thwarted any attempt Barça made to get deep. The final few chances for the blaugranes were too little, too late.