" If you raise your level of positivity, then your brain performs significantly better."- Shawn Achor - CEO of Good Think Inc.
I was in a conversation of few people sitting in office and talking about Afghanistan's present situation and concluding with negative results; "This country never will be changed and always will remain in its worse situation" . But what made me so disappointed was hearing this sentence: "I am searching for the way to go out of this country and have relax life over there , you are so lucky Mr. X that you are not living here and you are not facing SUCH PEOPLE" !!
I don't know if we all start leaving our country because of its worse situation which was caused by ourselves so who will make everything alright so you can come back to your country!!!???
My reason of being disappointed was not their speech , in fact I did not except such dialogue by a person who was a role model for me in being in your country and standing against problems of our country. Hearing such negative words from a symbol of love to country made me loose even a little hope that I had those days, on those days I was super busy with my sister's diploma problem and tackling with paper based system and busy with thinking how to turn it in paper less system and to be volunteer in developing such system but that conversation disappointed me so much that even I decided to leave country and stay busy only with my aims.
Well on that day I found that my country loves me and she tried a lot on how she could stop me to not leave and that time was when I had been informed about news by my loveliest teacher Mrs.Forough:
"Dr. Nasrin Oryakhil, Director, Malalai Maternity Hospital Kabul (Afghanistan) won the award for 10 extraordinary women from 10 countries on International Women of Courage"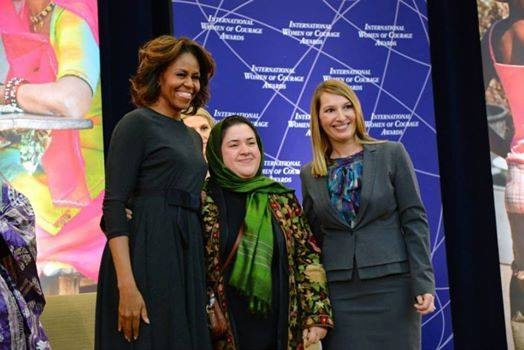 This news really inspired me and made my aims even stronger to follow them and make them true and I will do it. Thank you so much my dear teacher and thanks to those conversations that disappointed me leading to more strength. One day I will be awarded by this program as well and I will never leave my country and due I love facing challenges I will fight like a "Female Fighter"!!