Since I have become familiar with the Internet, I found on many occasions amazing videos related to different topics on TED's website. I have always been amazed by the way people present their ideas and how admirable is the work they are doing. At some point, I asked myself if it would be possible for me to be on TED stage.
On October 8th 2013, my wish came true and I had the chance to speak at TED at Joe's pub in New York City.

When you say you are from Afghanistan, you can expect to see many different facial expressions from people. Mainly based on my experience, I know that the first image that comes to their mind is war, destruction, bomb blasting, keeping women at home, no education and many other which are really delightful.
But the day I was selected to be at TED, I told myself that Afghanistan is a wonderful place with a great history. and many positive and inspiring stories that no one has even heard of. I don't know whom to blame about not delivering the good news!!!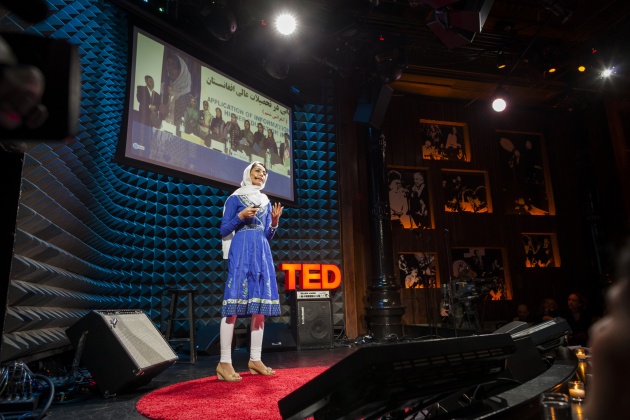 Therefore, I decided to cover my life story as an Afghan girl and present the other side of Afghanistan. I spent the first 17 years of my life as a refugee without formal identification neither from Iran, a country where I was born and lived, nor Afghanistan, a country where my ancestors were from, but that I had never visited due to the war. After the fall of Taliban in 2001, I moved to Herat, Afghanistan in 2002 during the transitional government. strong>Herat is a beautiful city near the border of Iran surrounded by beautiful mountains.
 I was in many different places: Iran, Afghanistan, Germany, Italy, Portugal, The United States. Because of on my background and the ups and downs I have faced during my life, not only as an Afghan girl but also as an individual, I understand the critical value of two things:
Education + Social & Digital Media = Digital Literacy, Communication without Borders and Digital Citizenship
These are the main keywords that now define me as Fereshteh Forough.
Building Computer Media Lab in Afghanistan's schools by Women's Annex Foundation has been a valuable and wonderful experience for me. I work with inspiring people. Without their support and great feedback, this couldn't be possible. I am thankful that they gave me the impression that they are my own family too.
If I want to sum up the whole idea of helping Afghan students, particularly girls in schools through new technologies, the main points are as below:
Digital Literacy - enables Afghan students to create and manipulate information using Digital Media;
Sustainable Education - to build a durable Educational framework for schools in Afghanistan;
Digital Story Telling - to provide Afghan students with the opportunity to share their stories using social networking platforms;
Digital Citizenship - to build your own digital country, "No Politics Just Internet";
Communication without Borders - to go anywhere in the world in a second without needing a passport.
This journey has started and we are looking forward to seeing Afghan students on TED stage talking about their amazing stories, as we already found many of them.
Subscribe to my blogs and Women's Annex so you don't miss the next articles.