Fiber Optic splicing:
There are two methods of fiber optic splicing fusion splicing and mechanical splicing. Mechanical splicing is usually carried out for emergency restorations whereas fusion splicing is done for permanent repairs of damage cable or to connect the reels of cable during installation.
Mechanical Splicing:
Mechanical splices are simply alignment devices; designed to hold the two fibres end in precisely aligned position thus enabling light to pas from one fibre into the other.(Typical loss:0.3db)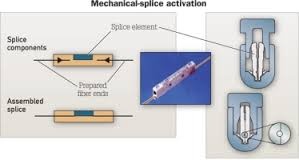 Fusion Splicing:
Fusion splicing is the joining and fusing of two fibres by placing them between two electrodes, and discharging an electric are over the fibres. This splice technique is non-reflective. Fusion splicing machine is used to precisely align the two fibre ends then the glass ends are "fused" together using electric current. Due to this a connection between the fibres is established by enabling lower loss and less back reflection than mechanical splicing because the resulting fusion splice points are almost seamless. (Typical loss 0.1 dB).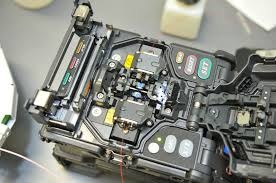 Preparation of Fibre Optic Cable for Splicing:
Removal of outer Jacket:
Remove the fibre optic cable's protective jackets and buffers to allow access to the optical fibre. Make sure the blades or cutting members are not damaging the buffer tube.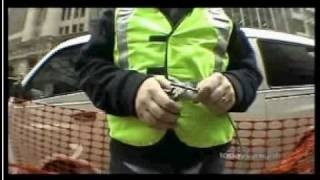 Cutting of Clever:
The Clever can be trimmed using scissors or Clever cutters.
Cleaning of Buffer Tube:
Clean the jelly on buffer tube with isopropyl wipes.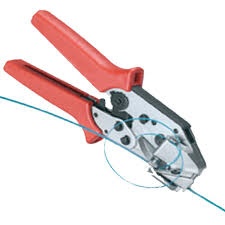 Fixing of cable in the Enclosure:
The cable should be fixed in the enclosure according to the recommendation of the manufacturer of splice enclosure.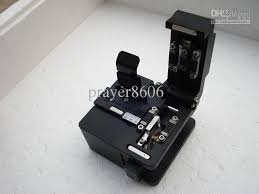 5. Stripping of Buffer Tubes:
The buffer tubes like the outer jackets can be removed by mechanical stripping tools. Use care no to kink or damage the internal coated fibres.
Optical Fiber Splicing Process:
Stripping of Fiber:
Once the coated fiber is exposed, use fiber stripper to stripe fiber to appropriate length. Take care not to damage the fibres in the process.
Cleaning:
After the coating is removed, clean the fiber with specially designed isopropyl alcohol wipes so that the fiber squeaks.
Cleaving:
A good cleave is the key to obtaining a good splice. Use cleaver to cut the fiber. After cleaving do no touch the cleaned fiber.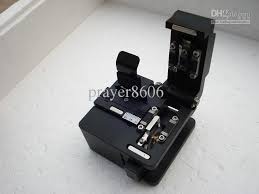 Splicing:
The fiber is now ready to be spliced mechanically or fusion. Insert the fiber carefully in the mechanical splice or in the fusion splicer for splicing. While inserting in the mechanical splice make sure that fiber is inserted directly in the groove and do not touch any other surface. Fusion splicer will automatically align and fuse the fiber.
Protection:
In case of fusion splicing cover the splice with heat shrink sleeve and mechanical splice.
Organizing:
Organize the fiber in the enclosure properly Make sure that organizing do not cause Micro-bending.