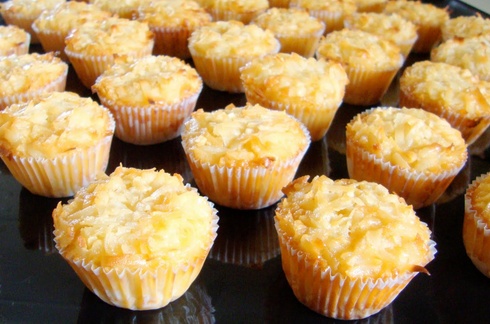 Filipino coconut macaroons are distinct for having cake-like texture. They are also softer and chewier compared to the regular macaroons that are widely available in supermarkets and baked goods stores.
Ingredients:

• 2 cups of desiccated coconut
• 1 can sweetened condensed milk
• ¾ cup of sugar (white)
• ½ cup of flour
• 1/3 cup of softened butter
• 2 eggs
• ½ teaspoon of vanilla extract
Procedures:


1. In a bowl, put butter, add sugar and beat until they are well blended, as indicated by fluffiness.

2. Add an egg and beat continuously. Put the other egg after a few minutes.

3. Pour condensed milk and add vanilla extract into the mixture and continue beating until it is well blended.

4. In another bowl, combine desiccated coconut and flour. Add the first mixture and beat until everything is well combined.

5. Scoop the mixture into small paper-lined mini muffin pans. Bake in the oven for 350°F for about 20 minutes or until the surface of the macaroons turn golden.

6. After baking, set aside and let cool for about 10 minutes. Your Filipino coconut macaroons are now ready to be boxed.
------------------------------------