Recently I've been to my second free inspirational talk from well-known inspirational speakers so I've decided, hey why not blog about it, right? So excluding Brother Bo Sanchez, who is the first inspiring speaker I listened to in person and followed on Facebook, I'll be sharing with you some of the things I learned from two other known Filipino motivational speakers of our time.
♦ ♦ Francis Kong ♦ ♦

For those who don't know, Francis Kong is a businessman aside from being an inspirational speaker. I first knew of him thru listening to the radio station 98.7 DZFE | The Master's Touch, a classical music station. I don't remember what year I started listening to this station but it probably was around 2010 or 2011 onwards when I first had a smartphone with a built in radio feature.
This radio station had special segments for Christian talk and others; I remember hearing tidbits of inspiration from him on his short Business Matters radio segment whenever I could catch it. From there I found out a few years later that he had a Facebook page and YouTube channel for his inspirational words.
When I found his Facebook page I started following him and sharing his posts on my wall whenever it hit a chord with me. And then last year, I saw an ad in my Facebook timeline saying he will have a free talk! Why, I immediately wasted no time to register! I was finally going to meet and listen live to this motivational speaker I've been listening to or following for several years now!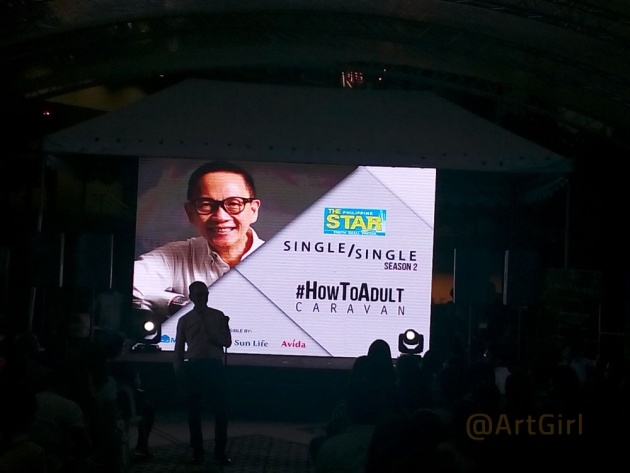 So on August 6, 2016 I finally got to see him in person. The event was held in the afternoon until early evening and was sponsored by one of the major newspapers, The Philippines Star. The topic was How to Adult.
Yes my dear readers, at this day and age I still don't know how to adult well. Hahaha~ this is a problem of people who mostly raised themselves, and yeah that's a topic for another day. Let's talk about what Mr. Kong talked about instead.
♣ ♣ How to Adult topics ♣ ♣
Now there were a lot of things he said that day but I will share with you some of what I was able to take pictures of. Most of these are for personal development.
"Opportunities do not wait to be invited. They want to be grabbed."
And when you grab it, make sure you've prepared for it and that you're ready so as not to waste it.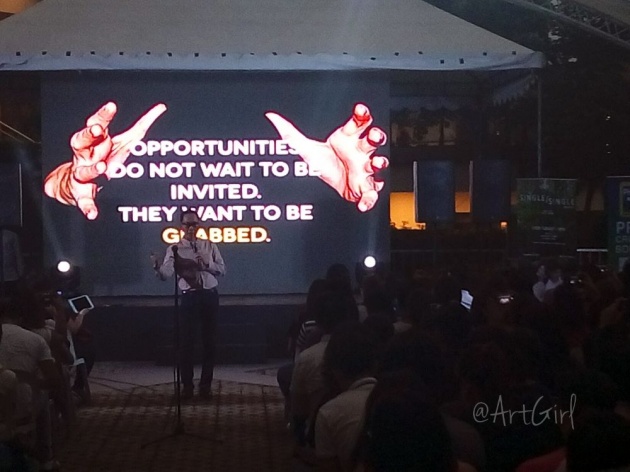 Get your worth from what you are becoming and not from the following:
Acquisitions
Accomplishments
Appearance or
Approval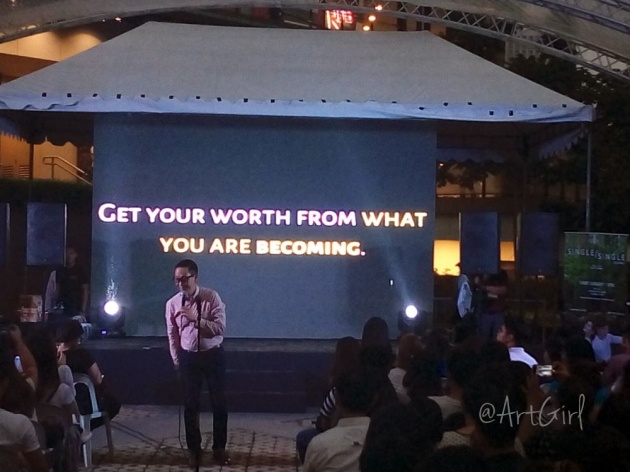 Develop discipline in the following areas:
Intellectual
Emotional
Physical
Financial
Spiritual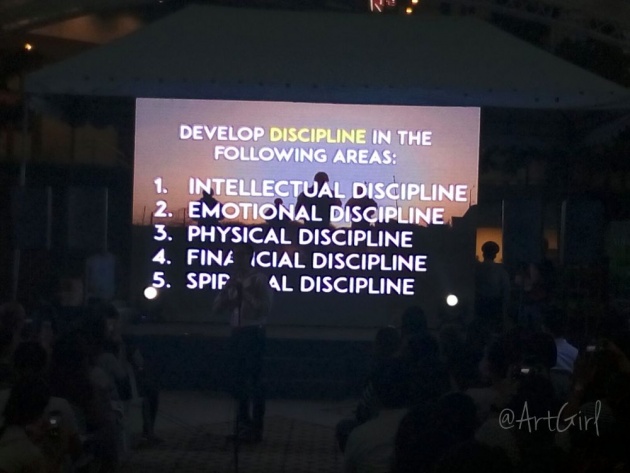 ♣ ♣ After the Talk ♣ ♣
And of course after everything was said and done there was a Questions and Answers portion. I got to ask him something! Hurray! Unfortunately because it was raining and the area we were standing on was getting a bit "flooded", the answer I got was shorter than it could probably have been. Awwww.
Anyway, I also had a chance to have a picture with him. See this? :D

After that picture session I traveled home accompanied on the way by a new found friend, the one who took this pic. Haha.
Now let's move on to the other motivational speaker shall we?
♦ ♦ Chinkee Tan ♦ ♦
So have you heard of Chinkee Tan, a.k.a Mr. Chink Positive, before now? I only became aware of him after I've been to and learned from Brother Bo's inspirational talks after Sunday masses I used to go to in Philippine International Convention Center (PICC). That was back around 2012 to 2013. (Omg I'm actually mapping out my life here!) I was going through some personal dilemma back then that was resolved by going to his Catholic service after mass.
The Philippines is predominantly Catholic but we do have Christian people mixed in with us from different religions. (I don't even know which are which but let's call the non-Catholics plainly as Christians.) This is why, for me, Chinkee Tan is to Christian worship service as Brother Bo is to Catholic worship service. As far as I know that's where he started to become an inspirational speaker. I've seen videos of him speaking in Victory worship. His other videos came up when I surfed YouTube for Bro. Bo's worship talks some years ago.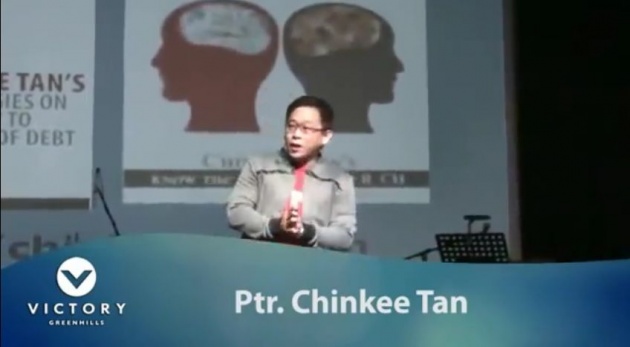 Nevermind if he was an actor before or a part of the entertainment industry or had been into network marketing and all that, to me he will always be the Christian counterpart of Brother Bo Sanchez. And because I found his videos about financial advice as well, I followed his Facebook page maybe about the same time period I've gone to Bro. Bo's talks.
Technically he's not Filipino by blood since he's pure Chinese but he's been in the Philippines since he was born I think so he's still Filipino by birth. :D
Anyway, again thanks to social media, I learned there was a free talk by Chinkee coming up last week so I went ahead and had myself registered a week before so I could attend. Yeah it was sponsored by a networking company (or multi-level marketing: MLM), which I am not a fan of, but you know it was still worth being there.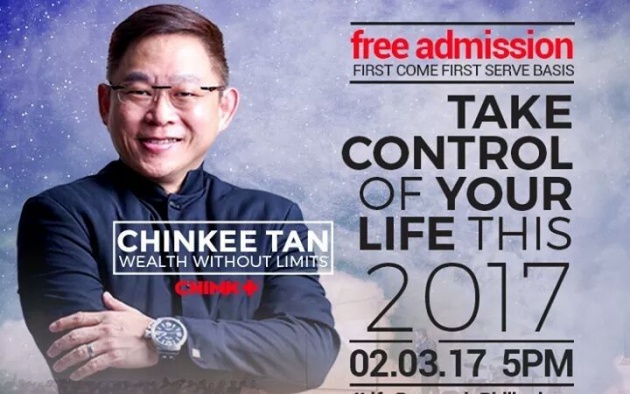 ♣ ♣ Topics ♣ ♣
As for the things he shared, I was able to take a few short videos. I took notes too but let me just share these two videos. Most of what he's saying is in Filipino but I'll write down the gist of what he said.
Why people don't succeed:

He says: If we fear to do something, usually it is also because we just don't know how to do it or how to start.
On Personal Value or Self-Worth:

He says: Your value does not change whatever happens to you. If money's value does not change after being damaged, crumpled etc, what more of the value of people?
He said a lot more but basically it's all about how to be better at personal finance. This was definitely worth everyone's time as we did not get bored at all and also learned a lot without paying for anything! We even had a few snacks. Cool huh?
And of course I wouldn't miss the chance to take a picture with Mr Chink Positive as well. I mean, it's another chance of a lifetime! So here's a pic of me and him together with some obvious (and smiling although pixeled) photo bombers. I don't understand why they don't have the decency to give the two of us space to be in the pic on our own... bah some people. T_T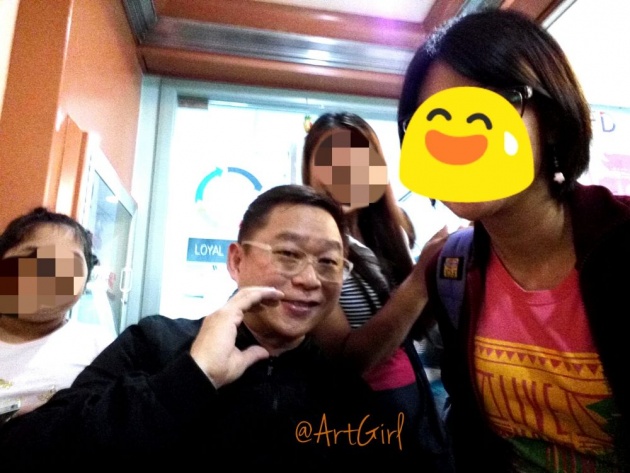 It was during the break that i took this opportunity to take a selfie with him while he was signing books. Everyone else was doing it so why shouldn't I join in too? I had unrestricted access! Haha~

His books and money kit were available for sale at the venue but I didn't buy any of his items. I was just happy to see and listen to him in person.
After his talk I went home on my own. Didn't see any familiar face or make any new friend that time but it was still good. I still felt it was a very fulfilling day as I went to his talk right after I got the test paint samples for the mural I'll be making.
So anyway that's all folks!



And because their talks were all about how to be improve oneself, my answer to this Querlo chat box below is simple. I prefer to win! How about you?
© Art x Stephanie Rue
All rights reserved.