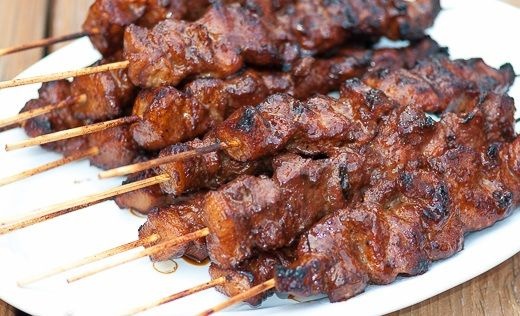 Ingredients:
2 kilograms of pork shoulder, sliced into thin pieces
1 cup cup soy sauce
1 cup cup banana ketchup
2 lemon juice
1 tablespoon garlic powder or garlic minced
1/2 teaspoon black pepper powder
5 tablespoon brown sugar
1/4 teaspoon salt
Instructions:
-Combine banana ketchup, soy sauce, lemon juice, pepper, salt, garlic, and brown sugar in a bowl. Mix well.
-Arrange the sliced pork in a bowl. Pour the soy sauce mixture and make sure that the mixture is in room temperature.
-Massage the pork slices and make sure that it is completely soaked in the soy sauce mixture. Marinate for al least 3-4 hours.
-Skewer the marinated pork slices in a bamboo skewer.
-Grill each skewered pork for 6 minutes per side in medium heat. Brush some basting sauce on each side before turning it over. Do this cycle twice or until the pork is fully cooked.
-Transfer to a serving plate. Serve with vinegar dip.