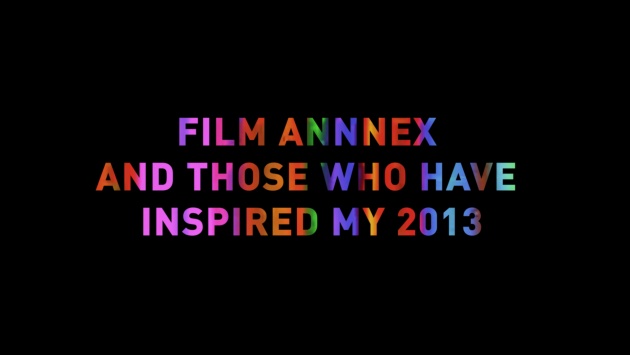 After 5 months of being actively involved with Film Annex, I felt compelled to do a kind of review of 2013 (not unlike many at this time of year) and make a written record of those whom I have had the privilege to see the work of, all possible through the eye opening and truly spectacular Film Annex. 2013 has brought me into contact with so many talented individuals, a wonderfully diverse range of film making talent that has frequently left me speechless with their ability to tell a story, frame a magnificent shot and communicate their passion for film making in the most unique and professional way. What follows is my appreciation of some of the many talented film makers and writers 2013 has provided me with the pleasure of experiencing, all made possible through the truly excellent Film Annex.
Daniel Hopkins
What can I say about Daniel Hopkins? Firstly, he is one of the most gifted and creative individuals I have ever had the privilege to call a friend. His work is spectacular in its execution and thought provoking in its wonderful introspection. I have been familiar with the work of the creative whirlwind that is Daniel Hopkins since 2000, and have enjoyed his work ever since. Through Film Annex I have been able to access his work a new and gain a fresh perspective into his thought process as an artist and filmmaker, a viewpoint that I feel has given me a fresh insight into his work. Daniel Hopkins work has (as long as I can remember) always had a preoccupation with travel and nature. When I watch his work I can see immediately his fascination with landscape and the transitory space, the middle ground between place and landscape that one might experience when traveling. This is, I feel, most beautifully represented in his Movement series. I will make no secret of the fact that Daniel Hopkins is one of the greatest influences to my development as a film maker, a truly creative force who I will always feel an overwhelming sense of pride in being able to call friend. Here is the trailer for Movement 4 . To view more of the works of Daniel Hopkins please click here - http://www.filmannex.com/daniel-hopkins
Eren Gulfidan
Previous curator of Film Annex content and creator of (in my opinion) beautifully naturalistic music videos and moving image work concerned with connection and humanity. By Myself And Goodbye is a gorgeous visualisation of the urban landscape dressed in warm glowing sunlight that I found captivating. You can view this master class in music video film making here. To view Eren's Film Annex profile please click here - http://www.filmannex.com/ErenGulfidan. To see what Eren is up to since Film Annex please click here - http://www.mumfus.com/
Mark Kuczewski
Oh my days! What a filmmaker! Mark is undeniably a film making force to be reckoned with. I have found the latter half of 2013 consumed with watching his short films and marveling at the superb creativity he is able to display through his filmmaking. What films to choose, there are so many that trying to describe my favorite is a taxing task in itself. If pushed I have to say that Living With Someone is one of the best short films I have ever seen! A master class in filmmaking that brings to mind the emotional intensity of Mike Leigh and Shane Meadows, coupled with the divine and naturalistic cinematography of the films of Christopher Nolan and Paul Greengrass. Living With Someone manages to in its short running time captivate and immerse you in the seemingly very real and beautiful world of Alice and the man she loves, a man who may or may not really be there. 2014 brings with it the exciting prospect of the next Mark Kuczewski film called Front Row, the trailer for which can be seen here - http://www.filmannex.com/movie/front-row-trailer/39683. You can view the many fine works of Mark here - http://www.filmannex.com/markkuczewski
Amy Hill
Amy Hill is without a doubt a great filmmaker. Immediately obvious when watching her films is her skill in drawing from her actors a believable and naturalistic performance. Her films to me bring to mind the work of Mike Leigh, Ken Loach and Shane Medows. When watching Notice and the magnificently realised Kyle I have found myself immersed and engrossed in the world of Amy Hill's characters. What is most memorable about the films of Amy Hill is the grounded nature of her films protagonists – at once unforgettably believable and immediately identifiable. You can view the incredible work of Amy Hill here - http://www.filmannex.com/amy-hill
Giacomo Cresti
Giacomo Cresti is the first person I have never met whom I can call a brother. Giacomo and I came to know one another through Film Annex and ever since September 2013 we have actively supported each other in the sharing of our socio-political and creative messages. Giacomo writes with a passion and integrity that is simply inspiring, passionate in his beliefs to the point of being infectious – I cannot help every time I read his blogs on Film Annex feeling the need to spread the word. His writing is at once humane, life affirming, equality espousing and utterly inspirational! Giacomo Cresti is a man I will always support – you can too by subscribing to his blog at http://www.filmannex.com/Giacomo
I could in all honesty type all night and still not get remotely close to describing all those on Film Annex that I sight as an inspiration and a creative wonder. Instead, I want to include the names and Film Annex links to the small percentage of magnificent Film Annex creatives that I have been privileged enough to encounter in 2013.
Lisa Stock
http://www.filmannex.com/InByTheEye
Kendy Ty
http://www.filmannex.com/KendyTy
Tom Chimiak
http://www.filmannex.com/tom-chimiak
Jack Tew
http://www.filmannex.com/JackTew
Carl Yates
http://www.filmannex.com/Carl_Yates
Andy Salamonczyk
http://www.filmannex.com/andy-salamonczyk
Matthew Pell
http://www.filmannex.com/MatthewPell
Anderson West
http://www.filmannex.com/anderson-west
Fuzzy Duck Creative
http://www.filmannex.com/FuzzyDuckCreative
Ciaron Craig
http://www.filmannex.com/ciaron-craig-6550
Miguel Angel Font Bisier
http://www.filmannex.com/mangelfont
Jake Fried
http://www.filmannex.com/JakeFried
Sam Spreckley
http://www.filmannex.com/samspreckley
Jennifer Bourne
This is by no means an inexhaustible list of those who have inspired me in 2013. If time allowed, there would be so many more I would gladly sing the praises of. Alas, time does not allow. In closing I will say this - my view, and one I hope all with a creative spark share, is that we can all create, we can all be creative and we can all express ourselves in a way that hopefully inspires others to watch, listen and contemplate in a way that leads to creativity. A world that does this is one I look forward to growing old and happy in.
Looking forward to a creative and fantastic 2014 with all you Film Annex beauties!!!!! Much love - Iain

To view my previous blogs click HERE.
To receive further updates please subscribe to www.filmannex.com/iaingoodyear