Did you know Facebook had a record setting fourth quarter in 2013? That means Facebook's shareholders made more money in the fourth quarter of last year than they ever have before. You might be wondering 'what does that have to do with me?' Facebook makes money off their advertising, and one reason they have so many interested advertisers is because of the huge number of daily users they have. According to Facebook's Q4 report, in the United States and Canada alone 201 million people used Facebook monthly, and 147 million people used Facebook daily. The data reveals Facebook made over $6 per user in the United States and Canada in the fourth quarter alone. None of the users (the content providers) were paid from the profit gain, unless they happened to be shareholders. My question for you is, what if you turned all that energy you're pouring into Facebook into energy spent making you money on FilmAnnex?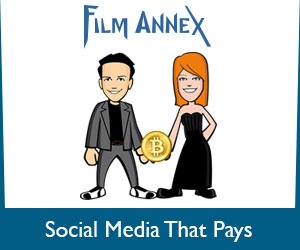 As a profitable private company FilmAnnex is able to invest in it's users as partners through the BuzzScore. If you have an account on FilmAnnex, you have a BuzzScore. This BuzzScore measures your social media engagement and your consequent influence on FilmAnnex. If you contribute unique blogs or videos to FilmAnnex, and if you share other people's content from FilmAnnex with your social media networks, your score goes up. Here's the best part about your BuzzScore, it determines the amount of money you can make on FilmAnnex. This is where FilmAnnex's BuzzScore and traditional social media tracking and scoring split ways. FilmAnnex offers it's users a direct way to make money as a reward for being active on FilmAnnex. It's literally a system that pays you for using social media.
It's time for social media, and for your influence on social media, to pay you. The amount of time you spend on FilmAnnex creating and sharing is reflected in your BuzzScore. When you spend more time doing these things on FilmAnnex, your BuzzScore goes up and the amount of money you make per day goes up. FilmAnnex wins and you win. FilmAnnex revenue goes up AND your revenue goes up. To learn more about the FilmAnnex BuzzScore and the man behind it, Maurizio Ranaboldo, read this great interview.
The key to getting your BuzzScore higher and making more money on FilmAnnex is doing what you love! Write, blog, film, and share!