See Judo World & Olympic Champions compete at New York Athletic Club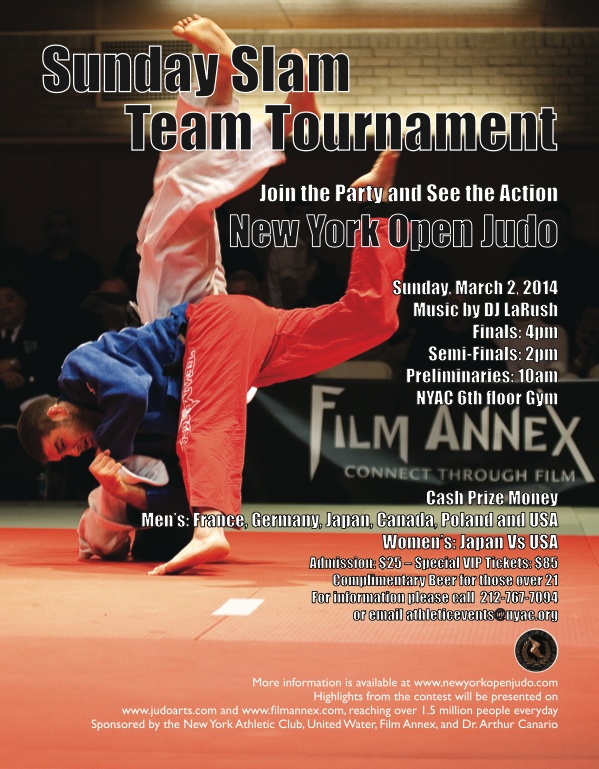 Photo credit: Tiago TRohrsetzer

NEW YORK, NY – The New York Open Team Judo Championship will be a showdown between France, Germany, Japan, Canada, Poland and USA on Sunday, March 2, 2014 at the New York Athletic Club. The teams in the Judo tournament include some of the strongest players in the world, featuring World Champions and Olympians.
Match Schedule – Sunday March 2, 2014
Preliminary rounds at 10 am
Semifinals at 2 pm, and
Finals begin at 4 pm.
Prize Money in Bitcoin
The New York Team Judo Open will be the first international sports competition to pay its prize money in Bitcoin, which is a peer-to-peer payment system and digital currency. At the time of this press release, 1 BTC = $850 USD. Each team consists of five athletes in the following weight divisions: 66 kg, 73 kg, 81 kg, 90 kg and over 90 kg. Total prize money of $3,500 (4.12 BTC) and a coveted champion's plaque is at stake: the winning team will receive the champion's plaque and $2,000 (2.35 BTC) to proudly bring back to their native country. Second place team will win $1,000 (1.18 BTC) and third place team will win $500 (0.59 BTC).
Film Annex Founder and Fourth Degree Blackbelt Yodan Francesco Rulli stated, "As a premier international sporting event, the New York Open Team Judo Championship is the perfect event to introduce Bitcoin as a payment system for international sporting events. We look forward to our continuing sponsorship and support of Judo and its athletes."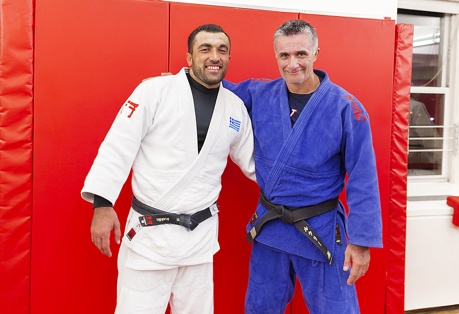 Ilias Iliadis and Francesco Rulli
Highlights from the 2013 NY Open Judo:
About Judo
Judo debuted as an official Olympic sport in 1964 and is practiced by millions of people throughout the world today. The United States won its first Gold Medal in judo at the 2012 London Olympic Games (Kayla Harrison). The discipline of Judo is a Japanese martial art and combat sport that originated in Japan in the late nineteenth century. Best known for stunning throws, Judo also involves much grappling on the ground like wrestling, using hold-downs, submission chokes and arm locks.
Judo, translated as "gentle way," teaches balance, leverage and flexibility in performing throws and other skills, and helps to develop complete body control and fast reflexive action. Technique and timing, rather than brute strength, are the essential ingredients for success in this sport. Worldwide, over 20 million people practice Judo, with all age groups, both sexes and disabled persons all able to participate in learning and practicing the sport.
Judo develops self-discipline and respect for oneself and others, and helps teach self-confidence, concentration and leadership skills. It's no coincidence that several world leaders have also studied Judo, including Russian President Vladimir Putin, former Prime Minister of Canada Pierre Trudeau, former U.S. Senator of Colorado and Olympian Ben Campbell, and former President Theodore Roosevelt, as well as many celebrity judo practitioners such as director Guy Ritchie, actors Chuck Norris, James Cagney and Peter Sellers.
About Film Annex
Francesco Rulli created Film Annex in 2006 as a leading online short film distribution platform. Film Annex educates and entertains audiences by distributing meaningful, diverse, and high-quality films and content to a global audience averaging 1.5 million viewers per day. Film Annex pioneered the internet with an advertising revenue share model for independent filmmakers, bloggers, and its 300,000+ registered community builders. Content creators receive Bitcoin (BTC) payments for their work, and Bitcoin is currently being used on hundreds of e-commerce websites and trading platforms. Film Annex now has users in 245 countries and territories, and those users can spend their Bitcoin payments online or convert BTC into local currency. Film Annex is a proud supporter of the New York Judo Open and Olympic athletics in Judo, Fencing, and Wrestling. For more information please visit www.FilmAnnex.com, our 501 3(C) Foundation supporting women's empowerment, www.WomensAnnexFoundation.org, and the corporate site, www.FilmAnnexCapitalPartners.com.
About the New York Athletic Club
Founded in 1868, the New York Athletic Club can boast of a unique history. The Club's founding premise was to bring structure to a sporting environment that was lacking in organization and uniformity of measurement. Quickly, the NYAC organized the first US championships in boxing, wrestling and outdoor track and field. Today, our New York City Club House stands in tribute to an unmatched athletic history and our on-going commitment to the pursuit of sporting excellence. The NYAC was voted the #1 Athletic Club in the United States, the #1 Private Club in New York State and Distinguished Emerald Club of the World, 2013. For more information about the New York Athletic Club, visit www.nyac.org.
--
CONTACT:
Jennifer Bourne, Film Annex
PHONE: (212) 828 7373
EMAIL: jb@filmannex.com