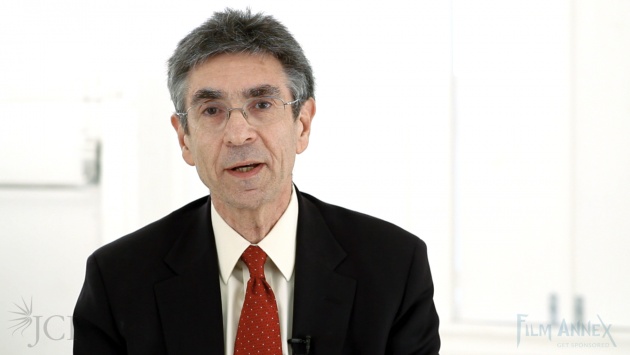 This morning, we woke up to the exciting news of Dr. Robert J. Lefkowitz winning the Nobel Prize in Chemistry. Lefkowitz visited the Film Annex studios back in April for an interview, as part of the Journal of Clinical Investigation's Conversations with Giants in Medicine video series. Lefkowitz was joined by Dr. Joseph Goldstein and Dr. Michael Brown, the duo that won the 1985 Nobel Prize in Physiology of Medicine for their discovery of the LDL cholesterol receptor and its role in the regulation of cholesterol metabolism.
According to the NYTimes article, Lefkowitz was taken aback by the news. "I wear earplugs when I sleep, and so my wife gave me an elbow," he said. "And there it was, a total shock and surprise, as many before me have experienced." The win apparently changed Lefkowitz's plans for the day. "I was going to get a haircut," Dr. Lefkowitz said, "which if you could see me, you would see is quite a necessity, but I'm afraid that'll probably have to be postponed."
Known for his seminal discoveries in understanding G protein-coupled receptor function, Lefkowitz was rewarded for filling in a major gap in the understanding of how cells work and respond to outside signals. We are honored to have had the pleasure of meeting this "giant in medicine" and the opportunity to talk about his career. You can watch the JCI interview in the video below.