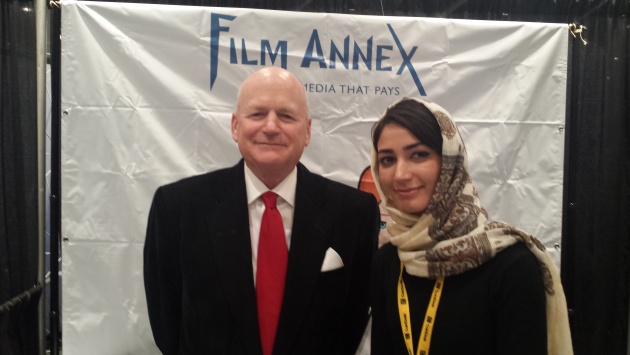 Alan Meckler with Fereshteh Forough
Film Annex Networks recently attended the Inside Bitcoins trade show in New York and we met with Alan M. Meckler the Chairman and CEO of Mediabistro who runs the show.
How does Alan M. Meckler know so much about the Internet? It may have something to do with the fact that Mediabistro was there at the very beginning. In fact, Meckler was one of the first people in the 1990s to organize a conference on the Internet. In just 3 years, Internet World had spread to 20 countries and was attracting 75,000 people annually.
Now, after 35 years doing conferences on new technology and business platforms, Meckler, like us, turns to Bitcoin. Film Annex's Fereshteh Forough spoke to Meckler at this year's Inside Bitcoin Conference and Expo at New York City's Jacob Javits Center.
"The Bitcoin show seems to have the same legs," Meckler told us. "We started this about a year ago—we had about 150 to 200 people and 3 exhibitors."
This year's Inside Bitcoins conference? According to Meckler, 40 exhibitors and at least 2,000 people. "The show will grow along with Bitcoins, for sure," he added.
Within the past year, the prevalence of Bitcoin has exploded, with many online and brick-and-mortar merchants now accepting the online virtual currency as payment. Even on our own film distribution network, we've modified our business model to accommodate Bitcoin and allow our bloggers to make money online. And not just any money—money that's decentralized, easily transferrable, and easy to protect.
According to Meckler, one of the reasons this year's conference was so successful is that the currency is now an extremely attractive avenue for new business models.
"Last year, a lot of the people had never heard of a Bitcoin," he told Forough. "This year, we're seeing a whole range of investors, prospective investors, venture capitalists, hedge funds, financial people, as well as a lot of entrepreneurs. A lot of people see this as an opportunity for a new business or a sideline business."
In the business world, people often talk about "getting in on the ground floor." Meckler knows this better than most—he was right about the Internet. Will he be right about virtual currency? We'd wager some BTC on it.
Inside Bitcoins is the leading trade show for the fast-growing Bitcoin and related cryptocurrency industry. This conferences and expo provides up-to-date information on the latest in government compliance, marketing, managing and launching in the cryptocurrency world. Attendees have an opportunity to explore the growth of cryptocurrencies, FinTech business trends, investment strategies, and more through conference sessions.