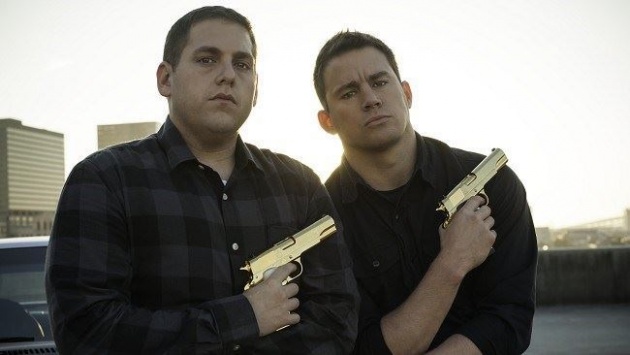 It is a well-known assertion that lightning does not strike the same place twice, which is of course no use to you if you were frazzled the first time. 21 JUMP STREET, the big screen version of a popular late 1980s TV series earned critical raves and box office dollars, establishing Jonah Hill and Channing Tatum as the best comedy cop double act since TURNER AND HOOCH; I'm still trying to work out which one's Hooch. Surprisingly, directors Phil Lord and Christopher Miller, fresh from the brick-buster THE LEGO MOVIE, were up for the challenge of a sequel, called enterprisingly enough 22 JUMP STREET. They join an elite group of Hollywood directors that include Steven Spielberg (RAIDERS OF THE LOST ARK), the Wachowskis (THE MATRIX), Walter Hill (48 HRS), Ivan Reitman (GHOSTBUSTERS), Jim Abrahams (HOT SHOTS), Richard Donner (LETHAL WEAPON), McG (CHARLIE'S ANGELS), John G. Avildson (THE KARATE KID), James Cameron (THE TERMINATOR), Sidney J. Furie (IRON EAGLE), Michael Bay (BAD BOYS and TRANSFORMERS), Oliver Stone (WALL STREET), Sam Raimi (EVIL DEAD, SPIDER-MAN), Marc Webb (THE AMAZING SPIDER-MAN), Francis Coppola (THE GODFATHER), Todd Phillips (THE HANGOVER), Brett Ratner (RUSH HOUR), Tim Burton (BATMAN), Christopher Nolan (BATMAN BEGINS), Stephen Sommers (THE MUMMY), Bryan Singer (X-MEN), George Lucas (THE PHANTOM MENACE), Gore Verbinski (PIRATES OF THE CARIBBEAN), Guillermo del Toro (HELLBOY) Jon Favreau (IRON MAN) and Jay Roach (AUSTIN POWERS and MEET THE PARENTS) who didn't do the sensible thing and sub-contract the sequel to someone else.
Getting the gang back together is one thing, but sequels increase both the threat level and the starriness of the cast. So who is the surprise co-star giving Hill and Tatum a run for their money? Joe Pesci? Barbra Streisand? The Kraken? Answer: Patton Oswalt, and he's only in one scene. It's a good scene; I wish all my teachers could have sounded like the star of RATATOUILLE, telling me it is good to challenge, ask questions, raise a hand for reasons other than asking for a toilet pass.
The joke is that all involved know that sequels are soulless cash cows that you make to consolidate your stardom to do interesting stuff like FOXCATCHER (for Tatum) and THE WOLF OF WALL STREET (for Hill). You give the audience what they had last time but maybe cut out the edgier moments, go a little bit PG-13, increase the explosion count and references to genitalia. Your big opening weekend and future DVD box-set is assured – if DVDs do indeed last – and you leave the door open for HOSTEL PART THREE.
I should explain that the gimmick of 21 JUMP STREET is that young photogenic cops masquerade as students to gather intelligence to solve high school, college or distance learning modular crime, such as who is giving kids Red Bull to get through 16 hour study sessions? The cops deal with teen issues of isolation, cash flow, peer pressure, addiction and arguments over the top bunk.
This time, I was hoping that the cops would enter SHORT TERM 12, but 22 JUMP STREET goes for easy laughs, where genitalia related humour wouldn't actually be in poor taste. They went to High School last time; now it's College.
The joke is that bros for life Jenko (Tatum, the muscular GI JOE-looking one who can STEP UP) and Schmidt (Hill, the overweight, short-haired slightly scary one, who has yet to open a movie) suck at being regular undercover cops. They let the bad guys get away, injure themselves. They are only good at entering environments that cater to their inner juvenile. However, they can only make this discovery to winning effect first time around. On the second occasion, it's a bit de rigeur; the challenge is that Jenko discovers another (male) soul mate. Schmidt feels lonely, isolated, but he does have sex, his slam poetry prowess guaranteeing him a two in the morning trip to a girl's room.
The plot, about a killer drug, mirrors the first movie; but that's okay, as long as the gags are good. Can you remember the plots of any of the POLICE ACADEMY movies? Can you remember any of the POLICE ACADEMY films? But the jokes don't exactly knock it out of the park. Ice Cube's office looks like a 'cube of ice'; there is a split screen drug-induced hallucination sequence; Schmidt fights a girl. OK, the makers get points for the 'Benjamin Hill School of Film Studies' (cue fast motion sequence) and a plot twist that is literally a bit RIDE ALONG – Ice Cube has perfected his comedy nasty face, the slight turn, no blink, one-eyed squint, other-eye 'I'm watching you, sucka'. I think of it as his 'waking up in the morning, did I really do that stuff' look.
In short, you watch the film completely underwhelmed, even by a pair of twins who speak in unison. (Two salaries, one voice; who will hire them except in comedy capers like this?) Only in the final credits sequence does the film score multiple home runs; it is worth a glance for these alone, though not for the final, final line 'Dave, I'm late'.
Will there be a 23 JUMP STREET? I predict they will either be foreign exchange students or go to England where Schmidt gives an audition as the voice of Paddington Bear ('I've gone off marmalade sandwiches, who knew?'), Colin Firth having left the project.
Reviewed at Cineworld Wood Green, Screen 5, Wednesday 18 June, 18:00 screening after walking out of BELLE, the audience insisted on talking all the way through it