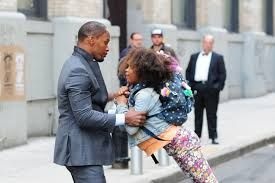 'Annie? Get the gun!' That was my first response to news that the popular depression set musical, featuring an impossibly optimistic moppet was getting a 2014 face lift. I wondered whether young star Quvenzhané Wallis (Beasts of the Southern Wild) was told that no child actor associated with the title role ever went on to have a career. 'I'm taking my opportunity,' she sings pointedly. Yes, but I wondered whether this was to bow out.
The makers, director Will Gluck (Easy A, Friends with Benefits) and co-writer Aline Brosh McKenna (The Devil Wears Prada) have their work cut out. For starters, there aren't orphanages in 2014. Children are placed in foster homes. It is very unlikely that a single thirty-something woman, Ms Hannigan (Cameron Diaz) would be able to run a house for abandoned children in 96th Street, New York City. Hasn't the area become gentrified? Even more improbable that none of the children have ever been claimed. There is a thirteen year old girl among them who thinks she is beyond adoption; she more than any of the other characters tugs at the heart strings. It is no spoiler to reveal that by the end of the film she does not get new parents.
Still, most of the audience who have not visited New York City, and especially not 96th Street, will go easy on the contrivance. They will be more critical of Diaz who not only overacts horrendously but cannot sing well. The cast is full of people who cannot carry a tune; after all, they are stars, they have people for that. But it is perverse that the three white leads, Diaz, Rose Byrne and Bobby Cannavale, wrestle unsuccessfully with the popular tunes – Byrne speaks her lines. The film seems to set out to prove that white folks can't sing. Given that the film is produced by Will Smith and 'Jay Z', rappers both, they are surely getting their wires crossed. White folks (mostly) can't rap.
Thank goodness for Wallis, for whom the singing lessons paid off, and Jamie Foxx, who won an Oscar for portraying Ray Parker and is cast as mobile phone magnate Stacks (I don't know if this is an intentional reference to Wattstax, a seminal 1970s concert movie, but if it is, the makers know their African American culture). Stacks is of course 2014 equivalent of millionaire Daddy Warbucks, who was a war profiteer. I wondered briefly whether the character might be renamed Father Starbucks – 'I made my fortune through tax avoidance; for a man who never turned a profit, I make an awful lot of dough' – but then of course we would have no sympathy for him. (Would we?) He is a self-made man whose big secret is Queens; and for a moment I thought the film was going to turn into To Wong Fu, Thanks for Everything, Julie Newmar (a reference for those familiar with Wesley Snipes' attempt at a Priscilla, Queen of the Desert-style movie). 'This is my father,' he says pointing to a subway line. I've heard of surrogate mothers, but usually human insemination is required. Stacks got where he is by hard graft. According to the script, he wants to be like his dad, who worked twenty hours a day. Of course – adopt a child, that'll restrict your sleep to four hours.
Stacks wants to be Mayor of New York and he will vomit on homeless people to do it. That isn't in his strategy document, rather a by-product of having no tolerance for mashed potato (or indeed any naff dance) when he volunteers at a feeding station. This too seems bizarrely out of date. In the UK, we have food banks where the destitute are given tinned goods – but no can openers – to help them feed their families. The one modernist touch is the suspicion cast on mobile phone operators. 'They can spy on us,' says one character. In fact, this turns out to be absolutely true.
This is no help to Annie, who lives in Ms Hannigan's home for single white females. (Wouldn't Jennifer Jason Leigh have been better in Diaz's role?) She wants to find her parents whom she believes will come back to the Italian restaurant where they dropped her off aged four on Cannelloni night. Each Friday, Annie sits on the porch opposite the restaurant – and is lucky not to get snatched. She has to sneak back before Ms Hannigan notices. Through a series of circumstances involving an inspector from social services (Mike Birbiglia), a dropped social security number, a trip to the public records office and a group of boys chasing a stray dog – Annie tries to save it – she ends up being rescued by Mr Stacks. In order to improve his poll ratings, he invites her to lunch, then to live in his state of the art penthouse apartment, complete with palm print and voice recognition, prepared foods, digital decorations and city views.
Annie, of course, has a big secret, one so surprising (given she carries a note from her parents explaining they cannot cope) that it is rather shocking. Nevertheless, it leads to the big embarrassing moment when she cannot be the perfect photo opportunity for Stacks. He has to decide whether he wants to be a real parent and how he can make a real difference.
I say 'big embarrassing moment', but just about every musical number is embarrassing rather than exhilarating to watch, most notably when Diaz and Cannavale, who plays Stacks' public relations consultant, sing Easy Street. Cannavale's character can get people elected, but he sure wouldn't win X Factor. Many of Charles Strouse, Martin Charnin and Thomas Meehan's memorable songs are over-produced (notably Tomorrow) or de-juiced (Hard Knock Life). There are some new songs as well, but none stick in the memory. The film does plumb the depths of low culture when Annie is invited to the premiere of a film (featuring Mila Kunis, Ashton Kutcher and Rihanna) that is a cross between Avatar and Aquamarine – the directors listed are Phil Lord and Christopher Miller rather than James Cameron. It is beyond terrible – at one point Kunis cries neon tears. Beyond Terrible ought to be its title.
As I watched Cameron Diaz scowl for the umpteenth time revealing her lower row of teeth, I was reminded that stars don't watch dailies. Wallis, I suspect, did. Her performance is pitched at the right level of cute. At the beginning of the film, Annie demonstrates that her best president is Roosevelt for his New Deal thing. She stamps her feet, gets her classmates to bang the desks and tells each of them they're rich thanks to the help given to them. The film debates charity. At one point, Stacks offers a couple a wad of notes. 'No thanks, I want a hand up not a hand out.' It's about being too proud to beg – you wonder if they ought not to work that song in too. The film wants to be about creating the conditions where charity isn't necessary. (Everybody needs somebody – couldn't they have worked that in too?) But the makers don't really tackle the reasons for the gap between rich and poor.
Even if it hadn't been leaked online beforehand, Annie will struggle at the box office. John Huston's 1982 film with Aileen Quinn in the title role wasn't a hit either. As Stacks' assistant, Byrne gives the most agreeable performance. Her character is in love with Stacks for his broad shoulders (yeah, right) but she has a good rapport with Annie. When the project was announced, it was mooted as a hip-hop musical. Fortunately, the tunes you remember are basically intact. The modern songs, while nowhere near as memorable, don't seem that out of place, but don't leave you elated either.
Reviewed at Odeon Wimbledon, South West London, Sunday 14 December 2014; 10:30am preview screening; with thanks to Mumsnet and Sony Pictures Europe