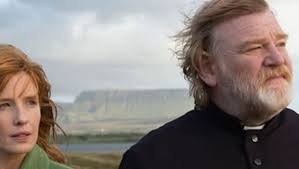 Great actors allow you to read their thoughts in a close up. Brendan Gleeson is one such. In the opening seconds of CALVARY, we see him as a village priest, James, in his confessional just before he ministers to one of his troubled flock. The eyes go down as if to say 'who is it this time?' Father James exhales slightly, as if he were a goalkeeper facing a penalty kick; anxious, not entirely confident in his own abilities. Then a shift to compose oneself: 'this is a job – whatever they say I must be useful.' Then the kicker, as he responds to the words from a man, 'the first time I tasted semen I was seven years old.' If you are looking for memorable opening lines of movies – novels even – you've got one right there.
Gleeson and CALVARY, written and directed by John Michael McDonagh, grip you the very beginning. The tone isn't humorous – though there is plenty of gallows humour in the movie. It is sober, straight to the point. The Catholic Church allowed priests who abused young boys to go unpunished. Father James is not a paedophile. The confessing man wants to kill a good priest, the man to whom he confides his dirty secret, his untouchable stain. He gives James seven days to settle his affairs before meeting him on the beach the following Sunday.
Does Father James know his would-be assassin? He suggests to a superior that he does. However, we don't. There is no shortage of suspects: a writer (M. Emmet Walsh) who wants to kill himself should he become infirm; a male nurse (Aiden Gillen) traumatised by the suffering of others; a drunken millionaire former banker (Dylan Moran) who has a financial proposition for the priest; a potentially abusive ex-husband (Chris O'Dowd) whose wife has taken multiple lovers; a vaguely threatening mechanic from the Ivory Coast (Isaach de Bankole) and a publican (Pat Shortt) in danger of losing his business. Then there's a troubled young virginal man in a polka dot bow tie who cannot get a woman; he confesses to psychosis. The local policeman has a male lover.
CALVARY is a film about a priest in which there are no sermons from the pulpit. It is about a comforter who cannot bring comfort to others. He cannot get a murderer to confess where he had hidden the final body. He is visited by his daughter (Kelly Reilly) who survived a suicide attempt, caused by a man – the only explanation that we hear. We learn that Father James had a problem with the booze – a ticking gun that we know will go off. He also has a loyal dog and a fast car; the dog stays in the car when he makes house calls. Alcoholism and the death threat are not the only ticking bombs. Father James attempts to intervene when a woman comes to church with a bruise on her face. Maybe her husband caused it, or her lover. There is a code of silence.
If I had one criticism of CALVARY, it is there is a very small cast list (relatively speaking) most of whom are present at the village dance. There is no community, only small circles of sadness and false gaiety, the jerking back of the head. I cannot remember a film where so many characters lift their heads up to avoid the level gaze of the camera – and, by implication, the priest. Looking up to the heavens is also looking away and this criticism is levelled at the priest in the final confrontation.
A running theme is detachment. Abusive priests unpunished, bankers who contributed to Ireland's financial crash not brought to book, men are allowed to hit and hurt women. There is more violence to come. The Church doesn't do its job to provide a moral centre. Instead it seeks donations to pay for the compensation claims it attracted.
Only the millionaire really comes to the church for help; his wife and children having abandoned him, he got out of the banking business before he was found out. He offers to make a donation, gratefully accepted by Father James' colleague. The colleague is later described as having 'no integrity'. Father James does give some comfort to a young French woman (Marie-Josée Croze) whose husband was involved in a fatal traffic accident. When James observes how baggage handlers treat the coffin containing the woman's dead husband, he makes a decisive act.
There is something of the western in CALVARY, HIGH NOON or BAD DAY AT BLACK ROCK; the promise of a gun fight, in which only one of the protagonists is armed. We stop trying to guess who might be threatening the priest's life. Instead, we watch a downward spiral, the build up to a dreadful confrontation.
McDonagh's screenplay is extremely intelligent, a well-argued tract against cynicism and indifference. It puts the recent Irish comedy, THE STAG, into relief. THE STAG was a comedy about Ireland rediscovering its mojo. CALVARY gives no such comfort. The landscapes are beautiful but there is a story behind their emptiness. It is entirely without sentimentality.
Reviewed at Clapham Picturehouse Screen 4, Sunday 30 March 2014, 11:00am preview