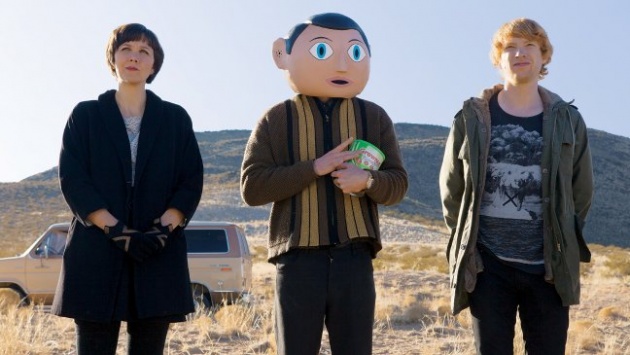 In FRANK, Michael Fassbender is completely unrecognisable, buried under a Papier Mache head. It seems like a perverse thing to do but there was once a man called Chris Sievey who wore a similar head and called himself Frank Sidebottom. This is not his story. Rather it is an affectionate tribute to a man who might wear a mask, from his formative teenage years to adulthood. How he could only function with it. How he was forced to describe his facial expressions to make others feel comfortable around him ('welcoming smile', 'bashful grin'). How he never even took it off at his most intimate moments.
The film, based on Jon Ronson's magazine article and co-written by Ronson and Peter Straughan, is directed by Lenny Abrahamson (ADAM AND PAUL, GARAGE, WHAT RICHARD KNEW). Who would have thought that a film that forces us to look at a paper head for 90 minutes could be the director's most commercial work?
Our point of entry is Jon Burroughs (Domhnall Gleeson), a would-be songwriter living in a seaside town. He has a so-boring office job and a desperate desire to be 'pop'. Frank (Fassbender) is the lead singer in an experimental band whose keyboard player just happens to run into the sea on Jon's home turf. He has hypothermia and is taken away in an ambulance – well, if he wasn't, that would be a pretty damning indictment of the National Health Service! Jon says he can play keyboard. Band member and self-confessed mental case Don (Scoot McNairy) consults with Frank and Jon simply has to turn up at the stage door at 9:00pm.
The gig is not a success – there are the sparks of something and then just sparks as Don's electric guitar shorts out. For a moment, Jon feels part of something. A chord is struck - well, they only use D, F and G - and he is grateful. When he gets a call to join them in Ventna for a gig, he takes time off work.
It is not a gig. They go off to prepare for an album, starting from scratch. Nothing will be recorded until it is perfect. Clara (Maggie Gyllenhaal), one of two Americans in the band, devoted to her Theremin scowls at the interloper. A French couple, the girl plays the drums, keep to their own language. Jon only has Don and his computer. He tweets their exploits and builds a fan base, increasing his followers. He puts stuff on YouTube. He also bails the band out, dipping into his nest egg when the band fails to pay the rent. Disaster almost strikes when a German family turn up to occupy the holiday home. Frank speaks to the wife and gives her, shall we say, a spiritual experience, almost the definition of diplomacy, which is telling someone to go away and make them look forward to the trip. (That is from a famous quote, by the way; no credit to me.)
Do they finish the album? Will they find fame? Will Jon melt Clara's resolve? I'm not saying. If you ever wondered what the Austin Film, Music and Technology festival, South by Southwest (SXSW) is like you'll get an idea from the movie; you'll also learn to avoid the open mike afternoons, and the pancakes (well, maybe not the pancakes). Jon makes some pretty obvious discoveries. People need coping mechanisms. These can set you free to be creative. Sometimes good stuff happens.
There is a plot development that I didn't quite believe in but it leads to a double shock. It also takes Jon on a path where he realises that he has done a bad thing, though not for duplicitous reasons.
Gleeson starred in last year's ABOUT TIME and brings the same charm to his performance as Jon. He wants to be liked just a little too much but you like him just the right amount. This is certainly the starriest film Abrahamson has made and you wonder whether Fassbender is surplus to requirements. But you get used to looking at Frank and his head. He doesn't look right without it.
FRANK is quirky and likeable without being laugh out loud hilarious. It should be clogging up the multiplexes nicely. One other reason to see it: Fassbender can sing. Maybe not power ballads, but he can fashion a song about a tuft of carpet without saying 'shag' once!
Reviewed at Soho Screening Room, D'Arblay Street, London, Tuesday 18 March 2014, 18:30; FRANK opens in the UK on 9 May