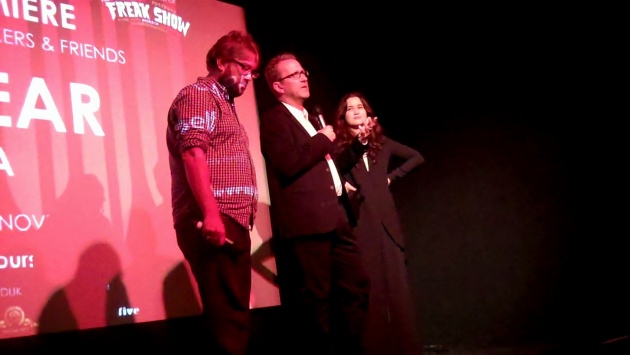 Picture: Left to right: Jamie Graham (TOTAL FILM), director Jeremy Lovering and actress Alice Englert introduces IN FEAR
IN FEAR, the British 'don't be afraid of the dark, be terrified of it' thriller is unusual in that no screenplay is credited. The director Jeremy Lovering has a story credit and there is a story consultant but we never see a title card declaring 'written by' or 'scenario et dialogues'. Watching the film, you can see why. For much of it, Tom (Iain De Caestecker from MARVEL'S AGENTS OF SHIELD) and Lucy (Alice Englert, GINGER & ROSA, BEAUTIFUL CREATURES) are driving round in circles in search of the rapidly unpromising Kilairney Hotel, where you are assured of an Irish welcome that is, point of fact, somewhat unpleasant. At various points, Lucy feels someone touch her hair. Then her clothes are strewn all over the road. Then someone grabs her. A tree falls down narrowly missing the car. Then there is a figure standing behind Tom as she searches for the hotel – look, he's over there! Then a poster they thought they'd chucked out is in the glove compartment. Then they hit a young man with a head injury (Allen Leech) in the road. It's all because of an events that we don't see in a pub, moments before the film begins. Tom had his drink knocked over, got into a staring match with some boys and bought a round. Some guy flirted with Lucy on the way to the bathroom but she rebuffed them. Did these events take place exactly as described? The injured stranger sows seeds of doubt.
The clever poster art, depicting woods through silhouettes created by lumberjack saws, is misleading. We don't see such a weapon. In fact, I don't think we see any weapon apart from a broken bottle that Tom uses at one point. Lovering tries to avoid the clichés of the genre, to terrify the audience with BLAIR WITCH minimalism. All we need now is camcorder footage or black and white photography. Instead we have close up shots of eyes – lots of them.
To ratchet up suspense effectively, the plot needs to be tighter than it is here. When the stranger describes a gang member who as a young boy stood in front of a car explicitly to cause a fatality, we know who he's really talking about. The story of an ingratiating stranger who terrorises a couple has been told to more terrifying effect in DEAD CALM and, for that matter, THE HITCHER and the original VANISHING (Jeff Bridges terrorised us with his accent in the remake). It is an almost classic set up. All we need is the rain. Ooh, look, it's drizzling. The denouement is entirely predictable.
What is it actually about? Well, the film is set in Ireland and the couple are intent on pre-marital sex and that's not allowed, so it isn't; someone's got to maintain the 'natural' order: 'if you want it, put a ring on it'.
I did not detect any expressions of fear at the screening that I attended, actually a Central London premiere with film director and lead actress in attendance, but it was watched attentively. It drew modest applause. Not a classic thriller; rather it is a welcome alternative to torture porn with a pair of likeable characters put through the wringer.
Reviewed at ICA Cinema, the Mall, Central London 21:00, Tuesday 12 November, after a couple of brewskis