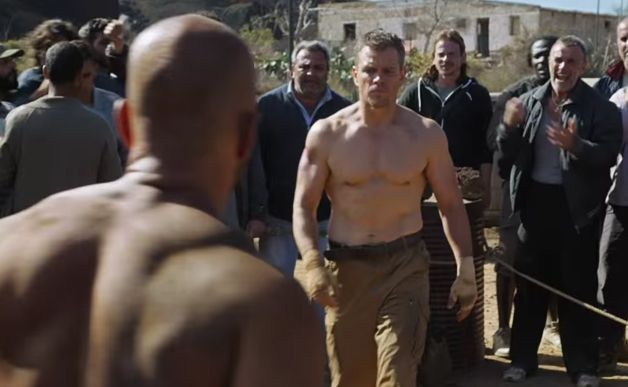 Still courtesy of Universal Pictures
The film that Jason Bourne most reminds me of is Bill Forsyth's belated sequel Gregory's Two Girls (1999). Forsyth took a charming movie featuring the gangling John Gordon Sinclair and introduced politics into it. People were intrigued by the idea of finding out what happened to the heartbroken Gregory, but they expected the movie to be broadly of the same genre, to give them a similar vibe. The film remains forgotten along with the Scottish filmmaker himself, who hasn't directed a feature since.
After his successful Oscar-nominated thriller, Captain Phillips, director Paul Greengrass reunites with star Matt Damon for the fifth film to have Bourne in the title, discounting Dolores Claibourne (1995) and Mrs Winterbourne (1996), vehicles for Kathy Bates and Shirley Maclaine respectively. Jason Bourne finds the titular former government assassin posing as an Eastern European knuckle fighter, scrapping for – well, I can only guess gym money. He is found by former CIA operative Nicky Parsons (Julia Stiles, otherwise sidelined by Hollywood) who has some important news to tell him about his father.
The plot, concocted by Greengrass and his editor Christopher Rouse, doesn't get past the first credibility test: how could Nicky find him so fast when he has been off the grid? Why does she care about the secret – and that of another covert CIA programme – enough to risk her own life getting back in touch with him?
The second frankly unbelievable plot point is how easily Bourne gets back in the game. Nicky gives him the key to a safe deposit box containing multiple passports which to my mind are all out of date. The film is set in 2016, the last Matt Damon Bourne film was 2007; I don't think he has a single valid travel document.
Now I'm quite willing to believe that Nicky and Jason share the same gym and that through the delights of visa-free travel and a lax ticket inspection regime, Jason could travel from Athens to Berlin. Travelling from Berlin to London, whilst cheap, is difficult for him with his documentation.
The only time Greengrass ever cares about how Bourne gets through passport control is when he travels to America. At last, a country that cares about its borders. He receives specialist help from a demanding CIA operative, Heather Lee (Alicia Vikander).
Greengrass confuses momentum with an imperative. These are not my suggestions for an alternative title, rather the director's focus on action rather than credibility. His interest is in the surveillance state – he's a bit behind the times there – with the plot focussing on the CIA getting into bed with Silicon Valley – the internet industry rather than with an aged porn star.
Jason Bourne has no imperative. There is no reason why files on the CIA's new programme would be kept with those on 'Blackbriar' and 'Treadstone' familiar from previous Bourne movies. So the film beggars belief.
More than this, the Bourne franchise is a reaction to Bush's America, with covert operations attempting to affect regime change. America's covert operations in the Obama (Democrat) era focus on individual targets. Whilst they 'got' Bin Laden and a few influential members of (so-called) Islamic State, they failed to 'get' Joseph Kony.
In any case, the Bourne franchise has been supplanted by the TV series Homeland, which is all about dealing with the fallout from American military intervention in Afghanistan and Iraq as well as its very limited intervention in Syria. Whilst incredibly suspenseful (at its best), Homeland explores the nuances of America's national security policy with a more compelling narrative than the new Bourne film can muster.
There is probably a script re-write that could bring Bourne up to date – Tony Gilroy and George Nolfi are solely missed. To his credit, Greengrass avoids such hackneyed devices as the family of one of Bourne's victim's putting a price on his head (see the Taken films) or Jason becoming a mercenary-for-hire whose alias is rumbled or Jason being a taxi driver who cannot take it any longer. However, I don't think he has come up with anything better. Realistically, I think Bourne would become The Equalizer. Unfortunately, Denzel Washington beat Damon to it.
Tommy Lee Jones has a thankless role as a CIA Director whose asset (Vincent Cassel) is solely responsible for the film's high body count. Riz Ahmed plays an internet whizz whose new app, site or whatever has 1.5 billion users - but not in China or India, I expect.
Foot chases, a SWAT truck ploughing through traffic and close quarter fighting are no substitute for a reason to become involved. Jason Bourne the movie is soulless. By the time it has something to say about CIA operatives being opportunistic, most of the audience are out of the door.
Reviewed at Cineworld Fulham Road, Screen Five, Central London, Sunday 14 August 2016, 17:45 screening, on the day England lost the fourth cricket test against Pakistan and Arsenal were beaten at home by Liverpool by three goals to four.