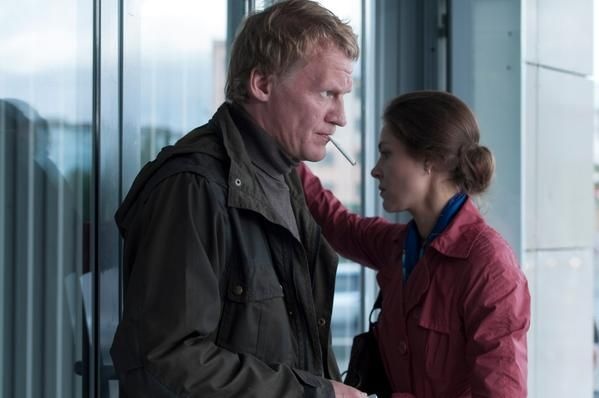 Andrey Zvyagintsev's multi-award winning LEVIATHAN (at Cannes, London and Abu Dhabi film festivals) has been hailed by some as a biting satire of Russian President Vladimir Putin's style of government. I didn't see it. To be fair to Zvyagintsev, the film is not explicit in this criticism. Putin is a symptom, rather than a cause, the latest in a list of leaders, whose portraits are lined up for target practice in one scene, responsible for Russia as a state run by crooks and oligarchs, whose best form of defence is attack.
The film, which begins with a blast of Glass – Philip Glass's Akhnatan, to be precise – situates us amongst crashing waves and impoverished landscapes. In the film's key image, we see the beached preserved skeleton of the belly of a whale, stripped and empty. The suggestion, as far as ordinary Russians are concerned, at least those who live by the Barints Sea, is that local infrastructure – people's lives – are stripped and empty.
The film, which would make a good double bill with Jia Zhangke's A TOUCH OF SIN (2013), illustrates the corrosive effect of corrupt local government. In Zhangke's film, it was a mine that was sold off, with none of the profits going to the locals. In LEVIATHAN, a homeowner, Kolya (Aleksey Serebrakov) faces eviction as the local mayor, Vadim (Roman Madyanov) has authorised a compulsory purchase order at the fraction of the price. Kolya is assisted by Dimitri (Vladimir Vdoviche), a lawyer from Moscow, who wants a settlement of 3.5 million roubles than one-fifth of that sum offered by the land consortium. At the hearing, the judgement is rattled off by a court official in double quick time. Kolya's appeal is overturned. However, Dimitri has a potential trump card, a dossier of (we presume) corrupt dealings carried out by the mayor. Dimitri is convinced he can get him to re-consider.
Vadim likes to gloat and turns up at Kolya's house with his cronies, nominally offering the local handyman a drink but really wanting to demonstrate his power. When Dimitri tries to file a complaint against him, he encounters a series of closed doors. The police desk sergeant is away. Officials at the local courthouse have no authority to take his complaint. Dimitri's only play is to face Vadim. The mayor glances at the dossier and proposes a further meeting.
What Zvyagintsev doesn't say is that those who oppose corrupt officials end up being shot dead and buried in unmarked graves. What happens instead is naked intimidation, which in turn leads to self-destruction. However, his characters aren't conventional victims. They are governed by their own weaknesses. In Dimitri's case, he is driven by desire for Lilya (Yelena Lyadova), Kolya's younger second wife, who is treated dismissively by Kolya's teenage son. Nikolai wants to take her back with him to Moscow. His relationship with Kolya dates back to their military service in their 20s, but that, it is implied, does not mean anything.
Kolya is put upon by a local police chief who expects him to fix his second-hand rusting truck for free. He is passed this message by a traffic cop and explains that he cannot do that work immediately as his friend from Moscow is visiting. Nevertheless, the police chief turns up in truffle-like freebie hunting mode. Kolya's refusal is greeted politely but an air of menace, the stench of petty abuse, remains.
Kolya and his family are invited by the police chief to a picnic where they go off shooting, only the police chief is rather fond of his automatic weapon, which takes the fun out of target practice. It is then that the framed portraits of Russian presidents of the past are brought out, for symbolic value. Significantly, we don't see the bullets shatter the photographs. Violence in the movie takes place out of frame, as one suspects in real life, out of public view.
The Russian Orthodox Church does not get let off lightly either. Vadim seeks religious blessing and attends church if only to ensure that patronage is paid. Vadim speaks the language of enterprise and public private partnership. The reality is that he is just a petty crook with a framed picture of Putin in his office.
What follows in the second half of the film is the collapse of any form of resistance. Alcohol is excessively consumed and a tragedy ensues. LEVIATHAN is an extremely bleak but watchable film, but it is no masterpiece. There is no formal daring in it, or it has to be said great filmmaking. It is worlds away from comparatively recent Russian masterpieces like MOTHER AND SON.
The comparison with A TOUCH OF SIN makes us think about the BRICS (Brazil, Russia, India, China and South Africa) not as emerging markets that guarantee the financial future of the West rather a deep-rooted quagmire of corruption. On the 'ease of doing business' index, one suspects they remain statically low. LEVIATHAN was made before the recent events in Ukraine. Putin's call that he is defending the interests of Russians abroad is contrasted with the film's depiction of the treatment of Russians in their own country. Stick that on an advert for 'Russia Today'.
Reviewed at a Soho Preview Theatre, London, Thursday 30 October 2014, 18:30 screening