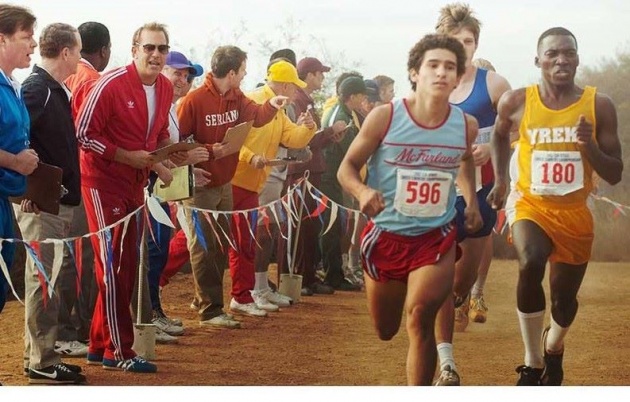 Unlikely to get a release in the UK, but liable to go down a storm stateside is McFarland, USA, the latest sports-themed film to feature Kevin Costner. Costner has in the past been Mr Baseball (Bull Durham, Field of Dreams, For the Love of the Game), Mr Cycling (American Flyers) and Mr Football (Draft Day). He's also made sport for film critics who have mocked his po-faced earnestness (The Postman). In McFarland, USA, he plays the real life college football coach Jim White who cannot help but ruffle his players and colleagues. In 1987, Jim got a second chance in the small Californian town of McFarland, teaching at a school where the students are predominantly Mexican-American. In the movie, Jim loses his position as assistant coach on a losing football team but sees the potential of the students in his gym class as runners. He puts together a team of seven runners based around one outstanding athlete, Thomas Valles (Carlos Pratts). To keep the team together, he must learn more about Mexican traditions, respect their obligation to family and instil in them a belief that they are better than their competitors because they combine studying, working as pickers and undertaking his training regime, which includes at one point training on mounds of almonds.
An inspiring if formulaic tale, it is Disney's second sports film in successive years (after Million Dollar Arm) to reach out to a different racial demographic. With Mexican Americans currently the second largest ethnic minority in the country (do they count Italians, Irish and Jewish Americans in this category anymore?) it is a shrewd attempt to make films that deal with their concerns, going beyond the dance movie or gang warfare thriller. It seeks to move away from making the minority a social problem, mainly by ignoring the dual issues of irregular status and the prejudices of others towards them. The Mexican-Americans in this movie sing the national anthem with their hands on their hearts, reach out to those in need, are hospitable in spite of their social disadvantage and learn trades. They are not all 'gang bangers' – a parade of vintage cars isn't what Jim thinks it is, as he shields his wife (Maria Bello) and two daughters from the eyes of a group of men who descend on a local Mexican restaurant in an early scene.
The movie is directed by the New Zealand-born Niki Caro, best known for Whale Rider. The Mexican-Americans in McFarland, USA are like the Maori in Whale Rider, with their own traditions and lack of social advantage. You can see why she was hired for the film, as she conveys a real feeling for the material, with its adrenaline-pumping foot race sequences and celebrations of community spirit – pitching in for a community car wash and food stall to raise money for the 'McFarland Cougers' (misspelt) running kit. Costner helps her by giving a restrained performance, recognising that even though he is our principal viewpoint character, the kids are the real show.
At the matinee screening I attended, at least one audience member was kicking the seat in front of them in appreciation of the runners' victory. Normally, I deplore such behaviour from the over-fives and from passengers on aircraft, but here I didn't mind. Enthusiasm for behaviours that aren't based on hate should be encouraged.
If you want to learn how to compete in long distance races, then McFarland, USA isn't for you. The way the runners attack hills may look exciting cinematically, but true runners pace their ascent, knowing the downward slope will help them; they save their real energy for the flats. It is also shocking to report that in races held in sweltering sunshine, no one takes on any water. Costner is constantly seen with a Coca Cola in his hand.
On the Latino side, Pratts takes running and acting honours, dealing with a father who has a violent wall-slamming temperament (but don't judge the man by one scene). Morgan Saylor and Elsie Fisher play Jim's daughters, Julie (aged 15) and Jamie (10). Grant Thompson, Christopher Cleveland and Bettina Gilois wrote the 'beat-sheet'-hitting screenplay.
Reviewed at AMC on 34th Street, New York City, New York, Screen 5, Saturday 21 February, 2015, 10:10am screening