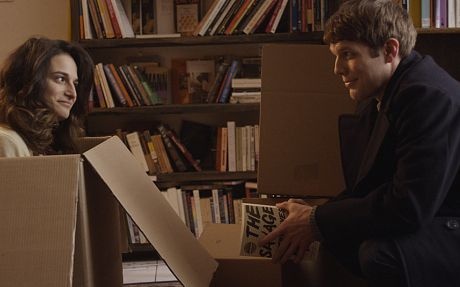 I don't recommend arriving late for a screening of OBVIOUS CHILD. You miss (as I think I did) a stand up set by book store employee, serial whiner and sometime comedian, Donna Stern (Jenny Slate, from TV's Saturday Night Live). When I first met her (cinematically speaking) she was being dumped by her boyfriend. Did I feel sorry for her? Well, break ups happen. Sometimes you meet someone new, do the 'compare and contrast' and opt away from the girl who farts under the duvet. It's called freedom of choice. Just because I date you, it doesn't mean I've settled for you. At any rate, Donna justifies the reasons for being dumped. She drinks a lot. She leaves several messages of varying degrees of offence on her ex's voicemail. She's crushed. You see her at work, sleeping in the corner of a bookstore. Is shelf filling second-hand copies of the work of Richard Wright that hard? 'I had trouble sleeping,' she complains to her boss.
Could it get any worse?
Her boss confides in her. The bookstore is being closed in six weeks. If you count the bookstore closed at the opening of FADING GIGOLO, that's two New York bookstores in four months (movie release wise). Barnes and Noble - be very afraid. You can't even blame it on the conglomerate across the street (see YOU'VE GOT MAIL). Amazon's Kindle – what have you done?
Could it get any worse?
Donna crashes and burns during her comedy set. She does confessional stuff – 'my boyfriend broke up with me' – minus the jokes, perspective and any means by which narrative can be turned into art. She talks about killing the girl who stole him away from her. When does a stand up set become a statement of intent? At any rate, the audience got in free, so it only cost them time to be disappointed.
It gets better – slightly.
Sitting at the bar, getting drunk on someone else's dollar, Donna meets Max (Jack Lacy), a tall Mid Westerner who looks like he belongs in an Osmond tribute band. She invites him to her table. They hit it off. Donna is like no one Max has ever met before. She's, erm, authentic, out there, exposing her nerve endings to the world. Fortunately, Max missed her act. She brings out his worst side. He ends up peeing in the street. Have you ever seen an Osmond peeing in the street? And he farts in her face. Really, I didn't make it up. Who said 'better out than in'?
So back to his place –
You bet - for some pretty amazing dancing, and more drinking and then bed. OK, then. We don't get an accurate account of their lovemaking. Somehow, her stained knickers end up under his head when she wakes up in the morning. Easy, does it...
Does it get any worse after that?
She gets boob sore. I mean, she's pregnant.
Donna doesn't want to have the child. She's not ready to be a mom. She barely talks to her own (Polly Draper). Getting an abortion is an easy decision. Well, finding $500 is not easy. Donna has not done a commercial in a while.
At this point, I started to like and care for Donna. She never at any point blames the guy or asks him to shoulder responsibility. This is an admirable quality and a positive portrayal of female sexuality. Her comments about how a condom may have been introduced to their lovemaking are amusing – the film gets funnier. (It was billed as a comedy, but I wasn't sure.) I liked Donna's puppeteer dad (Richard Kind) whose worst moment in life led to a turning point where he sold the (TV) pilot. There was quite a lot about TV pilots here; there may in fact be a relationship to Erica Jong's 'Fear of Flying'.
The director Gillian Robespierre is keen to point out that her progressively more entertaining film isn't an 'abortion comedy'. It's not making fun of the practice. It builds to an appointment on February 14th, described by one character 'my best slash worst Valentine's Day ever'.
There are some plotting issues. Max just happens to be a student of Donna's mom. (Wait, when we met him earlier he was taking out clients, working for an investment thingy.) He also turns up at opportune moments. He – and the film – are rather sweet.
I could argue that Max is portrayed in a rather idealised way; Robespierre does to a man what many male film directors do to a woman. The relationship doesn't cut deep. Donna almost makes fun of his wholesome Mid Western personality. We do feel for Max when he sees Donna getting into a car with another comedian, Sam (David Cross), who is flat-sitting a rich family's apartment. The joke is the apartment is not all that. Sam spills a drink on his shirt and what happens next constitutes for me the best moment in the film, when we know Donna has dignity.
The portrait of the Brooklyn stand-up scene is broadly accurate (I may have been on stage a few times to know that). I liked the brief glimpse of a set by Cyrus McQueen, who describes his father as a cross between Bill Cosby and Richard Pryor. 'He hides candy around the house like Cosby; he freebases like Pryor.' The ending, which I will only hint at, is warming – frankly, at the end, I gave a damn.
Reviewed at the Bulgari Hotel Screening Room, 191 Knightsbridge (not to be confused with Brompton Road, where Harrods' is – curse that wrong turning). Wednesday 20 August 2014, 19:00.