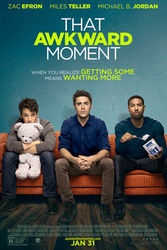 Writer-director Tom Gormican's THAT AWKWARD MOMENT put me in mind of the TV show NEW GIRL. There's three city guys, one handsome (Zac Efron), one a bit geeky (Miles Teller) and one African-American who could have been a sports star (Michael B. Jordan). They share a flat. There's no Zooey Deschanel. There's not much wit either. So it's like NEW GIRL with the sound switched off.
This is a guy comedy not really aimed at guys. Not that there is a homo-erotic charge but these young men aren't really masculine in the conventional sense. They do house work. They're the type of guys who display model cars in their original packaging, just in case they need to return them.
With one guy, Mikey (Jordan) in a movie bad marriage – his wife is cheating on him, cue whoops of disapproval from the female section of the audience – and another, Daniel (Teller) teetering on the verge of a relationship, it's Jason Hairspray (Efron) who warns them of the dangers of letting girls get too close: see each other, yes, share ice cream, OK, have sex, for sure, but must you be there for them? Take the cone back, dog.
Efron is just a little too desperate to break out of his HIGH SCHOOL MUSICAL image. I say, spend a week on a movie set with Lindsay Lohan and you'll be crawling back to Hollywood, buddy. So at one point, he wears a strap on dildo to a party. It ends up in a wine glass. That, my friends, is the biggest laugh.
Hoping to have a photogenic relationship with Jason Efron is Imogen Poots, who plays a girl whose father actually likes Efron – I'm sure he has all the HIGH SCHOOL MUSICAL DVDs. Fathers aren't supposed to like prospective sons-in-laws. He must have some kind of incurable disease. Wait...
Early on, Efron and Poots go real estate shopping and steal a key to a private garden, where they go at night. No one calls the cops! Only in the movies! We all recognise the reference to Frances Hodgson Burnett's THE SECRET GARDEN, a girl movie.
Meanwhile, Mikey gives his screen wife a second chance. Until he finds a JACKET! In the CLOSET!
Daniel is kind of tentative but things go OK.
In the end the film is based on a non-thesis. Guys are afraid of relationships. But they get used to the idea. I would have fallen asleep were I not watching it standing up. I was asleep from the neck down, my friends. There are some outtakes, one of which includes a reference to THE WIRE.
Reviewed at Hackney Picturehouse Screen 4, Tuesday 28 January 2014