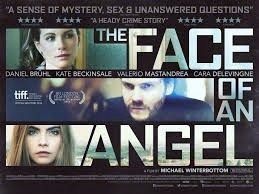 Michael Winterbottom is one of Britain's most prolific directors. He produces at least a film a year. (A documentary on Russell Brand is forthcoming.) But does he have anything interesting to say? On the basis of his latest release, The Face of an Angel, I would say that his focus is rather limited. Moreover, his movies are hard to love.
Winterbottom came to prominence in 1994 with Butterfly Kiss, a road movie about a female serial killer and her accomplice starring Amanda Plummer and Saskia Reeves. He followed it with Jude, a period adaptation of Thomas Hardy's Jude the Obscure, starring Christopher Eccleston and a pre-Titanic Kate Winslet. His third film was Welcome to Sarajevo, a dramatisation of journalist Michael Nicholson's attempt to rescue a young child from the war-torn Balkans.
His films are noted for an informal, almost documentary-like camera style, placing you the viewer in confined but never claustrophobic locations. He focuses on characters and their unguarded moments. He doesn't really use montage though the 'film within a film' sequences in The Face of an Angel demonstrate that he knows how to do so. His films aren't feel-good entertainment. At best they end at a point of relief: something has happened; a decisive point has been reached. Neither is he engaged with pressing social issues. He is interested in behaviour (character revealed through action) and in setting – how unfamiliar settings affect behaviour.
There are three types of Michael Winterbottom movie.
In the first, a text is appropriated and re-staged in an unusual, perhaps contemporary location. His other Thomas Hardy adaptations, The Claim (from 'The Mayor of Casterbridge') and Trishna (from Tess of the D'Urbervilles) set the action in the Yukon and India respectively, as well as A Cock and Bull Story, an attempt to film Tristram Shandy, Laurence Sterne's infamous comic novel of frustrated non-action, illustrate this.
The second is a road movie or quest in which there is a tension between a foreign location and character. Whether it is illegal migrants heading from Afghanistan to Britain in In This World, or Steve Coogan and Rob Brydon (as themselves) bickering in The Trip and its sequel The Trip to Italy, at any point we wonder the outside world will affect the characters on screen. A Mighty Heart, in which Angelina Jolie plays the wife of kidnapped American reporter, Daniel Pearl, fighting to obtain his release, and Code 46 a futuristic 'thriller' about an American in Shanghai (the plot involves cloning) are variants of this.
The third are parent-child movies, such as The Look of Love, a biopic of Paul Raymond, a man who built a business empire in Britain in the 1960s and 1970s based on soft to medium core pornography. Welcome to Sarajevo is about a moral response being generated through feelings of paternity. I can make a difference by offering myself as a father figure. Genova deals with a father trying to relate to his two daughters after the death of his wife. Everyday, filmed like Boyhood over a number of years – three rather than Boyhood's twelve - deals with children visiting their father (John Simm) in prison.
There are aspects of all of these three movies in The Face of an Angel.
Appropriation: the 'text' here is the real life murder of British student, Meredith Kercher, to whom the film is dedicated. The film is a fictionalised account of the media scrum that took place as the trial of her alleged killer was concluded. Meredith is fictionalised as Elizabeth Pryce (and played by Sai Bennett). Her alleged killer is Jessica Fuller (Genevieve Gaunt). Into this story is inserted film director Thomas Lang (Daniel Brühl) who is researching the story as the basis of his next film (what one character calls a 'comeback'). This is a project that others believe in. However, Thomas has to find his angle. His guide is 'Daily Beast' journalist Simone Ford (Kate Beckinsale at – dare I write it - her most vivacious). Both Thomas and Simone are separated from their spouses. There is sexual chemistry between them, though of course most film directors aren't serial bedpost-notchers. Instead, they lose their hair over financing.
Road movie or quest: Thomas is not interested in whether Jessica is innocent (a detail that horrifies his producers). Rather he wants to use the story to explore something else. He considers using Dante's three-part Divine Comedy, to give his film a structure. (Divine Comedy is the second text appropriated in the movie.) He travels between London and Italy, eventually visiting the city where Dante is interred. 'So flat', he complains. (I know what he means.)
Fractured parent-child relationship: Thomas is separated from his young daughter, with whom he communicates through Skype. The daughter's face appears on Thomas's mobile phone (as his wallpaper) and on his computer. The young girl is the real 'face of an angel' of the title. She also provides Thomas with his revelation. If the story is to be understood, it is from the point of view of the parents, specifically the murdered girl's father. The only love that makes sense is between a parent and child.
Dramatisation, fantasy and reality: The Face of an Angel is Winterbottom's second film about filmmaking after A Cock and Bull Story and presents fragments of a proposed film about the case, specifically the two young students (American and British) converging on a property in Siena, Italy, where they will share a flat. It looks awful - cliché ridden nonsense about two girls full of hope. You wonder whether Thomas knows it's so bad or even whether Winterbottom does. Thomas starts dreaming things that don't happen – an Italian blogger, Edoardo (Valerio Mastandrea) takes him to the apartment where Elizabeth was killed, then stabs Thomas with the knife hidden under the wardrobe that the police missed. In the latter part of the film, he snorts a lot of cocaine and, at one point, characters are attacked by monsters. Winterbottom creates an atmosphere of dread that you associate with a horror film but imposes it in an inappropriate manner. This is his point – monsters don't appear from every corner; they aren't 'natural'. We also see a realistic portrayal of a girl being stabbed whilst making love, but then she turns round and laughs.
Photographing some documentary inserts, Thomas befriends a student, Melanie (Cara Delevingne) working as a waitress in a bar. She becomes his guide to the student lifestyle which Jessica and Elizabeth enjoyed. Drugs play a part and also Edoardo who knows both Simone and Melanie. Edoardo offers Thomas a place to stay but wants him to read his screenplay, 'which you will make'. But Thomas finds a knife in his drawer. Could it be the murder weapon?
Amongst the myths that are busted here is the idea that journalism or filmmaking can turn up new evidence - that there is some other story waiting to be discovered. There isn't here. The film is partly a satire on the expectation of producers – casting the film before the director has thought through his approach. The producers shown here have a realistic sense of what they want, something commercial, but they have chosen the wrong talent.
The Face of An Angel is emphatically non-commercial fare. The politest description is 'a waste of time'. The thriller elements are intentionally absurd but the film resists generating any kind of emotional response other than incredulity. Worse, this is a form of exploitation of the suffering of real people, by offering practically nothing by way of understanding.
What do we learn? By the end, Thomas views Melanie as a child rather than a lover; he is reminded of his young daughter. Only the love of a parent for a child makes sense. This film is not the most compelling or convincing articulation of that sentiment.
Reviewed at Cineworld West India Quay, East London (Screen 3), Thursday 2 April 2015, 20:40 screening