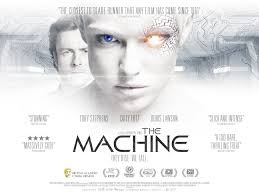 The recent remake of ROBOCOP started with a redundant Samuel L. Jackson – can you tell me how his character, a right-wing pro-military talk show host, fitted in the plot? That's no excuse for mistaking him for Laurence Fishburne.
Start again. The recent remake of ROBOCOP started with the idea that the military could produce robotic peacekeepers, drones with moveable limbs that could cut crime and reassure (scare) the civil population. Only they lacked human judgement, compassion and bowel movements. The company that made them took the opportunity of making a part man, part machine, so that these peacekeepers appeared to be human only they didn't laugh at BROOKLYN 99 – what's so funny about BROOKLYN 99?
The Welsh science fiction film, THE MACHINE, starts with the idea that injured service personnel and be rehabilitated with robotic limbs. Only they can be more robot than human. They obey the prime directive, which is to speak their lines in a monotone. One thing both films have in common: no one laughs at BROOKLYN 99.
Why am I picking on that show? Because it's topical.
THE MACHINE is an oh-so-familiar story of a scientist with delusions of Dr Frankenstein. Vincent (Toby Stephens) has been working in a military facility for so long he has forgotten what a Tesco Metro looks like. How much is a pint of milk? 'Can it destroy things?' 'Only Weetabix!' One of his experiments goes awry and severely injures a colleague. The Ministry of Defence head hunt an American scientist, Ava (former gymnast Caity Lotz) who has a history of civil disobedience. Why does she get the job? 'She's brilliant.' She starts investigating what is on the lower floor of the facility. Then circumstances turn her into the Bride of Frankenstein; Elsa Lancaster in a leotard.
I would love to tell you that THE MACHINE is a tense, thoughtful, exciting, magnetic thriller but then I would have been replaced by a computer chip. It has aspirations of being a mainstream, modest budget UNIVERSAL SOLDIER – or if you prefer EVE OF DESTRUCTION - only the makers can't afford to leave the compound.. It has conversations between Vincent and the robotised Ava but ultimately it does exactly what you'd expect. The villainous MOD man played by Ewan McGregor's uncle (Denis Lawson) gets his desserts and the rehabilitated robotised soldiers start thinking for themselves; 'I am not a tin opener – I am a man'.
I felt sorry for Toby Stephens; first ALL THINGS TO ALL MEN and now this. Some comfort: he is on stage with Anna Chancellor in Noel Coward's PRIVATE LIVES. Cineworld Unlimited Cardholders can see it on the big screen in the UK for free (on Thursday 20 March – one night only). The writer-director is Caradog W James. Helen Griffin plays Mrs Dawson, who just wants to know what happened to her son.
Reviewed at Fox Preview Theatre, Soho Square, London, Wednesday 12 November 2013, 18:30