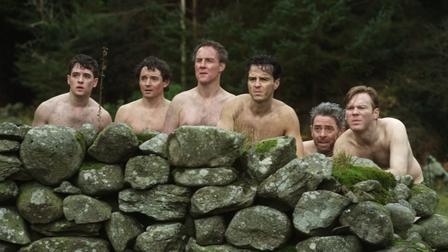 I have a soft spot for the first film that I saw about a stag party, STAGGERED, in which the British actor Martin Clunes (playing a character, obviously) wakes up miles from home with no clothes on. Clunes directed the film (with clothes on, obviously) and met his wife making the movie, who also wore clothes. Clunes subsequently had issues regarding his driving licence – he was the face of a car insurance campaign for a while, which is odd since car insurance campaigns use letter headed paper and usually demand money. Clothes were not involved.
I have heard it tell that BACHELOR PARTY also belonged in the 'stag movie' genre. In this one, Tom Hanks (playing a character, obviously) and his buddies get drunk and you know, stagger around.
I should explain that in our culture, stag parties take place a couple of days before a man gets married for the first time – you never hear about stag parties for men who re-marry. They are supposed to 'let their hair down' (you're lucky to have some in middle age, when you marry a second time). An important part is the ritual humiliation that you undergo in a foreign location, or Bognor Regis, before finally tying the knot. During stag parties, you work out who your friends are: who would clean up your vomit; who would paste photos of your exposed manhood on social media sites for competitions to compare genitalia to celebrity profiles. I remember my stag night and I can confidently name it 'the Elephant Man'.
This brings me to the Irish film THE STAG. This is not to be confused with several other films that came up on google first, including STAG NIGHT OF THE DEAD (2010), which I think is a brilliant title and must be due for a remake. THE STAG (2013) begins outside Trinity College, Dublin because that's where feel-good films about middle-class young Irishmen with chin envy should begin – slowly panning up from the cobbles to reveal Davin (Andrew Scott) making his way from work to call on his best friend, Fionan (Hugh O'Conor). Fionan is pronounced – well, that's one of the jokes of the film. He is very concerned about the wedding. He's a theatrical desigern and meets the wedding planner with a set – a detailed set. A totally white room, tent-like, with hanging lanterns, square ones – olde worlde mixed with nuclear winter. His fiancée, Ruth (Amy Huberman) is really concerned about it. He's metro-sexual. He's not just smiling and nodding. He's actually interested, by Jay-sus. So she fixes it with his best man, that's Davin, to arrange a stag weekend for him: not a city pub crawl, rather a walking holiday. The problem is, Davin is obliged to invite Ruth's brother, The Machine (Peter McDonald, the film's co-writer, so he's got the best part, obviously). The Machine is like the Southern Irish equivalent of Vince Vaughn or Bill Murray before he started turning down GHOSTBUSTERS sequels. His agenda is alcohol, danger, humiliation, the shaving of nether-regions. In short, it is like a night out at the local Wetherspoons (insert name of any chain of pubs here). Davin drives 220 miles to avoid The Machine, but there is no escape; he drops his phone in a glass of water for nothing.
The Machine might drink shots – and urge others to do the same – but he doesn't call them. Fionan, his brother Kevin (Michael Legge), his brother's lover, also called Kevin (Andrew Bennett) and other friend Simon (Brian Gleeson), who has money problems, try to leave without him, but no such luck. He's fearless – 'that's not a bridal pathway,' complains Davin as the Machine strides on - and sings U2 songs, to Simon's annoyance. He also stands atop a burial mound and asks Simon to chuck him his BMW car keys, which disappear into the mound.
Things go from bad to perverse: six men sharing a five man tent and the Machine starts flexing his instrument (if you catch my metaphor). The others tell him to go outside and offer him some cannabis. The Machine starts a fire without crying wolf. He is the sort of guy to tempt others to go skinny-dipping but leaves them behind to get lost. He will also steal eggs and confront a dog and throw away Davin's compass, given to him by Ruth.
Fionan is not entirely likeable. He constantly nags Davin to settle down and find true love but does not notice that Davin's in love with Ruth – and got there first. This, gentle reader, is called a ticking time-bomb to near naked confrontation.
The film has plenty of humorous moments, including five naked men, marching close to one another like emperor penguins. It has an affecting ending. I wasn't entirely convinced that the wedding would take place, but you can't have a stag weekend without a wedding otherwise it is just a bunch of men in the wild experimenting with illicit narcotics.
Directed by John Butler, THE STAG is a film designed to make the Irish middle class feel better about unsustainable levels of debt, atheistic art forms and homosexuality. It reflects the 'new' Ireland, burned by the property bust, with young professionals struggling not to get arrested – but they do, having a Gerard Depardieu moment on a plane (cue the line: 'did he use a bottle?') I saw it with a bunch of humourless British critics who were determined not to laugh. They're missing out. Just because you can hold it in doesn't make you more of a man. There is a performance of 'One' at the end designed to make you well up.
Reviewed at Soho Screening Rooms, Thursday 9 January 2014; Guinness was served.