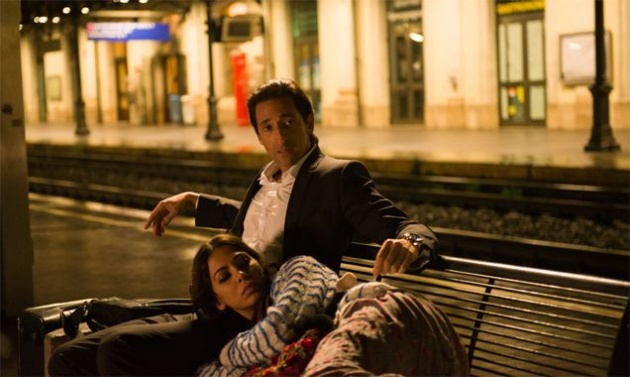 I don't think Americans know how to 'do' Europe. Sure, the US and EU are in advanced stages in negotiating the Transatlantic Trade and Investment Partnership (seconds away, round eight) but I don't think American artists really understand modern Europe. It is not the sophisticated locale that they think. The free movement of people has to some extent dulled cultural edges and diluted the authentic (in, say, cooking and architecture). The 'new' Europe has buildings and food that you could find in any European city. There is no monopoly on allure.
When Michael (Liam Neeson), an American writer finds himself in Paris at the start of writer-director Paul Haggis' THIRD PERSON, he is in a setting that is very much an advertiser's view of the French capital. Admittedly, one's hopes that his character would have to rescue a family member from kidnapping are exploded in the first act. Michael has a lover, Anna (Olivia Wilde) who gives him her latest story to read. She knows that she is the superior wordsmith; he is flailing, negotiating a family tragedy (a drowned child) and a marriage that is over. His relationship with his lover is push-pull. He wants her, he doesn't. One can imagine Haggis thinking, 'this is so French'. Actually, no, this is so unbelievable.
There are other narratives too. A young mother, Julia (Mila Kunis) separated from her son after an accident in her care tries to secure visitation rights with his most famous father, Rick (James Franco). Then there is the jaded boorish American, Sean (Adrien Brody, forgettable) in Italy, on the verge of pulling off a deal who finds himself involved with an Eastern European woman (Loan Chabanol) and her struggle to buy back her daughter from people smugglers.
I know what you're thinking – wow! What is the unifying theme here? How you deal with grief? Actually, it's writer's block. How can Haggis, who won Best Picture with his directorial debut, CRASH, make another multi-character narrative with a difference? Answer: with a dull-witted drama that illustrates the limits of his imagination.
I don't want to give too much away, but THIRD PERSON literally is contrived. It makes you recall the folly of F. Scott Fitzgerald back in the 1920s running off to Europe thinking it'll help. It doesn't.
I haven't checked Haggis' age, but my gut tells me he's a little too young to retreat into European cliché. Usually, they do so when they have tested the limits of the American system (John Huston and MOULIN ROUGE, Philip Kaufman and THE UNBEARABLE LIGHTNESS OF BEING) or, perhaps, found it difficult to get the money in Hollywood. (OK, Wes Anderson is the exception.) THIRD PERSON is Haggis' fourth film as director – he followed CRASH with IN THE VALLEY OF ELAH and THE NEXT THREE DAYS. Many of the cast of the latter film, a remake of the French thriller, POUR ELLE, turn up here (Neeson, Wilde and Elizabeth Banks), minus, very pointedly, Russell Crowe. (I can imagine him reading the script and saying 'me, European hotels – nah, not worth it, mate.')
THIRD PERSON is a very experimental film. At one point, Michael's narrative impacts on Julia's world, but not strangely on the other storyline. There is a logic, but the pay off didn't do it for me.
Wilde's character has a fixation with older men and another lover, who is almost a father figure. You think of Henry Miller (boorish older guy) and Anaïs Nin; then you remember that you really hated HENRY AND JUNE; why would you want to watch the modern equivalent?
Julia character has to prove to her lawyer that she can provide a steady environment. She gets a job in a hotel, but loses a vital number (picked up by Anna). Rick just want s her to admit the error of her ways; that she really put her child at risk. When she opens up, he uses it against her.
The Italian narrative is incredibly tedious. Sean thinks he can negotiate with people smugglers, who put the price up and up. There appears to be no resolution. The woman he has fallen for appears to be playing him - there is a bag of money that purportedly disappears. The subject of people smuggling is treated frivolously. Haggis needs to take a trip to Lampedusa.
Wilde is incredibly committed to her director. She does one thing in THIRD PERSON that she wouldn't do in a Hollywood movie. The main narrative is like some awful version of PRIVATE LIVES, but with a brief visit to a night club. Neeson seems uncomfortable there as Harrison Ford did in FRANTIC, almost thirty years ago. (No Grace Jones on the soundtrack, this time.)
Kim Basinger turns up near the end as Michael's estranged wife. She's a reminder – to Wilde perhaps – that you can overcome questionable career choices. Neeson is a good anchor. I can watch him in dross; he's earned it. No matter what the role, he generates a degree of empathy, even when spouting lines like 'white is the colour of trust'. Without him, THIRD PERSON would have been THREE COLOURS YUK!
Reviewed at a very nice Golden Square preview theatre that I haven't visited in a long time, September 2014