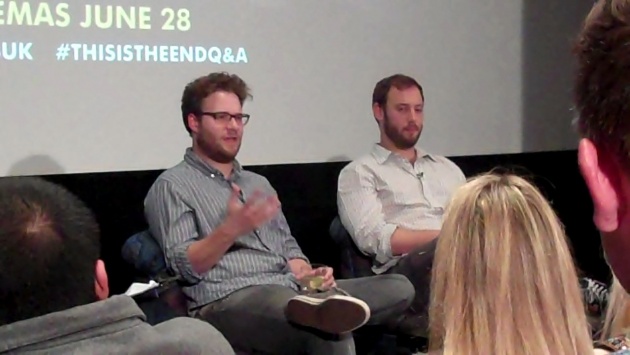 THIS IS THE END plays to a fantasy of celebrity life. Famous dudes hang out with other famous dudes. They consume drugs and alcohol (and Milky Ways) without fear of censure. They don't use their fame to lure non-celebrities into debauchery (well, maybe Michael Cera does, hyugh, hyugh!) When the time comes and the world is faced with certain death, they don't phone home.
This is very much the anti-family film written by two men in touch with their inner juvenile – or outer juvenile. Do the characters in the movie worry about the Devil's pitchfork? No, just what is hanging between his legs. (Hyugh, hyugh!)
Seth Rogen and his best buddy Evan Goldberg wrote and directed the film. They have called up everyone who has every made a movie with them – even those who have made movies with friends of theirs. (That is, a certain famous individual who co-starred with Jonah Hill gets to go down on all fours.) Plus, we have Rihanna and Emma Watson. Almost everyone in it is playing a version of themselves, except for the actor who plays the Devil (well, one has to assume that's the case). There are no film directors or producers in their world. No one phones their agent when the world goes to crap. ('I'm in an apocalypse – get me out of here!') The actors just play a certain image of themselves.
In the movie Seth is a single guy in a big fancy mansion. He cannot wait to see his best buddy, Jay Baruchel (not Evan). They play video games, smoke reefers (laid out to spell Jay). They are having THE BEST NIGHT EVUH (hyugh, hyugh). Only Seth wants to go to a party at James Franco's house. (Hyugh, hyugh!) Jay isn't keen, especially on Seth's friends whom he suspects don't like him. (Here's the joke - they don't like him.) But he goes. Meanwhile on TV, potholes are appearing. When Seth and Jay pop out to the shops, some weird stuff happens. (I won't spoil it, but it's in the trailer.) Jay explains it to the partygoers, but they don't believe him.
Inevitably, the apocalypse is the ultimate party crasher, except for Danny McBride who appears at the start of Act Two. Franco is appalled that people run outside to see what's going on. They should stay inside. He's got music, though not much bottled water.
Going outside is an excuse to kill off some celebrities – though they are mainly minor. Michael Cera gets it. Aziz Ansari falls down a hole. All the time you think, how does Seth know Craig Robinson? Seth wasn't even in HOT TUB TIME MACHINE.
One of the gags has Michael Cera worrying about someone having taken his mobile phone. ('Oh, it's in my back pocket – embarrassing.') Is it funny? Well, kinda! The Franco-philes – Rogen, Jonah Hill, Baruchel and Craig Robinson – do stay with their celebrity host, but there is an unwanted houseguest, one who pees on the toilet seat.
The trailer gives away some of the punchlines – Emma Watson takes their stuff – but not the set up (the avoidance of a 'rapey vibe'). Is this funny? Well – no! The best sequence involves Jonah Hill and a certain well-known horror movie franchise. (No, not THE SMURFS.) In the energy-sapping Second Act, the actors even make a home movie sequel to PINEAPPLE EXPRESS (as trailed on You Tube).
The portrayal of the Apocalypse is very clichéd. Would the Devil really turn up in Los Angeles just to trash stuff like Godzilla? It preaches a belief in redemption. (I mean, Seth made THE GUILT TRIP and OBSERVE AND REPORT, so he's got to atone, right?) Here, Heaven is a party – a place where nothing ever happens. (Wait a minute, that's a Talking Heads' line, but the Backstreet Boys turn up here.)
Celebrities worry about other celebrities jizzying on their spank mag. That's what I learned from the movie. Is this funny? Again, no! However, I did laugh. There were witnesses. So I suppose THIS IS THE END appeals to the fifteen year old male in all of us. Some plus points: we don't have to worry about the sequel and there won't be a sequel to PINEAPPLE EXPRESS. If you have to see one film about the Apocalypse this summer, you know what to do... Why do you have to see just one? That's just silly.