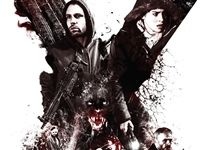 There are some lines that shouldn't be uttered in a movie, for no matter how you say them, you end up generating an unintended laugh. Example: 'imagine waking up tied up next to a bunch of corpses.' Actually, no, I don't want to imagine that, thanks. I know a character is being told to identify with a victim, but does the writer have to be so expositional?
This piece of atmosphere-setting dialogue (in a bad way) appears in XMOOR, the debut feature of British writer-director Luke Hyams. Set on Exmoor, North Devon, though filmed entirely in Northern Ireland (oh, for some authentic locations in a British movie) it tells the story of an American couple, documentary filmmaker Georgia (Melia Kreiling) and her technician boyfriend Matt (Nick Blood) who engage an animal tracker, Fox (Mark Bonnar) to track down an unknown beast responsible for slaughtering sheep. It becomes apparent that Fox is not interested in the sheep killer but someone who is going after young women, a serial killer who has established a dumping ground deep in the woods. Before long, Georgia, Matt and Fox turn from hunters to prey.
The production values are actually pretty good, with an imaginative title sequence that flits between screens on a make-shift CCTV system like the one Matt sets up to keep an eye on activity in the forest. Disappointingly, they are the most stylish thing in the movie. Hyams doesn't escape formula: when we see a pair of vandals setting a car on fire early on, we know they'll pop up again. I was surprised that the trio discover a sharpened stick and later on a set of antlers, props used by characters when they lose conventional weapons. A minor character has only one eye for maximum spookiness.
Somewhat improbable is Georgia's relationship with Fox (Georgia, Fox – the writer must be a CSI fan). You don't just trust so-called animal trackers in pubs and what the heck is he doing with an army issue machine gun? I didn't see that in WHITE HUNTER BLACK HEART.
The film succumbs to full-on cliché with the introduction of an Eastern European prostitute, Vanya (Olivia Popica). Someone should have told Hyams that Vanya is a boy's name - has he not heard of the play by Anton Chekhov? Vanya is indeed the wild woman who lashes out at everything that moves, having woken up next to the aforementioned corpses. Her general response is not to trust anyone.
XMOOR is 50% a sensible horror film, by which I mean characters have responses that one would consider normal. The rest of the time, they are falling over, twisting their ankles, imagining they can operate rifles and hitting each other. There is some suspense but for the most part it is utterly generic with an irredeemable villain and a surprise in his jeep. There is one unwelcome cliché towards the end – a flashback to the main characters making love (something for the trailer) to remind us of what they lost. (Really?) The cinematographer Damian Bromley lights the woods well, though there is wobbly helicopter shot early on, showing Matt's VW camper van go deeper into the moorland. Probably one for VOD or waiting until it is screened on the Horror Channel.
Reviewed at Framestore, Wells Street, London, Tuesday 12 August 2014, 18:30 . The film will be premiered at FRIGHTFEST on Monday 25 August 2014 at Vue Leicester Square