As of February 1st, Film Annex introduced Bitcoin payments in place of the USD. The USD was established in 1782. Bitcoin is a Digital Crypto Currency established in early 2009. Today, 300,000 Film Annex users are earning Bitcoin and Satoshi (fraction of Bitcoin) every day, growing their expertise on how to handle this Digital Currency and sharing with us ideas and inspiration on how to further improve our work.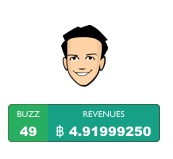 Yesterday, I turned to the Jelly Application to ask this question:
"Tonight www.FilmAnnex.com switch to Bitcoin as the first site in the WWW to pay bloggers and filmmakers. Do you believe Bitcoin is the future for online payments and transactions? Will Amazon follow Film Annex?"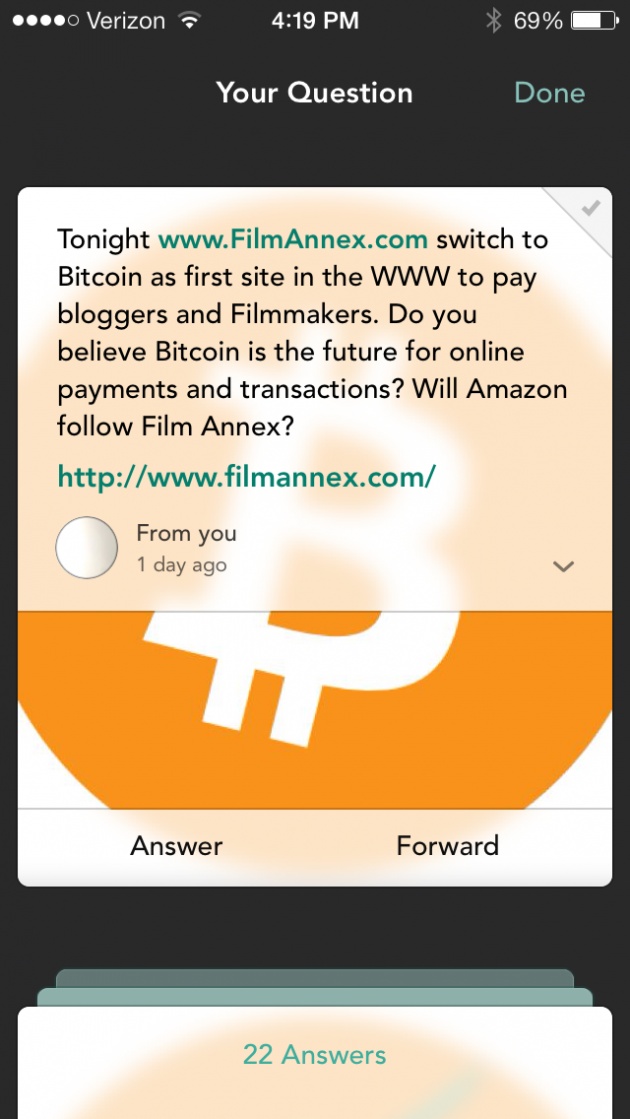 I got 22 answers in the next few hours and here are some highlights:
@royamahboob : "I think Bitcoin is the perfect solution for online payments for our students in Afghanistan. And yes Amazon will follow one day :)"
From James Tessier: "Eventually there will be a universal currency for online exchange. I am not sure if Bitcoin is it though. There needs to be some kind of large backing like government or a collection of governments"
From Wabe Burrell: "I love this. I feel that more and more online businesses will start accepting Bitcoin and alternative forms of payments. And why not? Fortune favors the brave."
From Christine Earl Zinser: "I think there are still too many parts of the globe that are lacking in technology; a huge population doesn't even have basics like literacy or reliable energy. How would it serve them? They'll be even further locked out of progress"
@jeremymishkin: "Of course. How could the Winklvii possibly screw up?"
From Rob Tyrie: "Maybe...Bitcoin or one of the variants. Simple economics, lowest cost, most stable payment system will win out. Like all new tech it will be tested and tried in edge industries first"
@richardalmanac: "Not until it can be taxed. Heavily. Unfortunately."
@modelswebtv: "Indeed they must. BTC and/or others are a form of payment makes great sense"
From Jonathan Stone: "Bitcoin stands a better chance as it becomes less of a gimmick. Read marketing advertising spam. Can't we do better than this? Superbowl? I call foul"
From Chantal Heckman forwarded by @biz: "Yes in 5 to 10 years"
From @builtinpgh forwarded by @biz : "Gittip is the much smarter choice #ioho"
From Joy Cook, in my opinion possibly the most meaningful of the 22, as its explain the most common reason why some are not in support: "No not a fan ... I don't understand it". Marc Andreessen does a beautiful job explaining Why Bitcoin Matters!
I like that we steer the pot and are the the first off the blocks. I am confident that our exercise is empowering our 300,000 users and educating the extended 30 million viewers to create financial independence for all, including women in developing countries like Afghanistan, where we built 10 Internet classrooms, and where we have over 50,000 students working on our hardware thanks to the incredible work of the Women's Annex Foundation. I invite you to read: .@FilmAnnex first believer of #DigitalCurrencies like #BitCoin from a true Philanthropic perspective!
Film Annex is embracing digital currencies like BitCoin to sponsor digital literacy and digital citizenship without borders. Film Annex is NOT embracing digital currencies like BitCoin for speculation purposes. Film Annex is the first believer in digital currencies like BitCoin from a true philanthropic perspective.
In case you are NOT part of the Film Annex Family, do not wait any longer and register today HERE at my personal registration page! I will donate my affiliate commission to Women's Annex Foundation!
Please visit my personal page on Film Annex and subscribe. Please also visit Women's Annex and subscribe to it for updates, articles and videos.
I also invite you to visit the Womens' Annex foundation site and donate to support the noble initiative to sponsor: Women's Digital Literacy, Sustainability, and Community Building! Bitcoin are accepted!