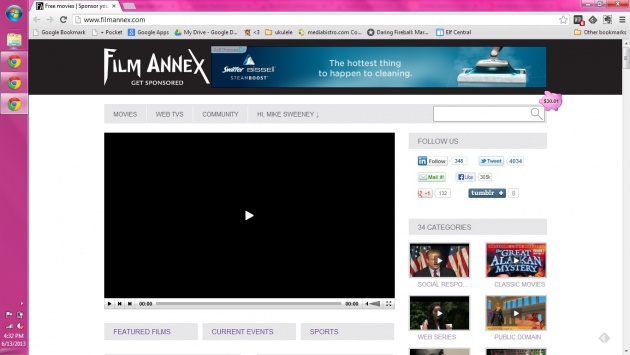 Long-time users of Film Annex may have noticed a new look to the site in recent weeks. The website got an organizational overhaul, as well as a new look. The homepage is particularly different, incorporating a different structure to help users better browse content on the site.
Users can now navigate through Film Annex in a variety of different ways. A bar across the top of the homepage allows users to watch movies, get more information about Web TVs or check out the community. Under the "Movies" tab, users can view films, sports and current events. "Sports" shows off films like the 2012 NYAC Judo Gold Medal Championship, while "Current Events" tab shows off films from NATO, as well as a variety of other sources.
Beneath the featured videos, which rotate by category, there is a selection of content from the site's most prominent users, ranging from founder Francesco Rulli to Women's Annex to Fereshteh Forough and beyond. The activity updates include both recently-written blog posts, as well as newly-uploaded movies, allowing users to keep tabs on what's going on around the site.
Another recent update to the site includes a newly-reorganized sidebar. This space shows off Film Annex's categories, which range from talk shows to technology-oriented films. You can also spot a "Now Playing" widget that gives users the chance to see what is most recently being watched, as well as "Eren's Picks", a standard feature on Film Annex.
Finally, a "What's Happening" space updates users on the site's activities, so they can catch up on blogs and uploaded films as-it-happens. This gives users a better chance to explore the site and see the freshest content easily and quickly.
The site redesign offers greater functionality, as well as more ways to browse through content as it's added to the site. Whether you're new to Film Annex or an old hand at the site, you'll find that you're better able to navigate through content, watch movies or even curate your own Web TV content much more easily.
Thanks to the Website team in New York and Florence - Creative Director Eren Gulfidan, Designer Cara Martin, and Head Programmer Lorenzo Meriggi !