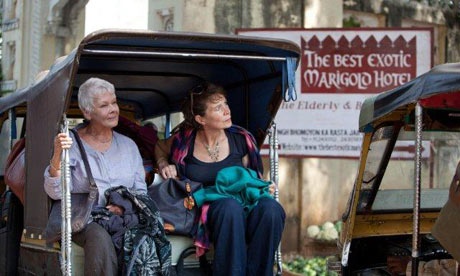 The idea of a sequel to THE BEST EXOTIC MARIGOLD HOTEL fills me with dread. The original cast – Judi Dench, Maggie Smith, Bill Nighy, Celia Imrie and Dev Patel – have been joined by some new faces, Richard Gere, Tamsin Greig and Jim Broadbent. One expects the same mixture of culture clash comedy, thoughts on mortality, the inevitable death of a cast member, and a race-against-time big finish, all tinged with the Empire spirit still intact ('they'll always be an Empire – and it is still the best STAR WARS film of the lot'). What it does though is cheapen the original and shows disrespect for an older audience. Yes, we like comedies but we also appreciate originality. It would help if Deborah Moggach, the author of the source material, the 2004 novel, 'These Foolish Things', gave her approval to Ol Parker's script, but she must sense that this is a cash cow being milked until the udders run dry.
A press release tells me that this is apparently the first sequel that Fox Searchlight has produced, but it is being presented like it is a good thing.
Surprise hits are successful because they are surprising. I am not privy to Parker's script, but I suspect it contains some or all of the following:
A mobility scooter race around crowded city streets, a sort of NOT SO FAST, STEADY ON THE CLUTCH
Indian call centres are replaced by automated replies, so Judi Dench's Evelyn finds herself out of a job
Richard Gere's character is enraptured by Eastern mysticism, which to some extent turns out to be not as enlightening as he would like it to be
There's a wedding or a birth at the end
There's a story told three different ways – sorry, that's MONSOON SHOOTOUT, or if you prefer, RUN LOLA RUN
Bill Nighy's Douglas has flashbacks of himself as Greta Scacchi in HEAT AND DUST
Maggie Smith's Muriel is approached by a young speech therapist and taught to speak proper; she gets a part in something called CHOWRINGHEE ABBEY
A James Ivory-type American director turns up and shakes his head, appalled.
I'm sure director John Madden will think of a better title: EVEN MORE EXOTIC MARIGOLD HOTEL, perhaps. Personally, I would like to see Lars Von Trier be hired to invigorate the franchise: the resulting film would be five and a half hours long and afterwards Shia LaBeouf would retire from public life. I would also like to see actors who ordinarily haven't addressed old age on screen: Woody Allen or Burt Reynolds. Allen would remake about the difficult or ordering Chinese in India; 'suddenly I could murder a steak, or talk it around to my way of thinking'. Reynolds would have problems dry-cleaning his toupee; he is offered horse hair instead. 'I can't wear hair that has been on my ass!'
The reality is that older people have just as intense feelings as the young but retreat from themselves as much as other people. They never stop seeing their offspring as children, but also both compete with and try to re-shape them to ensure their legacy is intact. There are many stories that simply don't get told, or told properly, especially when parts for older actors go to younger movie stars, Colin Firth being cast as Eric Lomax in THE RAILWAY MAN is a case in point – he is at least fifteen years too young for the role and the film never recovers from this.
The best way to treat old age on film is to not make it the subject. Filmmakers should avoid stories about the elderly that concentrate on unfinished business, like a gallstone that they have failed to pass. NEBRASKA is a good film about old age because it deals with a character, Woody (Bruce Dern) who when granted something he wasn't expecting, treats it like an entitlement; and the different ways that others respond to him. It is also about the struggle to make a last-minute connection, being surprised by a thought that hadn't occurred to you before. No-one dies and a condenser – well, you'll have to see the film.
The comedy GRUDGE MATCH also addresses a truth about old age, that no matter how old we are, we still see the world through young eyes. You watch Robert de Niro physically invigorated by the prospect of training; the younger de Niro enjoyed the preparation for his earlier roles: driving a cab, practising baseball, learning Italian, playing the saxophone. You see the sparks of the younger de Niro in GRUDGE MATCH more clearly than in his other recent roles; he competes with his quiet, semi-embarrassed co-star Sylvester Stallone and is also not afraid to show himself as ridiculous, notably in a green motion-capture suit.
I'd like to think older filmgoers could treat the younger ones about how to experience movie pleasure: there is only one screen worth watching in a cinema and not one with a ring tone and multiple apps. I expect though the elderly embrace new technology with the purpose of arranging a pick up, or ordering shopping online during the commercials. You shouldn't get too sentimental about old age.