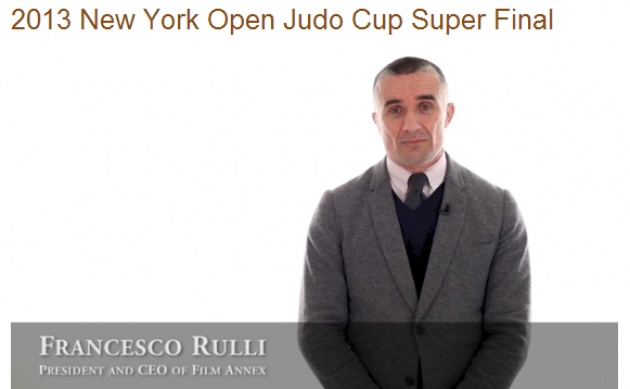 In a recent video, Film Annex President and CEO Francesco Rulliintroduces footage from the 2013 New York Open Judo Cup Super Final. The event, which film distribution company Film Annex had co-sponsored, took place on March 3 at the New York Athletic Club in New York City. Five countries—the United States, Germany, France, Russia and Canada—battled for a chance to reach the finalists round. The video showcases the super final round between France and Germany.
The video is listed among other films that are meant to be viewed as inspirational, to get people both interested and/or involved in whatever content is being showcased. In this case, it was judo. Because of the Olympic Committee's recent removal of wrestling from the Olympics, judo fans and supporters have been striving to spread awareness of the sport. Film Annex has also undertaken this task by providing videos such as this one.
In the video, Rulli explains:
"This is our vision of a more entertaining approach to Judo and the sport of grappling. You will see that the competitors enter the competition one at a time in five different weight classes and face each other."
Videos like this help wrestling and judo fans, who were unable to attend the event, feel as if they witnessed everything firsthand. The videos are exciting because how they feature the tournament with slow-motion maneuvers from different angles; and reactions from trainers, coaches, and teammates; and shots of the audience's reactions.
Watch the full super final round below.
The Film Annex Productions' "Films That Inspire" series is located here. Film Annex Productions used 5 separate cameras to shoot this film to show the spectacular sport of Judo.
Film Annex Sponsors Judo as an Olympic sport and also as part of its Sustainable Philanthropy project that involves the Esteqlal Football Club in Kabul, Afghanistan.