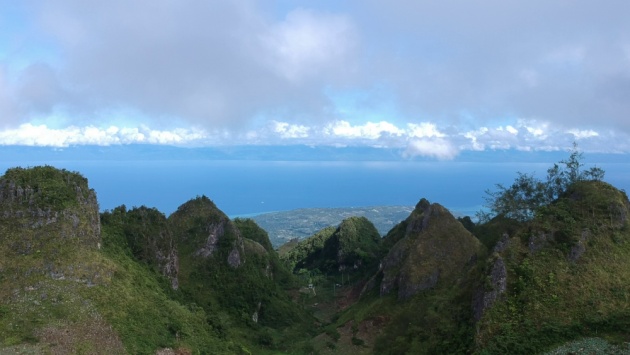 Image credits: Jean Beltran via bitLanders
I studied in the City of Cebu for four years, worked and live for more than a decade in the metro, had been to different parts of the province as well as visited a lot of other provinces in the country but never had been to Osmeña Peak! It's a surprise and so when my colleague beckoned us to come over to their place in Dalaguete, I didn't say no.
Today's blog is all about the trip James and I together with two of my colleagues to Osmeña Peak of Dalaguete, Cebu.
Canceled Trip
From Cebu City, travel trip to Dalaguete takes three hours. Our itinerary was constantly changing from having a lot of people joining us to having only eight and then from the plan of commuting and then to have our own private vehicle with the help of our company manager whom at the last minute confirmed his presence.
Everything was already finalized, our itinerary was set, however, on the day of the trip, when the afternoon came, a strong rain also came crashing into the city. The wind blew and the rain poured drenching the entire city. Whilst the plan was already set, most of the joiners had messaged me of their intention to not continue because of the bad weather. The prediction as well shows that the next days' weather in Dalaguete would also be bad. So with a heavy heart, I broke the bad news and everyone was sad about it but then we can't do anything since its the weather that is already trying to stop us.
But as Saturday came in, I was advised that two of my colleagues went ahead of the plan, they were already in Dalaguete and I was also encouraged to follow them.
Video credits: Jean Beltran via bitLanders
Off to Dalaguete
By three in the afternoon, James and I were off to Dalaguete on our trusty motorcycle. It took us less than three hours to reach my colleague, Rachel's place so it was almost dark when we reached their home.
Her mother was really hospitable in welcoming us to their home and even prepared dinner for us. The plan now was to go to the peak early so we can catch the sunrise.
Ride and Trek to Osmeña Peak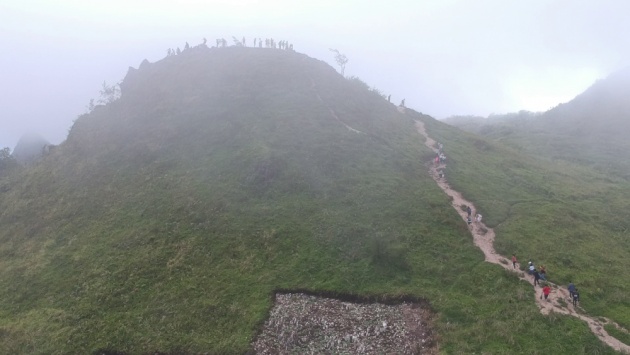 Image credits: Jean Beltran via bitLanders
As early as three in the morning, my mobile alarm had been beeping to wake me up already. I prepared and woke up James as well. By four, we were already set and hitting the road after eating a Cebuano favorite morning duo: "puto and sikwati".
Rachel's home was a little far from the main town so it took awhile before we reached it. From the main town, the wide road was clear of any other vehicle. It went from a flat to a steep road. The temperature started dropping then we reached an intestine-like road, winding and full of trees at the sides which reminded me of some Avatar movie scenes because of the fog covering and striking through the tree branches.
Finally, we arrived at the starting point for the trek. It only took 15 minutes to reach the peak but we have to first register, the entrance fee was at Php30.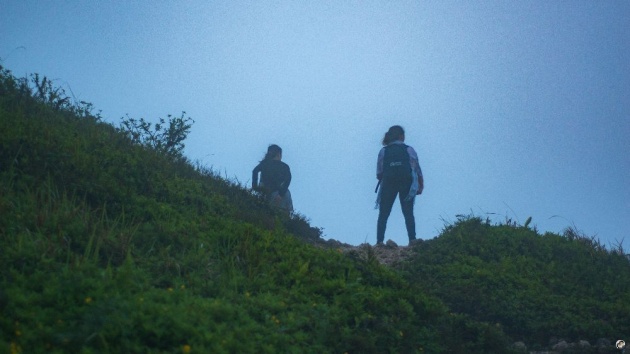 Image credits: Jean Beltran via bitLanders
The road going up was nothing but limestone rocks, the path was paved due to the many trekkers who had walked this road. If I would compare this trek to that of Manunggal, this seemed lighter because unlike that of Manunggal, Osmeña Peak has shorter and easier route.
It was early morning before six and was still a bit dark, the thick fog was covering the mountains, the wind comes and goes as it tested our strength as we walk towards the peak. Before reaching the top, we spotted tents at the campsite. I could see kids and pet dogs too! It looked like they were a whole community in there and they were even playing music!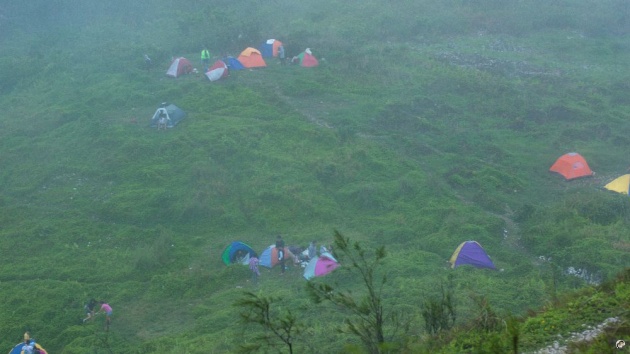 Image credits: Jean Beltran via bitLanders
Obviously, we were the first ones here and we couldn't see any sign of sunrise because it was all foggy.
After a while, there were more people coming. But the fog was still thick and we can't see any view at all. Patience was needed for us to get photos of the hills of Osmeña Peak.
The Photo Taking Challenge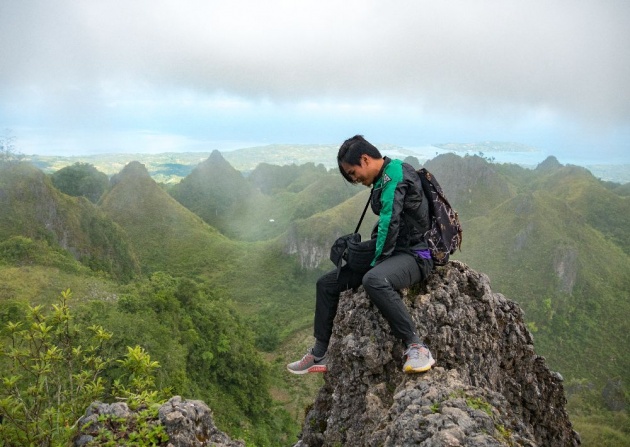 Image credits: Jean Beltran via bitLanders
There are lots of visitors that morning, more and more trekkers were coming and there was no proper place for everyone to take photos. It may either be that the frame is filled with photobombers or that you don't want to take a photo at all.
A lot of times, the fog clears and everyone starts clicking the shutter buttons on each camera or mobile phones. Then fog comes back again. It was challenging because we were only standing on sharp rocks and if one steps on an uneven spot, they might fall down.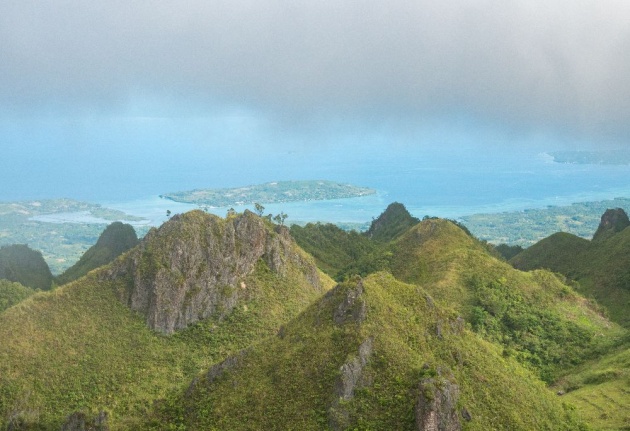 Image credits: Jean Beltran via bitLanders
The Badian Island and the Pescador Island of Moalboal showed us with its beautiful blue sea waters. The clouds grouped at the back made it really picturesque and I didn't let that chance go away without taking a photo of them. The rock formation too was really awesome! They look like protruding versions of Bohol's Chocolate Hills.
Finally, after three hours of waiting, we had photos of ourselves with the view, two of our companions had to go back first because they were already tired and bored watching all these tourists and local visitors block our way. It was funny but a little disappointing too at the same time.
The View Down the Peak
Image credits: Jean Beltran via bitLanders
James and I got tired and got over it because our stomachs were already both hungry. So we decided to go down. We found two of the stores were opened already. They were selling carrots, some vegetables, there were souvenir items too and some strawberry plants as well as some cacti! I was surprised to see some dove birds too chilling at the side without any tie on them!
Then the view behind the store where we were sitting at was something to appreciate at so James decided he'll fly the drone! I was a little hesitant about it because it was foggy and windy but he said the drone can manage that.
Video credits: Jean Beltran via bitLanders
It flew and the great view became visible from where we were sitting. There were three maroon cottages sitting next to each other, a field of cabbage plantation was also seen, then further below was a valley, there were few houses in there but the drone can't go nearer that area anymore. The hills at each side made the valley really look awesome plus the sea view at the distant too gave contrast to the green hills.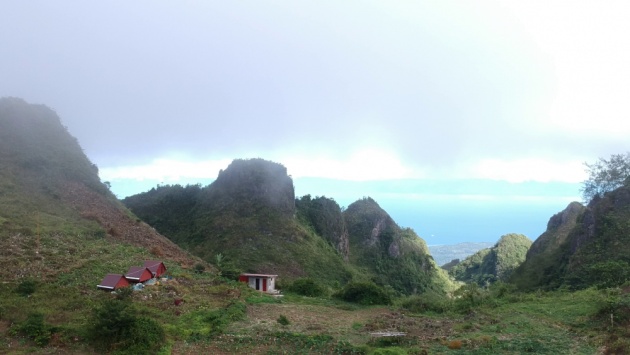 Image credits: Jean Beltran via bitLanders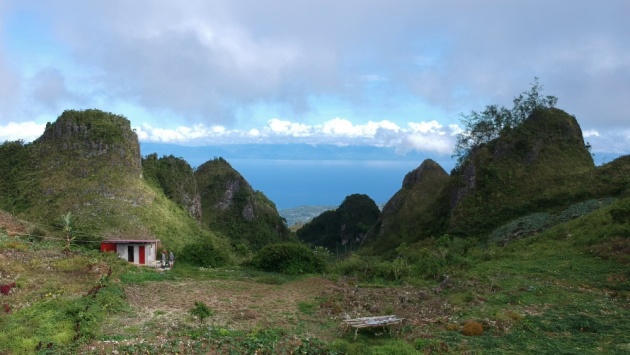 Image credits: Jean Beltran via bitLanders
Contented, we decided to go down. I realized it is the sunset that is visible here and not sunrise. I regret not doing my research prior to coming but what we filmed was already fine with us, in the future, we planned on coming back here for the sunset view and perhaps will set up our own tents too and go camping! That would be an awesome idea.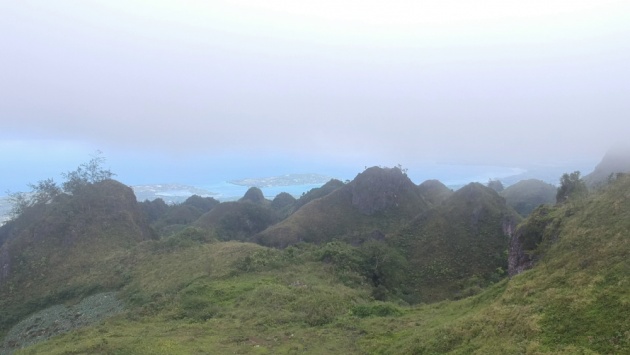 Image credits: Jean Beltran via bitLanders
Trekking down was way easier than going up, it was like a walk in the park already for us. More and more visitors were on their way up so I hope they got a clearer view at that time of the day.
This blog entry was written and published by Jean Beltran-Figues for bitlanders.com.
Join me, click here to sign up.