MEDIA RELEASE – FOR IMMEDIATE RELEASE
Finnish scholar and U.S. Navy officer promote education and peace with world-first Afghan Proverbs book in Finnish and Dari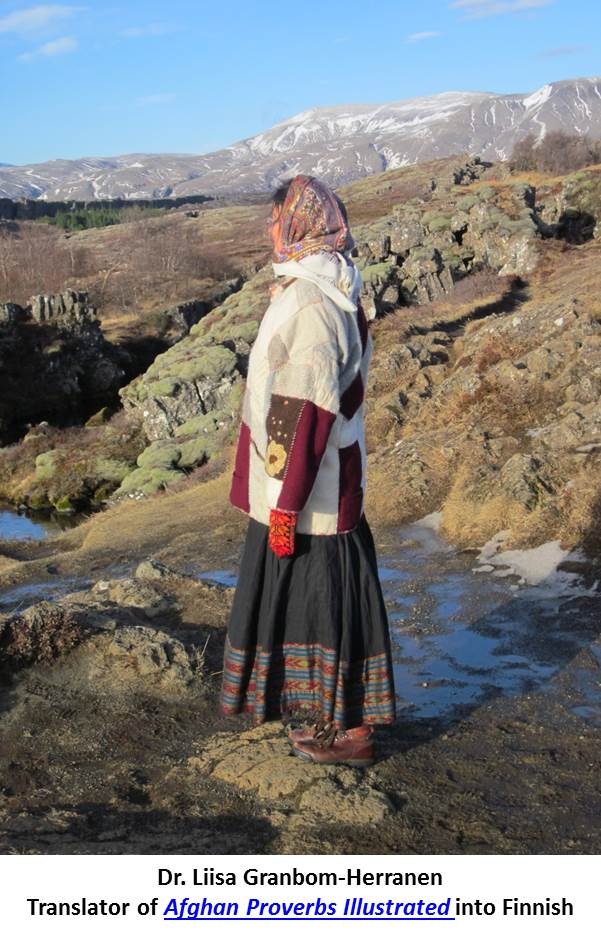 Salo, Finland and Tampa, USA, April 15, 2014 – Dr. Liisa Granbom-Herranen of the University of Jyväskylä has seen some strange things as one of Finland's top experts in the scientific study of proverbs. But she never expected to help a U.S. Navy captain build bridges between Finland and Afghanistan with the world's first book of Afghan Proverbs in Finnish and Dari.
The result of the chance meeting between Liisa Granbom-Herranen and Edward Zellem in a small town in southern Portugal last fall has become the new book Afganistanilaisia sananlaskuja koululaisten kuvittamina, now available worldwide in over 40 countries through Amazon.com and other major booksellers.
Zellem, an Afghanistan war veteran and Dari speaker who worked for a year with Afghans inside Kabul's Presidential Palace, began using Afghan Proverbs both at work and socially after noticing that Afghans often use Proverbs in their daily speech. He also saw that many of the thoughts behind the Proverbs are universal messages used in every culture, and he started writing them down as an off-duty hobby.
His hobby soon turned into a personal crusade for better understanding between cultures. Zellem worked on his own with an Afghan high school to illustrate his collection, which became two award-winning books that have received international acclaim and a devoted global following. One of his books, Afghan Proverbs Illustrated, has been published in 13 languages with more on the way.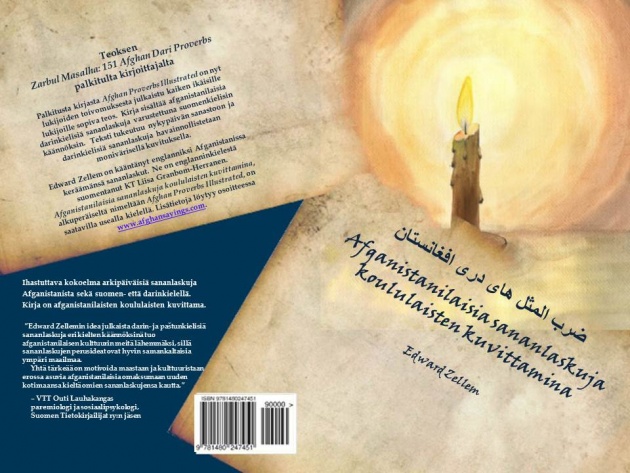 Granbom-Herranen and Zellem met unexpectedly at an international Proverbs conference in Tavira, Portugal last fall. Both were were presenting papers on their respective projects. Granbom-Herranen's own interest was her research on the use of proverbs across three generations in Finnish families.
The Finnish researcher and the American naval officer found common ground in translating Afghan Proverbs to promote knowledge, education and literacy. At the time, Zellem's second book had been translated by volunteers into 10 other European languages, but not yet into Finnish. The Finnish government has helped Afghan refugees resettle in Finland for many years, and learning the Finnish language is vital in helping them find their own cultural place in Finnish society.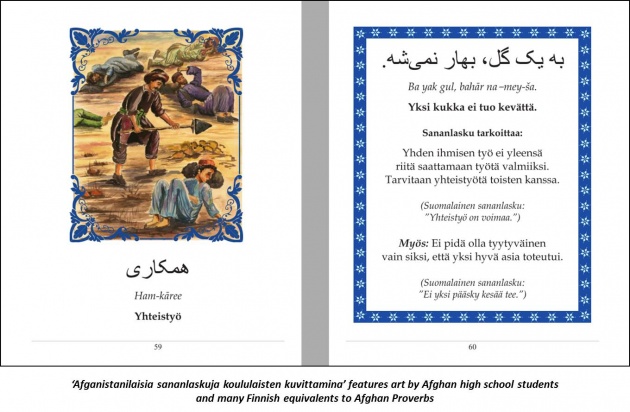 Granbom-Herranen saw a unique way to help Afghans and Finns understand each other better. As an expert in education as well as in Finnish proverbs, she also knew that Finns are much like Afghans in the way they use proverbs. Both nations have a social and linguistic history of using proverbs that goes back thousands of years. Granbom-Herranen knew that a book of Afghan Proverbs in Finnish could help refugees learn the Finnish language. Just as importantly, she knew that such a book also would show the common humanity between Afghans and Finns by including Finnish proverbs with similar meanings.
So Granbom-Herranen offered to translate Captain Zellem's award-winning book into Finnish, and added many Finnish equivalent proverbs in common use today. The result is now an unprecedented new bilingual book that helps improve Afghan literacy and the integration of Afghan refugees in Finland. 100 percent of net proceeds from Afganistanilaisia sananlaskuja koululaisten kuvittamina go to support Afghan literacy programs.
More information, recent media, and media kit at www.afghansayings.com.

About Edward Zellem
Edward Zellem is a 27-year U.S. Navy captain currently serving at U.S. Central Command in Tampa, Florida. A veteran of several wars, he is known for his work on President Karzai's staff inside the Presidential Palace of Afghanistan, and for his two award-winning books of Afghan Proverbs: Zarbul Masalha: 151 Afghan Dari Proverbs and Afghan Proverbs Illustrated, now in 13 languages. Zellem wrote the books "to show how Afghan Proverbs demonstrate our common humanity and the humanity of Afghans."
About Liisa Granbom-Herranen
Liisa Granbom-Herranen is a researcher at the University of Jyväskylä in Finland. She holds a Ph.D in Education and a Master of Arts degree in Folklore Studies. She is a long-standing member of the International Association of Paremiology (AIP-IAP), the world's only non-profit cultural institution dedicated to the scientific study of proverbs. The examination of proverbs plays an important role in her educational research.

Media Release in Finnish coming soon
###