I was pleasantly surprised that my apartment was furnished and the kitchen stocked with enough to get me by for a day. Turns out there are a small grocery store in the complex. Prices are high but then he has no competition when people need last minute items for dinner or for people like me who don't know my way around yet. Yesterday I made myself some eggs and toast that Priyanka kindly bought me. After skype convo with JD last night I was determined not to spend today in the apartment. Having internet and being far from the main road makes it easy for me to become a recluse. There is a gym, pool and billiards room here. I don't know my neighbors because I haven't yet tried the knock on everyone's door and introduce myself hoping some speak or at least understand English. Today I braved the streets and made the journey to the main road. It took me 30 minutes and I received my share of stares the entire time. Rickshaws kept stopping to see if I needed a ride which reminded me of Ibadan when okada drivers stop to see if I want a ride when they see me walking around. I remembered Priyanka showed me a Domino's on the main road so I ended my journey there. I managed to cross the road without any injury and took my sweet time crossing in 2 shifts. Once to get to the middle of the road and then to the other side avoiding rickshaws, 2 wheelers, buses, trucks and cars. It was an adventure that took me 2 hours to complete.
I plan to explore more of the main road and check out the stores Priyanka pointed out to me. Maybe I'll venture on a bus ride to the city once I find the bus stop. For INR200 I had a nice lunch. I realize I need to get change because carrying big bills makes it difficult for the cashiers to give me change. Tomorrow I'll change more money and ask the bank for small bills. Today I accomplished doing laundry which took three shifts starting this morning around 8am. I learned the importance of clothes pins as my clothes where blowing every which way thanks to the wind. I've doubled my shower bucket as my laundry bucket. Tonight I'm cooking dinner for the Hyderabad cohort and looking forward to having them over. I only have 4 chairs and 2 tables. Limited dishes but I think I can make it work. Next week I'll venture to their side of the city since 4 of them are coming to me and I'd love to see their places. So Happy that Rae, Okorite, Arham and Francesca made the journey. They had to take a rickshaw to the main road which is 3km away in order to catch an auto back to their place. I was touched that they offered and did clean up. THough also made me feel bad. The area between the main road and the complex isn't the best area so I won't be walking the route after dark.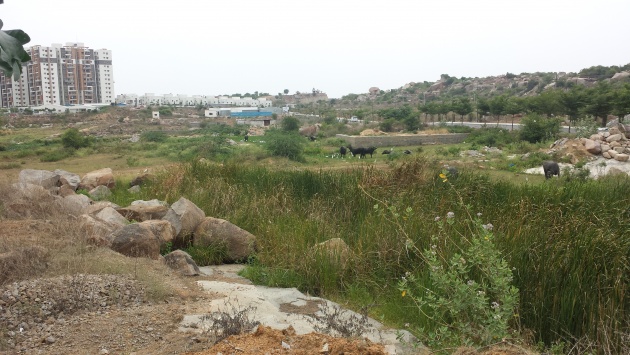 That is the view from the dirt road that leads to the paved road going to the complex. It takes about 20min to get to a more populated area that is directly off the main road. Tomorrow I meet the founder of Sankalp Taru Foundation. I am a bit nervous since he is coming to my place in the afternoon. Not sure if I should prepare lunch since I don't know how to cook Indian food. I'm curious for what kind of projects I will be working on. I hope I will be able to attend my friend's wedding in August. It'll be my first Indian wedding. I feel bad choosing India over my friends weddings in NY but I will get them great gifts from India. I feel spoiled where I am staying. Everything is in the community that one can need though the supermarket is pricey. Will have to build arm muscles and endurance so that I can shop around the main road for cheaper prices. Doing laundry by hand for 6 months will help. I pray I don't go stir crazy living alone and working from home. Does Sankalp Taru need me here in India? Is this something that I could have done from NY minus the travelling to their project sites? Is it the fact that I am from the states that they chose Aparna Hills for me? How do I create my own India experience to view the full spectrum of life in India? I'll keep you posted as I work on answering these questions. What do I expect from a mentor. After completing Form to Path part 1 I noticed part 2 is the same as mentor part 1. What is IDEX looking for exactly. I have one grade and it is less then a 10. How do I get a 10 on assignments and get the most out of this experience that I am paying for.