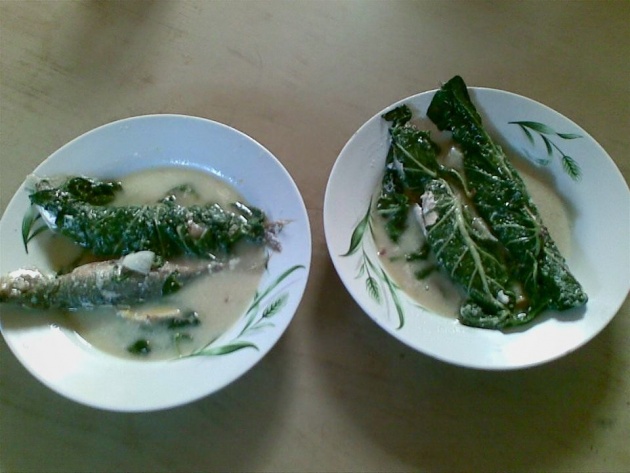 This is my own unique dish I invented and I want to share it with you all, since the outcome was nice and loved by my father. It was supposed just a simple Paksiw or fish simmered in vinegar I made it special and with a twist of Laing or Taro leaves braised in coconut milk. I call it "Nilaing na Isda" or Fish Wrapped in Taro Leaves and this is how it goes;
Ingredients:
4 pcs. Hard Tail Mackerel Fish (Galunggong na babae) or any fish you prepared to use and it
4 Pcs. Taro leaves
2 cups Coconut milk
1 cup Coconut cream
1 small size Ginger, cut into Juliane cut style
1 small Red Onion, cut into thin slices
3 cloves Garlic, minced
1 tsp. Fish Sauce (Patis)
1/2 tsp. Salt
1/2 tsp. Sugar
2 pcs. Wild Chili Pepper, sliced or squeezed it is optional if you like extra hot sauce.
Cooking Oil for Sauteing
Procedure:
1. Place the fish on the tip of the taro leaves, fold each end then roll until the whole fish are well wrapped. Set aside.
2. Saute ginger, garlic and onion until slightly brown, then add the coconut milk, and salt. let is simmer for a 5 minutes on a low medium heat.
3.Add the wrapped fish, fish sauce, sugar, coconut cream and the wild chili peppers. Simmer for 15-20 minutes in low to medium heat.
Then serve hot. Best with plain rice or with garlic fried rice, and good at any meal time.
Other uses Petchay leaves (Bok Choy) but i uses Taro leaves instead because it is the only available and free leaves in my stock since we have a taro planted in our garden and I want something new and unique dish to try. I hope you will love it also as soon as you try it on your own kitchen.