Alex Hales or Nick Compton, Moeen Ali or Adil Rashid and who will fill the No.3 spot in the four-Test series?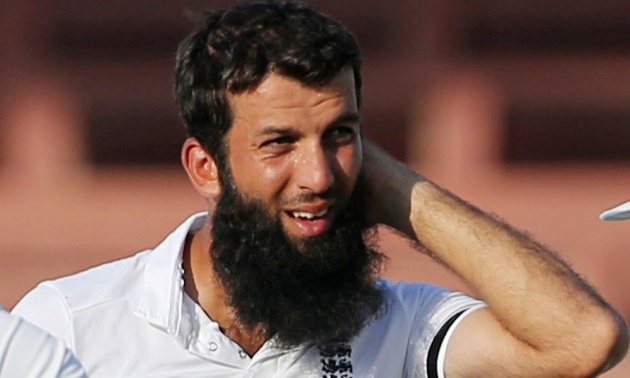 Moeen Ali's move to the top of the order was dubbed "experimental" but it was unlikely to provide a solution to England's problem. It was like curling up in your bathtub during an earthquake: far from safe but at least it might afford you a moment of calm to think that everything will be OK. So, it looks like Alex Hales will finally begin his Test career against Dale Steyn and friends. If so, he would be Alastair Cook's eighth opening partner since the current director of cricket Andrew Strauss retired from playing. Unless he commits treason, Hales should be given a good long go. But what of Strauss' first replacement, Nick Compton? Despite a modest county season by his standards – over a thousand runs but just two centuries and an average below 40 – he had a meeting with the England coach Trevor Bayliss in September to reiterate his desire to return to Test cricket. He will be in South Africa this winter "to be ready," he said in a tweet, adding: "you never know!" It is a trip he takes regularly at this time of year, often to work with the former South Africa Test batsman Gary Kirsten, who has been recruited by the ECB as a consultant for the England Lions. Should we read much into that?
Moeen or Adil?
While South Africa, by and large, is no place for a dual-spin attack, spinners have played their part in series of three Tests or more. The last time England went there, in the 2009-10 winter, Graeme Swann led the charts with a haul of 21 wickets that saw him reach a career-high second in the ICC Test bowling rankings. More recently, twirlers have adopted more of a holding role, though that may be down to the paucity of options on the circuit. Nathan Lyon performed this role best, bowling 124 overs across three Tests, taking only eight wickets but conceding just 2.51 an over, as Australia triumphed 2-1 in 2014. This presents a conundrum for England who in Moeen and Adil Rashid have two bowlers who serve wicket-taking deliveries buried deep in the thickest of pies. The head says they will stick with Moeen, moving him back into the lower middle-order. The heart always belongs to the leggie.
Touch wood
Because of a chronic ankle problem, which Mark Wood admits will eventually require an operation, England had planned on resting him during these three Tests in the UAE. Ideally, it would have been with Steven Finn slotting in, though that plan went out the window when Finn left the tour with a foot injury. Who knows what difference Wood might have made in Sharjah, but his extra pace and ability to move the ball late, with both conventional and late swing, adds an extra dimension to England's pace attack. Both of those assets will be more handsomely rewarded at Durban, Cape Town, Johannesburg and Centurion. England play Tests at these four venues (in that order) in a 32-day period starting from Boxing Day. While there is a week between the second and third Test, the gap between the first and second (three days) and third and fourth (four) offers little recovery time. Given, also, that the last two venues, Johannesburg and Centurion, offer the most pace, Bayliss and his assistants need to manage Wood's every waking moment to military precision. Somehow, they will need to get three Tests out of him.
Give Jonny a chance
A total of 134 runs at an average of 22.33 is nothing to write home about, but watching Jonny Bairstow tough it out against Pakistan was far from exasperating. He had the odd moment of luck, something all batsmen need, but showed application and, more importantly, a technique that seems better suited to Test cricket, having used it to blitz county cricket last summer. Now, with Jos Buttler out of the side, it is Bairstow's time to get a proper go behind the stumps. If he is given that assurance early, then he'll be able to spend the next month working on his keeping. Because it does need work: the missed stumping of the second-innings centurion Mohammad Hafeez on the fourth morning was a costly blunder, similar to Buttler's missed effort that allowed Jermaine Blackwood to take West Indies to victory in Barbados this year. Hopefully he (and Buttler) can use the limited-overs leg of this tour to gain some confidence.
Bell toils
"When you get in over here, you really have to make it count," said Alastair Cook at stumps. It was a comment made while dissecting Ian Bell's series: scores of 63, 46 and 40 representing three missed opportunities to do him and his team a favour. His 2015 so far makes grim reading: an average of 25.95 and only five scores of 50 or more in 24 innings. Objectively, simply not good enough for a No3. In terms of alternatives, Joe Root would suit the role (given Bell's woes and those of Cook's partners, he's basically been batting there anyway). But there will be a reluctance to move him from a No4 spot in which he is flourishing. There is also James Taylor, who possesses the game to do what is asked of him at first-drop and impressed in Sharjah, top-scoring in the first innings with a well-constructed 76. The worry is South Africa will enjoy the same successes outside off stump as they did when they first came across him in 2012. And therein lies the depressing nature of Bell's command of his place – the argument for him is made up almost entirely of the arguments against others.