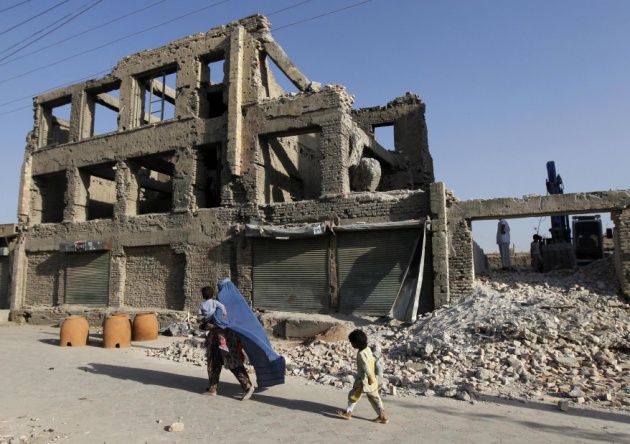 Picture of a destroyed building during the Afghan Civil War, Jadai Maiwand
Widely known as a technocrat intellectual, Dr Ashraf Ghani is an ethnic Pashtun from Ahmadzai tribe. He was the VC of Kabul University, a former finance minister and World Bank Official. An expert in state building, his soft spoken qualities, management skills, experience and ideas garnered him high votes at the 2014 elections making him the leading Pashtun Candidate in the 2nd phase of the elections.
I am very fortunate to have attended his speech at Tedx Kabul where he conveyed his message to the world that,
'Afghanistan should not be approached as a charity, but as an investment'.
As mentioned by the Tedx officials,
"Ashraf Ghani was a key figure in rebuilding Afghanistan after the fall of the Taliban, and is a leading advocate for foreign investment (rather than foreign aid) as a tool for economic development and the eradication of poverty".
The New York Sun,
"Ghani's management skills, which sparked an economic revival in post-Taliban Afghanistan, earned him Asia's vote as the best finance minister on the continent."
His work in state-building has made him the top thinker in the world, he was also a favorable candidate to succeed Kofi Annan as Secretary General of United Nations, recommending a must read book written along with Clar Lockhard, 'Fixing Failed States'.
Their work and solution based approach has been amazing, one of his quality messages in his work was on the following.
With the progress of IEC (Independent Elections Commission) to the 2nd phase, the voting process was conducted on 14th June 2014 with competition among two leading candidates, Dr Abdullah Abdullah and Dr Ashraf Ghani. The preliminary results are to be announced in a day, however, the news from 'Sare-Chowk', indicates Dr Ashraf Ghani will win on a big margin. His commitment to this stage has been of high appreciation, for any politician to stand against warlords, human rights violators and mass murderers required perseverance and that's exactly what he has shown. A great personality, Dr Ashraf Ghani has shown confidence in Afghan nation, his team and IEC and that's what made him the most favorable candidate to be the next Afghan President.
Sources:
https://www.ted.com/speakers/ashraf_ghani
http://www.prospectmagazine.co.uk/world-thinkers/ashraf-ghani-world-thinker/#.U6vaP_mSySo
About the Blogger: Hikmat khan is a UNAOC-alumni, a Tedx Kabul team member pursuing his masters in Business Administration at Leeds Business School.