5:30 pm, July 23, 2018
30 minutes had been passed but I am still at the office finishing some stuff to lessen my workload the next day when I felt something strange. It feels like I'm craving for something, something hot that is perfect for the rainy weather. A certain dish that is lingering in my taste buds. I want to eat some fresh and hot Ramen. Phew, maybe it's because of the weather the past few days or it can also because I want to unwind and eat something to please my stressed self. So I decided to contact and reach out for my food-buddy which is @Caaams. And luckily she wanted to eat the same too. A few minutes later I left the office and headed to the south. We decided to eat in Bonifacio Global City Taguig, well it's quite far from my workplace but surely it's near to her workplace and to my home.
Video Credits: Travel World TV via Youtube.com
Bonifacio Global City (also known as BGC, Global City, or The Fort) is a financial and lifestyle district in Metro Manila, Philippines. It is located 11 km (6.8 mi) south-east of the center of Manila. The district experienced commercial growth following the sale of military land by the Bases Conversion and Development Authority (BCDA). The entire district used to be the part of the main Philippine Army camp.

-Source: wikipedia.org
Bonifacio Global City, Taguig or BGC is greatly known in the Metro. You can witness many different malls inside and also nearby. Companies, schools, condominiums, and restaurants also dominate the place. No wonder it was known as the Modern and New Business Center District next to Makati City.
7:30 pm
I finally arrived at Market Market! The traffic is really had been a burden for everyone who commutes. I sincerely want to apologize to Cams for waiting too long since she was just around the area. So we met and walk a couple of miles. Not too far yet, our eyes turned to a Japanese Restaurant in front of Fullybooked. I ain't that unfamiliar with the store because I often see the Restaurant whenever I passed by in High Street BGC. It was Marugame Udon and Tempura Restaurant.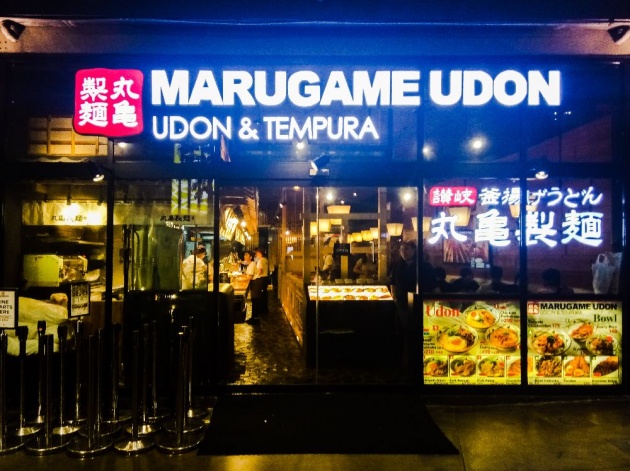 Photo Credits: Yannn via bitlanders.com
I was never a Japanese food lover, not until 2016 when some friends Introduced some dishes to me. Right then I begin to love and seek the unique tastes of Japanese food. Gladly, my older brother also loves that kind of food. We've been quite curious about the said restaurant because whenever we passed by at the park we often see people lining up outside the restaurant. I was like "Hey! The food must be good for those people to line up". But I was so hesitant to try it, being a young adult who wants to be practical as much as possible, I was afraid that the restaurant will be too expensive for me. But this time with Cams, I got the strength and guts to try it. Okay! Let's go and Try Marugame Udon and Tempura!!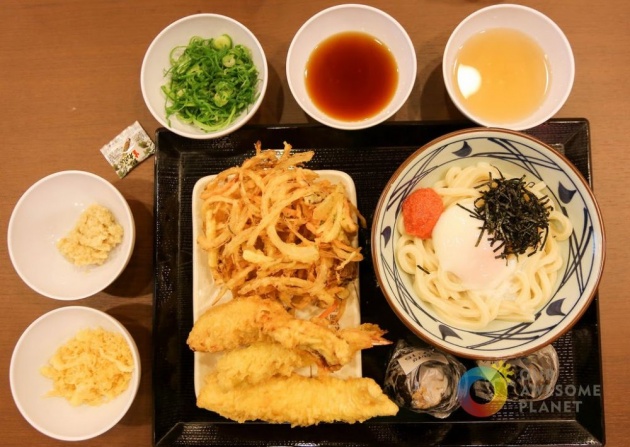 Photo Credits: ourawesomeplanet.com
MARUGAME SEIMEN is a self-service dining styled Udon & Tempura Japanese resto that specializes in piping hot Sanuki Udon and freshly fried tempura. They opened their first shop in 2000 and is now the undisputed udon chain king in Japan. It is named after the city known for the Best Udon, in Kagawa Prefecture in Japan. It's called seimen because the noodles are freshly made in the store.
The original plan to eat Ramen is ruined! But hey, It's Udon so I guess it is totally fine! I've been fond of soba and udon as much as I love Ramen. So let the new experience begin!! As we walked toward the restaurant, as usual, we have to line up just like the others. As we wait in line, we took a glimpse at what kind of Udon they serve in the Resto.
Udon (饂飩, usually written as うどん) is a type of thick wheat flour noodle, used frequently in Japanese cuisine.

Udon is often served hot as a noodle soup in its simplest form, as kake udon, in a mildly flavoured broth called kakejiru, which is made of dashi, soy sauce, and mirin. It is usually topped with thinly chopped scallions. Other common toppings include tempura, often prawn or kakiage (a type of mixed tempura fritter), or aburaage, a type of deep-fried tofu pockets seasoned with sugar, mirin, and soy sauce. A thin slice of kamaboko, a halfmoon-shaped fish cake, is often added. Shichimi can be added to taste.

-Source : wikipedia.org

Photo Credits: Yannn via bitlanders.com
They offered different flavors of Udon and Rice meals, here are some of their dishes.
Regular - Php 210.00
Large - Php 260.00
Regular- Php 200.00
Large - Php 250.00
Regular- Php 170.00
Large - Php 220.00
Regular- Php 185.00
Large - Php 235.00
Regular - Php 220.00
Regular - Php 165.00
Regular - Php 190.00
Regular - Php 175.00
Gyudon - A rice meal with beef
Regular - Php 170.00
Here's a list of their menu together with the Side dishes: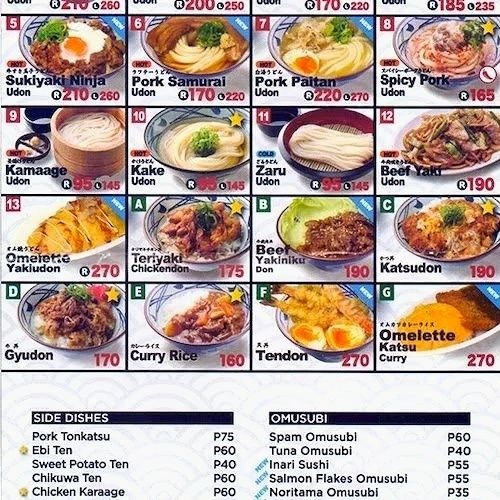 Photo Credits: zomato.com
I've been torn to try their rice meal but it feels like I need to try their specialty first which is Udon. So as we think and decide what to eat, the line is slowly moving and we're close to the entrance already! We've decided to try their BEEF ONTAMA BUKKAKE UDON, Hooray!
As we approach the entrance, a beautiful lady handles us the menu and we've seen that we can also order some side dish. Hmmm feels like I'm up with some Ebi Ten Tempura. So we enter the restaurant and what shock us is the whole process of ordering the food. It's like a traditional self-service cafeteria Restaurant.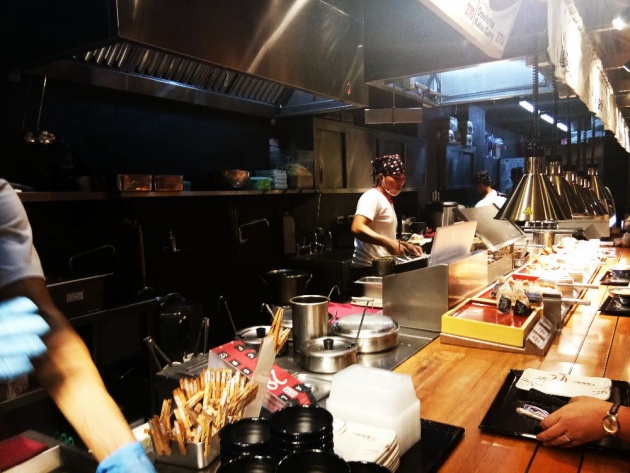 Photo Credits: Yannn via bitlanders.com
It starts with getting the tray for your order, then the staff whose in charge in the first station will ask you about your order. I told him that I would like a Large bowl of fresh Beef Ontama Bukkake Udon in Hot serving. You might wonder why I said hot right? Because soba and udon both offer as hot and cold. Well because the weather is quite rainy who would like to have cold udon? I mean hot udon is perfect for such a time like this. I saw how he thoroughly prepare the noodles from a large pot to my bowl. Impressive! Then he poured out the soup the beef and added a fresh egg. And to be honest, I never saw such huge amount of beef in my udon. Hahaha!!! Then he carefully put my food on my tray and I proceed to the side dish station.
Commercial break: As we wait in the line to prepare our noodles, the store also plays Japanese Music which gives big points for me to love the place. Then a familiar rhythm is tingling in my ears. That sounds familiar and it seems like it was really close to my heart. I listen to it carefully and I figured it out that it was at is an Ost from my favorite Anime movie Kimi no nawa, it's Nandemonaiya. Oh boy! I love this place already. I started singing it with all my heart.
Here's a video of Nandemonaiya by Radwimps played in the movie Kimi no nawa.
Video Credits: Jiman Fansub via Youtube.com
Back to the experience, as I move forward towards the side dish station I took 2 pieces of Ebi Ten Tempura. I really wanted to try their eye-catching side dish but I'm afraid I won't be able to consume everything since I ordered the Large bowl of Udon. A few minutes, Cams reached the side dish section and get 1 gyoza and 1 Ebi Ten Tempura. After we got our side dishes, the next station is the beverage section. But we both decided to have water as our quencher. Finally, we reached the last station which the cashier. Obviously, this is the place where we will pay for our meal. As we pay our ordered food, there's a condiments portion near the cashier. We stopped by and get some condiments and seasonings that will make our Udon taste better.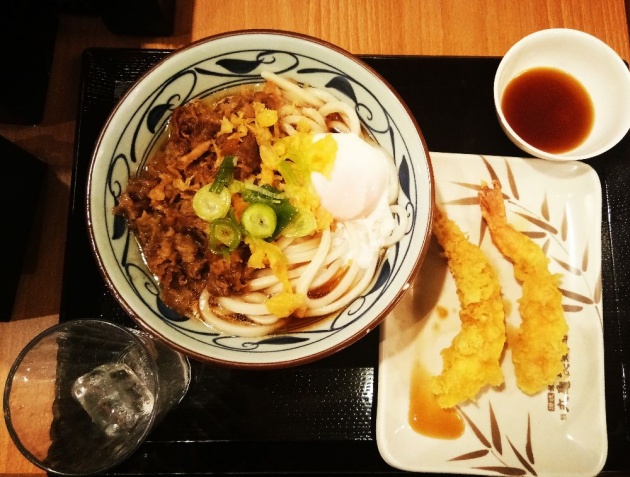 Photo Credits: Yannn via bitlanders.com
Behold the Beef Ontama Bukkake Udon!!! I added some green onions and fried crisp in my Udon while I also get a soy sauce for my Ebi Ten Tempura. And let the judging begin!!!
First thing I did was to taste the soup and Maaaaan!! It tastes so good!! Not too salty nor too plain. It has a perfect taste that balances the saltiness and the flavor. It feels like I was having my first taste of Fresh and Authentic Udon again! Then I tasted the beef and it was well-done the cooking! You can really taste the beef!! Next, I tried the noodles, as expected it was kinda slippery and thick but it was perfectly boiled. I tried mixing the Egg with soup and it went well. It added a great flavor to the soup! Then I have to take a bite on their Ebi Ten Tempura, my favorite Ebi Ten Tempura was the one served in Nadai Fujisoba, so I sort of having a standard when it comes to Tempura.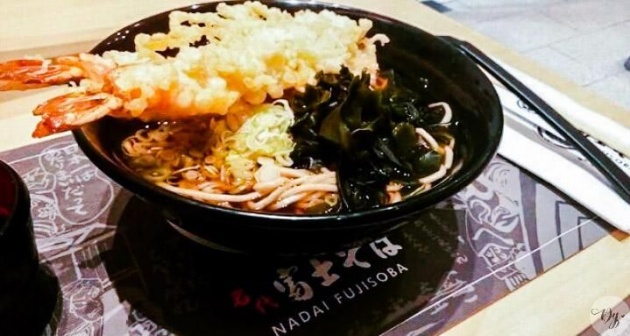 Photo Credits: Yannn via bitlanders.com
Nadai Fujisoba - A Japanese noodle shop that does not serve ramen. Japanese franchise Nadai Fujisoba recently opened its first Philippine branch in Bonifacio High Street last March 28, 2015. Having set up shop in Shibuya in 1966, it expanded to Taipei, its first international branch, and now, it has made its way to the Philippines.

Nadai Fujisoba breaks the streak and enters a completely different (and not to mention, untapped) market—soba and udon.

-Source: pepper.ph
Nadai Fujisoba is a Japanese Restaurant where I tasted Soba and Udon for the first time. It was way back 2016 when my office mate Introduced me to this restaurant. And to be honest, when I had my first soba and Udon it was quite weird in my taste buds. Well, probably it's because my taste buds aren't familiar with it yet. I've tasted both of their Hot and Cold Udon and it has been my favorite so far!!
Soba (そば or 蕎麦) is the Japanese name for buckwheat. It usually refers to thin noodles made from buckwheat flour, or a combination of buckwheat and wheat flours (Nagano soba). They contrast to thick wheat noodles, called udon. Soba noodles are served either chilled with a dipping sauce, or in hot broth as a noodle soup.

-Source: wikipedia.org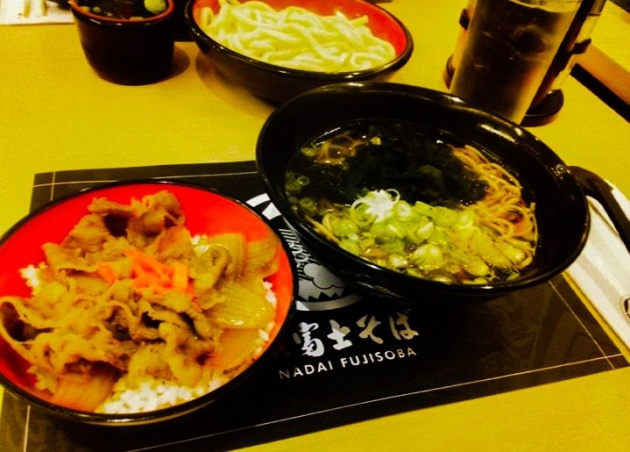 Photo Credits: Yannn via bitlanders.com
Above is a Gyudon rice meal together with Hot Kake Soba freshly made in Nadai Fujisoba! Yuuuuummmm!!!
But frankly speaking, Marugame's Ebi Ten Tempura was good as well!! It was well cooked, not too oily and not too dry.
I can eat more than 5 of this tempura!! I can't explain it further but I am pretty sure that this restaurant is one of my favorite Japanese Restaurant already!
9:00 pm
As we consumed our food, we didn't noticed that it was already 9 pm in the evening. Maybe because people still keep on arriving. Seems like the more and more people are coming to dine in. So we had a little chat about our lives and fully consumed our food.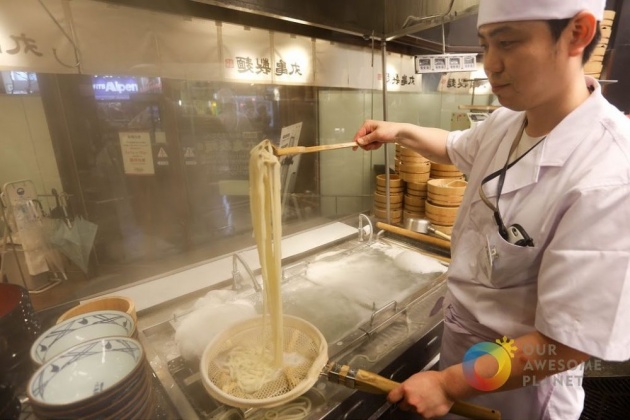 Photo Credits: OurAwesomePlanet.com
I love the Seimen concept of making fresh udon and serving it piping hot onto your bowl, with freshly fried tempura in a fast self-service dining style. Best of all, they provide good value for your money and the option to customize your udon whichever way you want. I also like their traditional Japanese interiors with contemporary touches.

-Anton

Founder, OurAwesomePlanet.com

-Source: ourawesomeplanet.com
This is a good review of a Blogger straight from Muragame Siemen in Japan. And indeed our experience in Marugame Udon and Tempura was an Awesome experience!! I also hope that one day we will be able to visit Muragame Siemen in Japan too!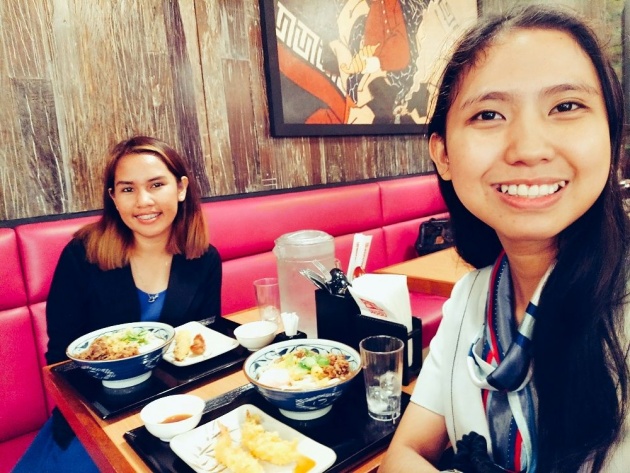 Photo Credits: Yannn via bitlanders.com
You can see it through our faces that we are one of those satisfied customers. Another great food in a less expensive way has been unlocked! Here's a glimpse of our expenses:
Beef Ontama Bukkake (Large)- Php 260.00
Ebi Ten Tempura- Php 60.00 per piece
Gyoza- Php 40.00 per piece
Actually, a large bowl is quite huge and won't be needing some side dish. It will fully make your tummy happy and filled already.
And there you have it, our awesome experience in Marugame Udon and Tempura. Surely it is one of those places wherein I will come to visit from time to time.
Thank you for reading and I hope you're having a great day!
Meanwhile here's a quick querlo chat for you.
If you enjoyed this blog you might also want to check out my other blogs here: