When I lived in California in the US, I had my first real experience of Afghani food. I still remember that small, quaint eatery where I gorged on the flavorful chicken kebab skewers and their signature Qabuli Pilaf. Though similar to other kebabs and pilafs that I had eaten, the Afghani versions were definitely very unique in their flavors. That perked up my appetite and made me visit Afghani places on multiple other occasions. Little Kabul in Bay Area is home to dozens of Afghani restaurants that offer tasty Afghani food.
Interestingly, Afghanistan is surrounded by Iran, Russia and Indian subcontinent on its sides. It also has traditional influence of the many cultures and tribes that live there making the food in Afghanistan a rich, satisfying culinary experience. The food in Afghanistan is predominantly non-vegetarian. Meat often is the centerpiece. That is not to say that vegetarian dishes are not appreciated. Also, Afghanistan is also well known for its fruit bounty. Afghanistan is well known for its dry fruits like almonds, dates, walnuts, pistachios and pine nuts. Fruits like melons, pomegranates, oranges, grapes, plums and berries are grown in abundance and consumed widely. Afghan cooking is influenced by middle-eastern cooking, Persian, Indian, Mediterranean, and Chinese styles of cooking as well.
Some of the popular dishes in Afghanistan cooking are: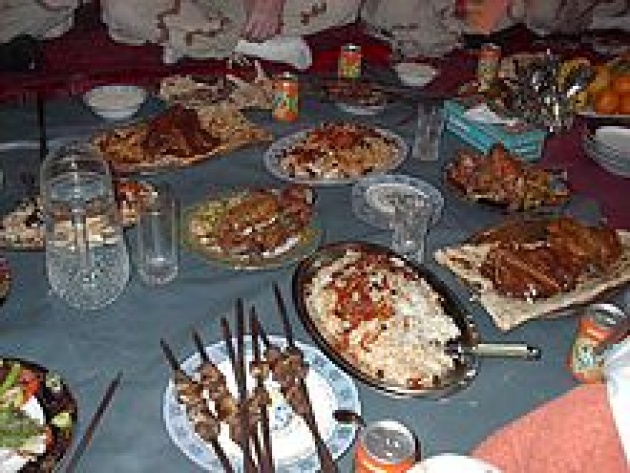 Qabuli Pilaf: This dish is almost like a signature dish. It is normally made with skewers of spiced lamb that is served with a heap of rice. The rice is flavored with spices, lentils, julienned carrots and even dry fruits like raisins. It is served with a garnish of onions and lemon slices. Rich in flavors, it is a great tasting dish. Do see the video above to see how it is cooked.
Kebabs: Just like Middle-eastern cooking and cooking that have Muslim influences, Afghani cuisine has a vast repertoire of kebabs. Made with a variety of meats and vegetables that are marinated, skewered and cooked over a charcoal fine, these are mouth-watering tasty. They can be served as a part of a meal or eaten all by themselves.
Qorma: These are gravy preparations that have a fragrant base of fried onions, garlic and ginger. To this are added meat and vegetables. They are a huge hit with both Afghanis and outsiders.
Shorma: These are broths or soups. Shormas are made from a variety of meats and vegetables. They are generally very flavorful yet light on the stomach.
Bread: Afghanis eat many varieties of bread some thin like Lavash that are served along with other meat dishes like kebabs. Then there are breads like Naan and Obi Naan that are thicker and are used to slurp down the curry with.
Rice dishes: Rice is not only used in pilafs but is also served plain boiled with their curries or Qormas.
Afghani food also has a lot of variety in vegetarian dishes as well as desserts. Who has not heard of the famed Baklawa! A hearty cuisine, food in Afghanistan is worth an experience.
For all my post, do see my webchannel.