I bet you also know that it's more happier, more fun and more thrill when you didn't plan for the things and places you go with your friends (biglaan / nagkayayaan lng). Just a quick plan on the spot and you're on the road with them enjoying that moment under the happy sun. This is what a single life is, because most of us has their own family now and can't go with us anywhere anymore. Oh I'm missing them.
These kind of bonding makes unforgettable memories. I just love having them in my life. They were my best buddies, best friends, unbiological sisters and brothers, my super friends who will help you when somebody wants to mess up with you, sometimes they were more over acting than our parents when we have problems. That's our relationship with each other. I'm really having fun when I'm with them. And they will also protect you. These are the reasons why I love and I'm missing them so much.
These were our unexpected destinations after having a food trip from the house of my friend. I can't believe it too =). I just can't believe it . Because it's only a Food Trip turned to Unplanned Road tripping and swimming.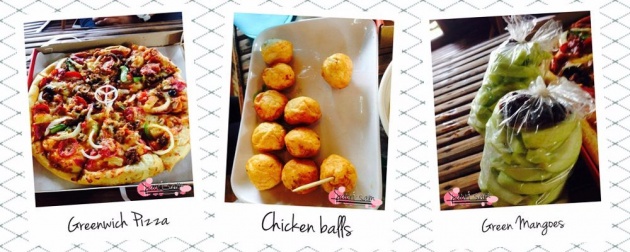 March 20, 2015 - Friday Morning around 4 a.m I can't connect to internet. I waited until 6 a.m but still no internet connection. Then one of my friends called me and asking if I can come to their house and we'll have a food trip because she's alone from Thursday to Sunday. 8:00 a.m, we ordered pizza in Greenwich and she has chicken balls in their ref so for me it's already okay for breakfast but I saw their neighbor who happened to be a street vendor, so I went near to him to see what he has to sell in the morning. He has champorado, hot soup and pancit bihon and something caught my eye while looking at those foods., the green mangoes!!! He told me he sells it in the afternoon but I insist to buy some. I'm craving for it. But after eating, her cousin told us to go to Ilocos sur in Vigan just to have a road trip and we'll go home after, using his car.
When we arrived in Vigan City,Ilocos Sur my friend's cousin asked if we're already hungry so that we can stop for a moment. And we answered him YES!!!! right away =). So while on our way to eat, we entered Vigan City from their welcome sign, we passed by Vigan Heritage Mansion and the quiet heritage streets. =)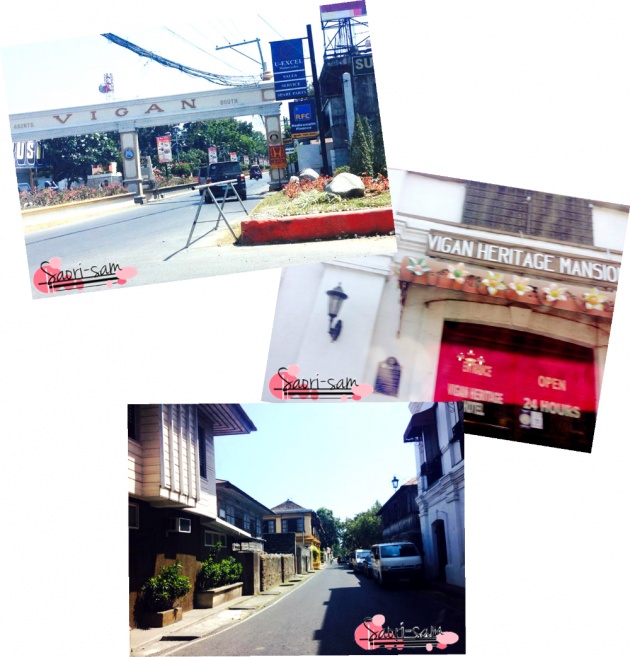 And finally after a few minutes of looking for dining places, we already reached this Vigan Empanada vendor. What I liked most to them is, they will only cook it when someone will order. So when you buy them it's really really hot and freshly cooked. Me and my friend ordered 2 Empanada each and and her cousin ordered some Okoy (Shrimps).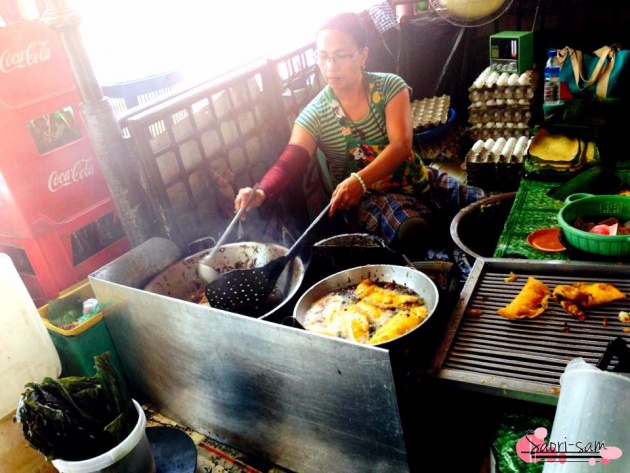 And taaadaaa!!!! Here are our orders. Vigan Empanadas and Okoy =)
Vigan Empanada check it out for the recipe. Anyway this is filled with vegetables like grated green papaya, mung beans and shredded carrots with meat like skinless Vigan Longanisa with one whole egg (P35 pesos each).
Ukoy/Okoy or Shrimp Fritters check it for the Vigan Okoy recipe.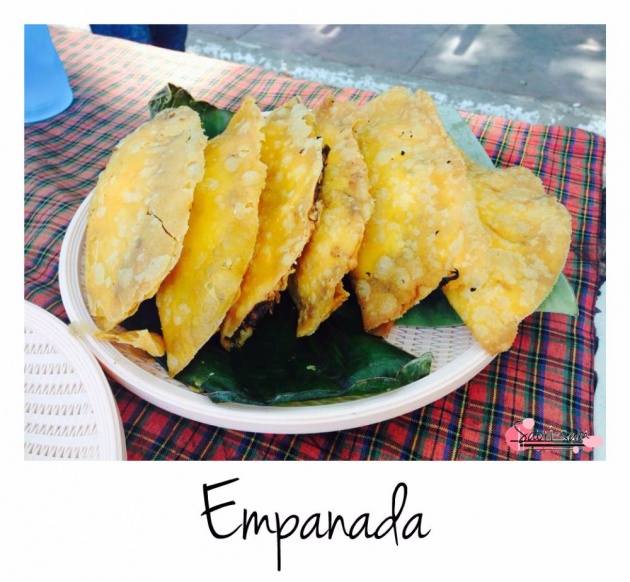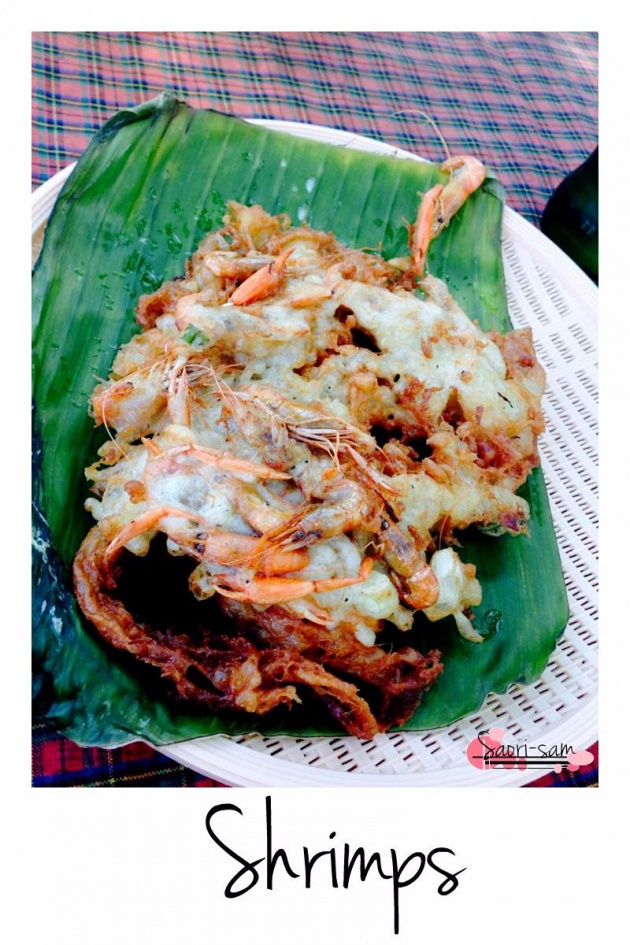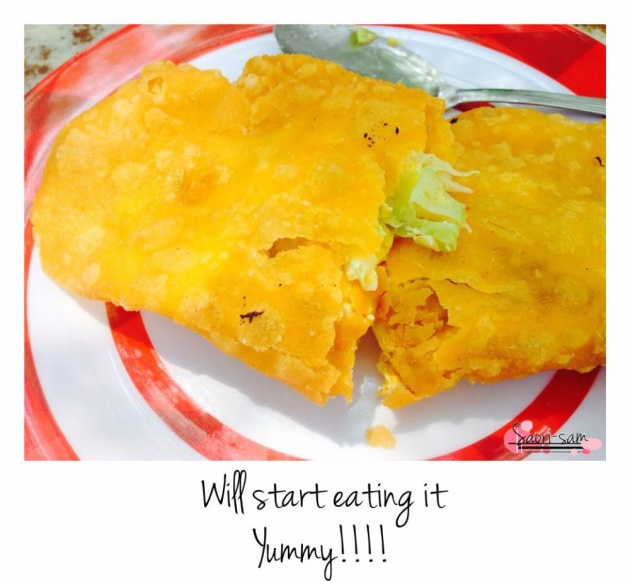 Hmmmm.... That was really delicious! And after eating, we remember one of our friends is working in La Union. So we tried to text him and waited for the reply. And luckily he is still working there. So we went there to visit him. But he told us to wait him because his boss is strict. So we decided to look for a place where we can wait for him. And he suggested Halo-Halo de Iloko. It's my 2nd time to go there that time. 1st was on November 2013. Our phones were already drained except for my basic phone no camera I was not able to take photos even my friend. Her digicam and her phone were also Low-bat. So I'm going to share my photos when I went there for the first time way back 2013.
Halo-Halo de Iloko Balay
Halo-halo de iloko balay is located at #12 Zandueta St., City of San Fernando,La Union, Philippines. Well, It doesn't really look like a restaurant or a dining place from the outside. So most tourist were very interested to come and see what it looks inside and specially the foods they offer.
(In front of the House)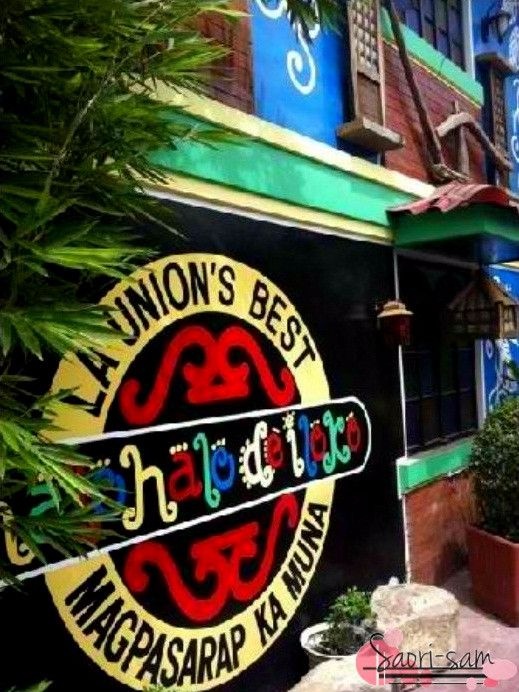 It has vintage decorations. The wall has many old photos, old paintings unique wall decorations and very attractive paintings too. Even the ceiling has antique decoration but I don't have photo of it. And at the second floor, You'll be attracted to their colorful windows. You'll see Vintage and antiques and crafts anywhere in this snack house.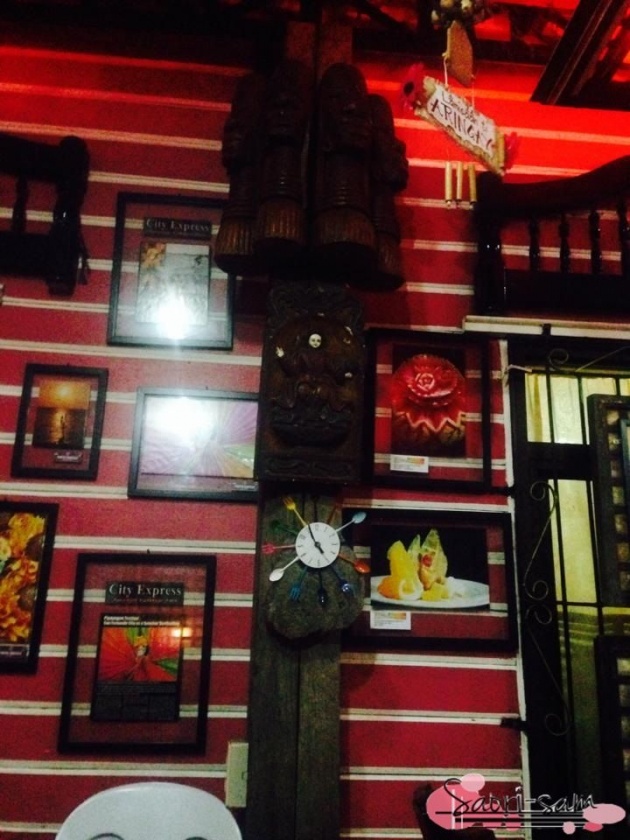 Here is the wall of fame. Haha I mean, this wall is for the messages of the popular celebrities who dined in.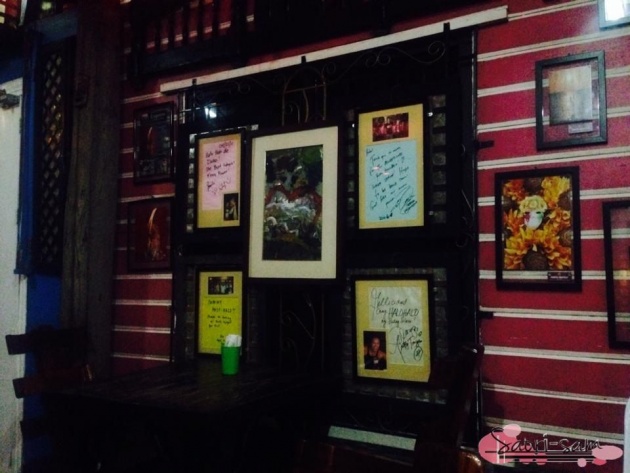 Look at the their ceiling, they have hanged the names of each tables. Yes, some of the tables has their names =) So cute.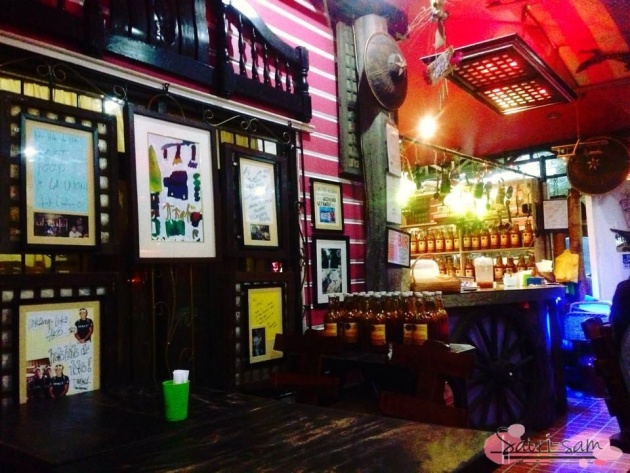 (credit to the owner Angelo. Click Here)
The Foods
Halo-halo King of Filipino desserts P175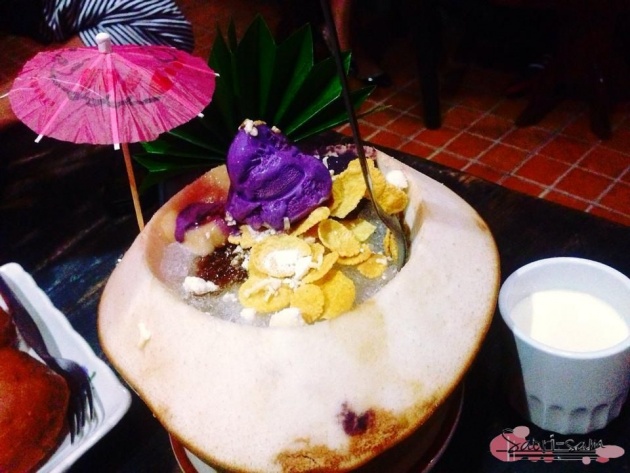 Okoy tikyosko P90
Very yummy taste matched with their signature vinegar.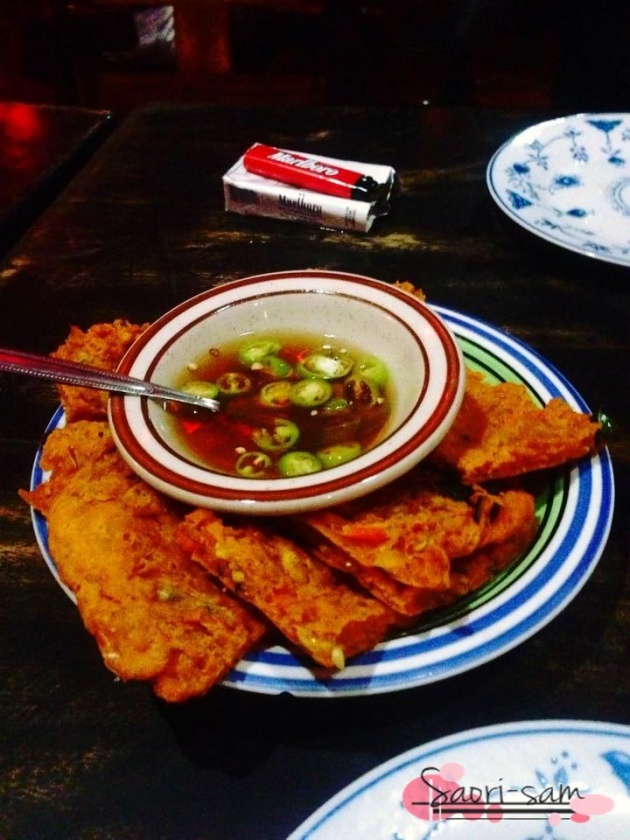 EMPAREDADOS" (native cheese burger) P110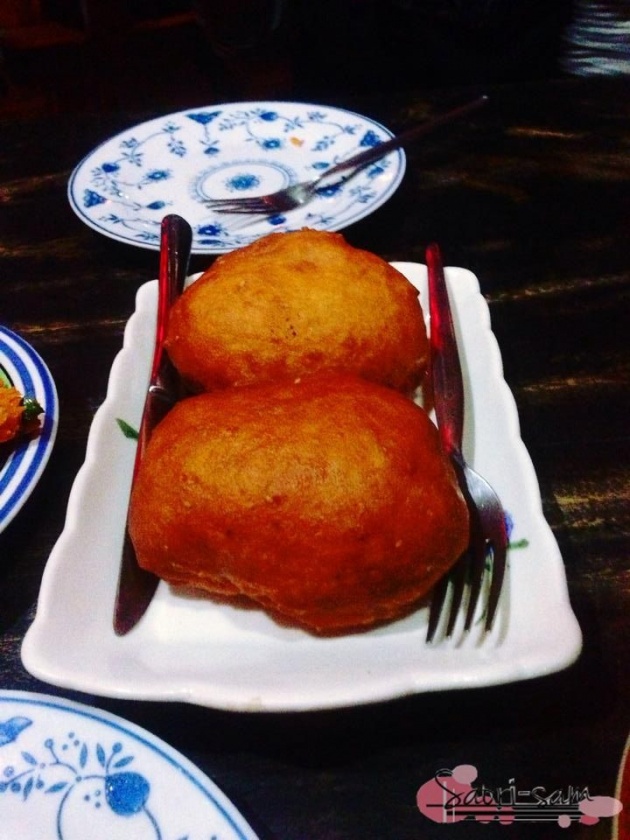 Located at Shipside Housing Area, San Francisco, San Fernando City, 2500, La Union.
After eating in Halo-halo de iloko balay, we decided to go to the beach. Actually La Union is the Surfing capital in the Philippines. They have many beach resorts there to choose from. We want to visit the Thunderbird but my friend told us that we can only tour outside Thunderbird they also have Casino there. So while waiting for our friend to finish his work, we went in the Sea Park Beach Resort. We charged our phones there for 30 minutes. And at last! Picture taking again =) And at 6 pm, we had a night swimming with our friend.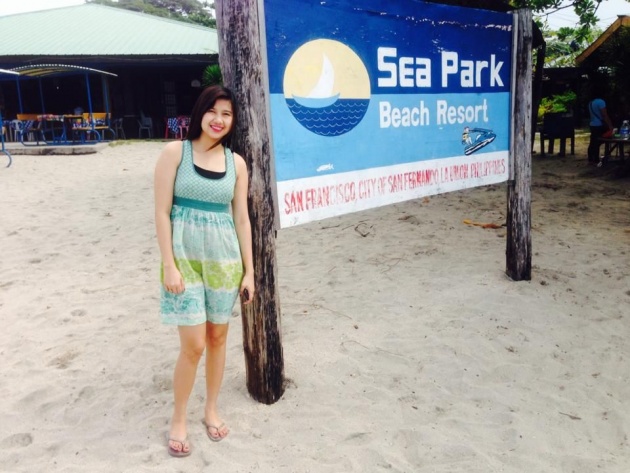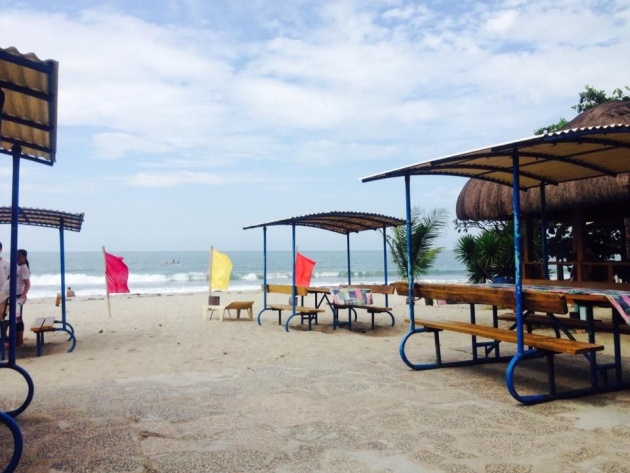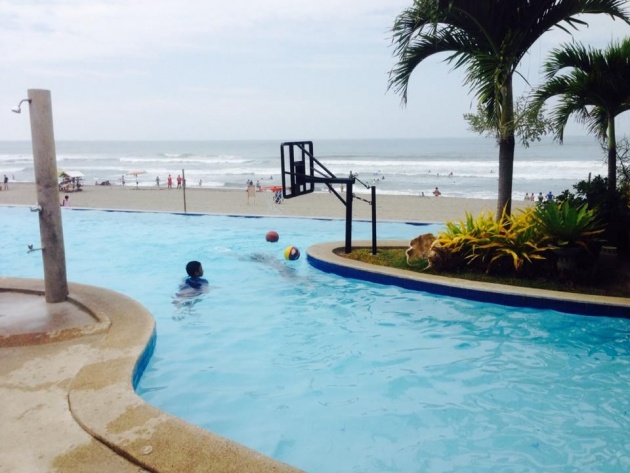 Halo halo de iloko Balay
Owner/Manager: Xavier B. Mercado.
Address : #12 Zandueta St., City of San Fernando,La Union, Philippines
Numbers: (072) 700 2030 | 09193883145 | 09178527919
Facabook Page: https://www.facebook.com/pages/Halo-halo-de-iloko-Balay/178590498862723
Sea Park Beach Resort & Restaurant
Address: Seapark Road, Shipside Housing Area, San Francisco, San Fernando City, 2500, La Union
Website: panpages.ph/listings/ph55629-sea-park-beach-resort-and-restaurant