In the second part of our interview with Eden Hazard, last season's Chelsea Player of the Year looks ahead to today's game against Everton and stresses the significance of winning the big matches…

Always one of the trickiest fixtures of the season, the Blues face Roberto Martinez's Everton on Merseyside this evening, with Eden Hazard determined to send out an early statement of intent.
Jose Mourinho's side go into the game having taken maximum points from our first two matches, while our opponents are yet to win, after drawing 2-2 at Leicester on the opening day, before allowing a two-goal advantage to slip against Arsenal last weekend, with the Gunners stealing a point right at the death.
The corresponding fixture last season saw us fall to a 1-0 defeat, and Hazard hopes to put that right this evening, securing an advantage over a team expected to challenge at the top of the Barclays Premier League table.
'It will be very tough,' he says. 'Everton are always a difficult opponent. The first time I played at Goodison Park we won 2-1 but last year we lost 1-0, we know it will be hard but we can win the game if we perform well on the day.
'It's very important because if you can win these type of matches it's great for the confidence. Obviously we will have only played three games, so it's still very early, but it's always good to be at the top of the table. After Everton we play Swansea at home and then Manchester City away, so we need to make sure we win these games.
'Of course, we know these teams will be near the top at the end of the season. Not only is it good for confidence when you beat them, but winning gives us three points, and them nothing, so it's very important.'
The game at Goodison Park last season saw Samuel Eto'o make his debut in a Chelsea shirt, but the Cameroonian could be lining up against us later today having completed a switch to the Toffees earlier this week.
Another familiar face in the opposition line up will be Romelu Lukaku, with the Belgian moving to Merseyside from Stamford Bridge shortly ahead of the start of the new season.
Hazard is close to both players, and is looking forward to seeing them.
'I wasn't surprised Samuel signed for them because he's still capable of scoring goals in the Premier League,' he says.
'He has lots of experience; Roberto Martinez is Spanish and has Everton playing good football, so I think it will be a good move for him.
'Romelu is one of my best friends, like Samuel. They are both very nice guys, hopefully they will do well there but not well enough to beat us on Saturday.'
While the 2014/15 campaign may only be a few weeks old, there will be little time for respite in the weeks ahead, with both the Capital One Cup and Champions League getting underway.
The busier the better, as far as Hazard's concerned, with the start of the cup competitions offering more opportunities to achieve collective success, something he believes the current squad is more than capable of this season.
'I feel very good,' says the Belgian. 'I had a nice holiday with my family so when I came back I was ready for the start of the season, now I just want to give 100 per cent to help the team. It was a nice rest for me and that was important.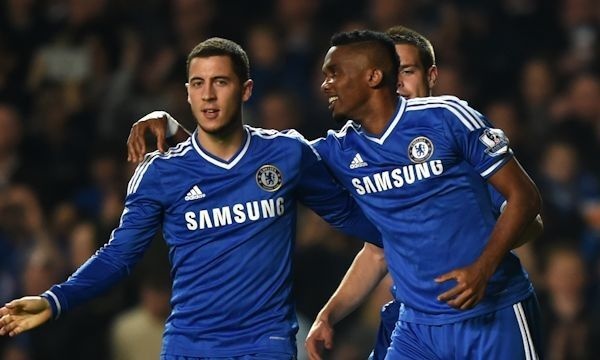 'When we come back from international duty we will have a lot of matches, three every week. I'm looking forward to the start of the cup competitions, for Chelsea it's very important to win every match and challenge for every trophy. We have a big squad so that will help us.'
chelseafc