The period around the 2012-2013 New Year was easily the most frustrating period of my entire life. Every personal endeavor had hit some sort of speed bump and I was coming out of a relationship with no shortage of painful transitions. To top it all off personal family news arose that blindsided me harder than anything in my 24 years of life, planting me firmly in Federal Way, WA for the duration of 2013. It was all of the bad days you hope never happen. But for all that was going on, my team was in the playoffs and they offered, just once a week, a three hour period for which nothing mattered except the scoreboard.
It was around this same time when Russell Wilson jogged off the field after his 2013 loss to the Atlanta Falcons. But the thoughts on his mind were not of defeat. The rookie, whose season had just ended despite his late game heroics, had a mind set on hope. Seeing the incredible potential of his team and knowing there was nothing he could do to change the events that had just transpired, he was focused on the future. This is where the core of my fandom for this team stems from.

Yes, football is an intricately constructed set of rules to allow for brilliant entertainment, and often times that's all it is. I love the game plans, the touchdowns, and the big hits. Men can become brutes, heroes, fools, or as the general non-interested public often views them, animals. But all of that is just a vessel for the people who play the game and sometimes, it's the brutes, the animals, and the classless that take center stage. That is not what draws me in. It is the consistent reminder of its life metaphors and the exposing of the true human character where I find my draw.

I got home last night and wondered, "What more does this team have to prove?" To the football world? Nothing. The Seahawks orchestrated one of the all-time greatest examples of dominance in the Super Bowl. The answer lies somewhere in legacy, in faith, in the purpose we look for in our own lives. All that is left to chase is something much less tangible than a World Title, but infinitely more important: The pursuit of that which you believe you are born to do in this world.

These guys have been saying it all season though, they have everything to prove to themselves. They don't measure their worth against others, they look at all of the ways that they can become better regardless of who the opponent is. This team truly wants the greatest challenges. Steel that sharpens steel. That relentless pursuit of excellence and of greatness is what fuels my fandom of this team. It is a drive that exists without a need for the confines of sport.
Some draw inspiration from poetry, from verse, from film, from music, or from true stories of heroism in life. Regardless of the subject (football), it is the intent with which these men chased their goal that I continue to draw inspiration. The belief that you are every bit as deserving as the next person. That it requires immense dedication, that it won't be easy, but there is nothing in your makeup that says you cannot reach that which you most strive for. Or, as Quarterback Russell Wilson might put in the simplest terms, "Why not me?"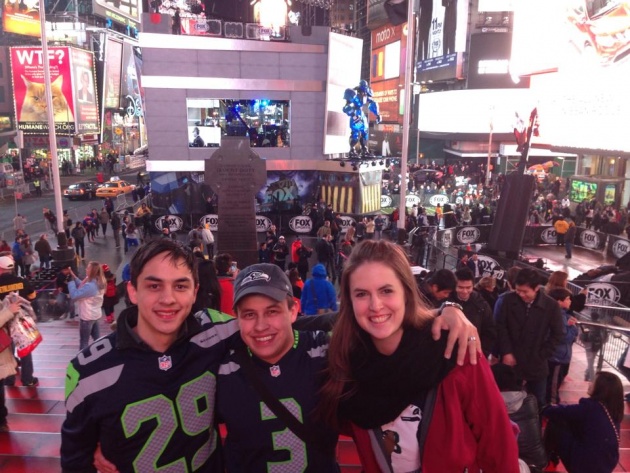 *Having just moved back to NYC after a life-altering 2013, this is Me, my brother Chris, and his wife Kathryn last night in Times Square. 2-2-2012